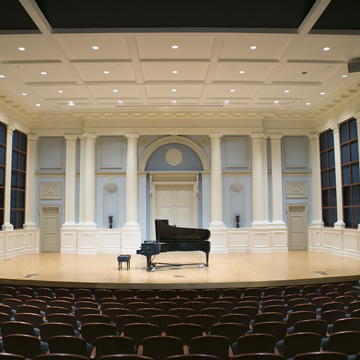 February 19, 1 p.m. – 4:30 p.m.
Virtual
This piano festival was established by Fletcher and Nell Morris to encourage high levels of achievement in piano performance. Winners of the competition receive scholarship awards to be used toward music degree study at Samford. The 2020-21 competition will be virtual.
Schedule for Virtual Competition
Final competition materials due February 1, 2021 (finalists will receive an email with submission details)
Winners announced February 19, 2021
Additional Events
Virtual coffee chats and masterclass with pianist Misha Dichter - February 19, 2021
Festival Guest Artist and Adjudicators
There will be one guest artist and two guest adjudicators for the 2020-21 competition.
Misha Dichter, guest artist
Now in the sixth decade of a distinguished global career, Misha Dichter remains one of America's most popular artists, extending a musical heritage from the Russian Romantic School, as personified by Rosina Lhevinne, his mentor at The Juilliard School, and the German Classical style that was passed on to him by Aube Tzerko, a pupil of Artur Schnabel. He also studied composition and analysis with Leonard Stein, a disciple of Arnold Schoenberg.
Fiercely dedicated to extending his artistic traditions to new generations of pianists, Misha Dichter conducts widely attended masterclasses at major conservatories, universities and music festivals, including Aspen, Curtis, Eastman, Harvard, Juilliard, Yale and Holland's Conservatorium van Amsterdam.
Adonis Gonzalez, Alabama State University
Pianist-composer-conductor Adonis Gonzalez is a Latin-Grammy nominee in the category of Best Classical Album for his debut album 'Adios a Cuba.' He made his conducting debut with the Vienna-International-Orchestra. Gonzalez has performed as a soloist with many orchestras around the globe such as, Stuttgart Radio Symphony, National Philharmonic of Venezuela, Cuban National Symphony, Junge Süddeutsche Philharmonie Esslingen, Vienna-Residence Orchestra, Mississippi Symphony, among others. He collaborated with clarinetist/saxophonist Paquito D' Rivera in the album Jazz-Clazz nominated by the Grammys for Best-Classical-Crossover Album. He has performed at Avery Fisher Hall at Lincoln Center, Weill Recital Hall at Carnegie Hall, and at The Kennedy Center, and has toured Canada, Italy, Spain, Poland, Czech Republic, Slovakia, and most Latin-American countries. His Piano Concerto was premiered with the National Symphony of Costa Rica. Gonzalez is featured in the film 'Adios a Cuba' produced by Rey-Rodriguez-Productions.  Gonzalez is an associate professor at Alabama State University.
Elizabeth Moak, University of Southern Mississippi
Critics praise pianist Elizabeth Moak's CD Art Fire Soul: Piano Music of Judith Lang Zaimont for her "brio, assurance, and remarkable talent" (ResMusica, France) and her "musicianship and panache" (Classical Net). In 2020-21, Moak's performances will include an all-Beethoven program. Winner of the Mu Phi Epsilon International Competition and others, Moak has performed throughout the USA (including Hawaii and Puerto Rico) and internationally (Asia, Europe, Canada, South America), as well as on national television (PBS) and radio, and international radio (France, Switzerland, and Hong Kong). Moak's teachers include Leon Fleisher, Julian Martin, and Ann Schein. Moak is also recognized for her teaching (Peabody Conservatory and Millsaps College) and collaborative work (Music Academy of the West). Currently on the faculty of The University of Southern Mississippi, Moak has given masterclasses in China, Taiwan, Peru, Canada, and throughout the United States. Her students thrive and are active studying, teaching, presenting and performing. 
Eligibility
In keeping with the guidelines of the bequest, those eligible to participate in the competition include the following:
Students who will be enrolled in the next academic year as junior, senior and graduate music majors at Samford University for whom piano is the principal performance area.
Graduating senior music majors at any college or university for whom piano is the principal performance area and who have applied for graduate study in music at Samford University.
Individuals holding a baccalaureate degree with a major in music with piano as the principal performance area and who have applied for graduate study in music at Samford University. 
Participation  Requirements  
The 2020-21 competition will be through video submission only. Final round of competition will be limited to 10 participants. There are no registration fees required.
Prescreen Audition
Prescreen materials due by Jan. 4, 2020 should include:
Video submission of one work in the classical tradition (link to YouTube, Vimeo or other online platform)
Video submission requirements:
-Unedited musically (may insert titles, but no "cut" in the music itself)
-Camera angle should include profile and head-to-toe visibility
-If selected for final round, you may use this recording as part of those requirements.
Repertoire List
Headshot (color preferred, black and white acceptable)
150-word bio (English) 
Final Round Repertoire
All repertoire must be performed by memory and include the following: 
A prelude and fugue from either volume of J. S. Bach's Well-Tempered Clavier or another significant work by Bach
Two of the following:

A substantial movement of a classical sonata (Schubert is permitted)
A nineteenth-century composition in the Romantic style
A composition from the twentieth or twenty-first century
Awards
1st prize
$8,000
Recital at Steinway's & Sons' Alabama Piano Gallery (Fall 2021)
Masterclass instruction and professional teaching opportunities at Samford's Academy of the Arts 
2nd prize
$6,500
Recital at Steinway & Sons' Alabama Piano Gallery (Fall 2021)
Masterclass instruction and professional teaching opportunities at Samford's Academy of the Arts 
3rd prize
$5,000
Recital at Steinway & Sons' Alabama Piano Gallery (Fall 2021)
Masterclass instruction and professional teaching opportunities at Samford's Academy of the Arts 
Music at Samford University
Undergraduate keyboard degrees offered in the Division of Music at Samford include the bachelor of music degree with majors in piano performance, piano performance with emphasis in piano pedagogy, organ performance, the bachelor of arts in music, and the bachelor of science in music. A master of music degree is offered in piano performance and pedagogy. 
Piano students at Samford are regularly among the winners of annual performance competitions sponsored by the Alabama Federation of Music Clubs, the Alabama Music Teachers Association, Music Teachers National Association and the Birmingham Music Club. Graduates in piano have pursued advanced study at many of the leading graduate schools and conservatories around the country and hold faculty positions throughout the U.S.