2022-23 Art and Design Series
We have planned a unique combination of exhibits that will feature our students' work along with faculty, regional and national artists. 
Good on Paper - prints by Liz Chalfin and Noah Breuer
July 14-Sept. 8 
Reception: July 14,  5-8 p.m.
Gallery talk with Liz Chalfin: July 15, 6 p.m.
Gallery talk with Noah Breuer: July 16, 6 p.m.
Samford University is proud to present an exhibition of contemporary printmaking by Noah Breuer and Liz Chalfin. This exhibition coincides with the Alabama Visual Arts Network's inaugural Alabama Printmaking Conference in partnership with PaperWorkers Local. Each artist will conduct a workshop at PaperWorkers Local over the weekend of July 16-17. Liz Chalfin received a BA from California State University, Fullerton and an MFA from California State University, Long Beach. After years of teaching and museum work, she founded Zea Mays Printmaking in Florence, Massachusetts. Noah Breuer received a BFA from Rhode Island School of Design and an MFA from Columbia University. He also studied woodblock printmaking and papermaking at Kyoto Seika University in Japan. Breuer has worked as a master printmaker for organizations including Cue Art Foundation and artists including Kiki Smith. His work is in the permanent collections of the New York Public Library and the Watson Library at the Metropolitan Museum of Art, the Whitney Museum of American Art, and the Victoria and Albert Museum, among others. Breuer currently works as an Assistant Professor at Auburn University.
I, Too, am Thornton Dial
Sept. 15 - Dec. 2, Reception, Sept, 15. 4:30 - 7 p.m.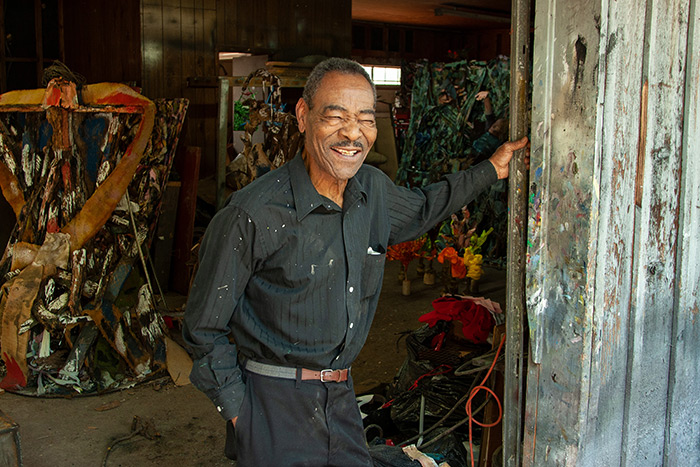 Samford University is proud to partner with the Abroms-Engel Institute for the Visual Arts at UAB and the Wiregrass Museum to present the first Alabama solo exhibition for the late Thornton Dial Sr. Curated by Paul Barrett, the presentation at Samford focuses on Dial's works on paper. Although works on paper are sometimes dismissed, this exhibition makes the case that Dial's drawings are as significant to his practice as his monumental assemblages, and powerful in their own right. Drawing on loans from the Dial family, and public and private collections, with many works never before exhibited or published, this historic opportunity should not be missed.
Thornton Dial Sr. (1928-2016) was one of Alabama's most critically acclaimed artists, and his works can be found in the collections of the Metropolitan Museum of Art, the Whitney Museum of American Art, the High Museum of Art, the Montgomery Museum of Fine Arts, and the Birmingham Museum of Art and numerous other important institutions. Dial's work was the subject of solo exhibitions at the American Folk Art Museum, the New Museum, Museum of Fine Arts, Houston, Indianapolis Museum of Art, New Orleans Museum of Art, Mint Museum, and the High Museum of Art. A catalog featuring new essays and many artworks never presented to the public will be available at the opening reception. This exhibit is made possible through a grant from the Alabama State Council on the Arts and the MISA Collaborative, a partnership between Samford University and Miles College.
Graphic Design Senior Exhibition 
Dec. 12-17, Reception Dec. 16, 4:30-6 p.m. 
This exhibition features the work of graduating graphic design seniors and their senior capstone projects.  
Mother Nature, Mother Nurture
Jan. 12-Feb. 23, Reception, Jan. 12, 4:30-7 p.m.
Curated by Kariann Fuqua, this exhibition focuses on women artists in the American South whose work is centered around climate change, motherhood, and the complex balance of systems required to sustain life. Artists include:  Allison Grant: Tuscaloosa, AL (photography), Lauren Frances Evans: Birmingham, AL (sculpture), Kariann Fuqua: Oxford, MS (drawing), Annie Campbell: Auburn, AL (ceramics), and  Brooke White: Oxford, MS (photography).
Art and Design Student Juried Exhibition sponsored by Michael J.
and Mary Anne Freeman
March 16-April 6
This yearly exhibition spotlights work created by our Studio Art, Graphic Design, 3D Animation and Game Design, and Interior Design and Architecture students.
Studio Art Seniors Exhibition
April 13-29, reception following graduation
Graduating seniors will display their senior capstone projects.
2021-2022
Matter & Spirit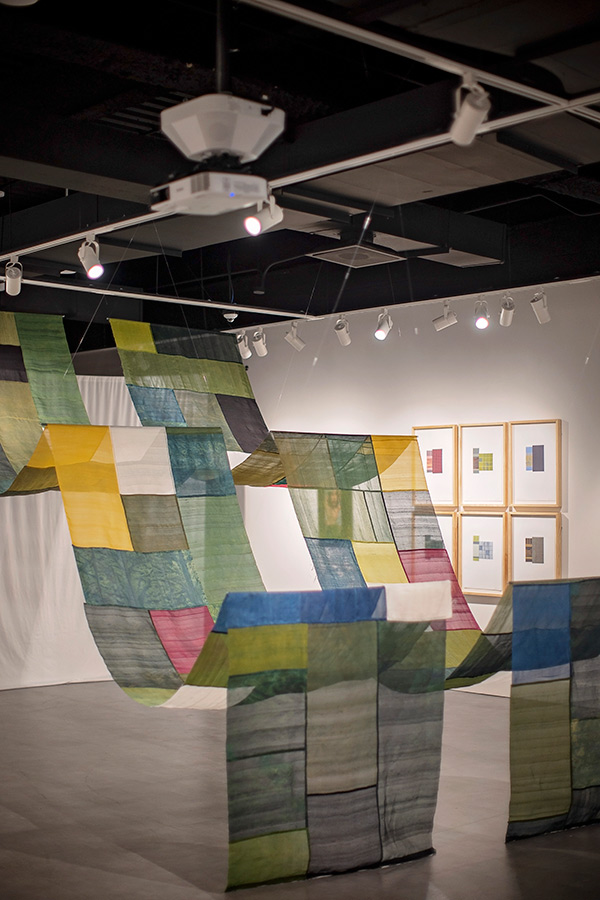 The show was a collaborative effort between Chinese and American artists. Matter + Spirit explores the question "What is the place of the spiritual in contemporary life, particularly in highly materialistic—and increasingly secular—cultures, like the United States and China?"
Disclosure
Disclosure included pieces from Gloeckler's "Room" collection which sequenced methodically disassembling furniture and the wall assembly and floor system that support it. Project components are then reassembled into a series of eight intricate sculptural installations.
Samford Art & Design Faculty Exhibition
The Sum of Our Parts was a combination exhibit featuring the work of 17 art and design faculty members.
All That You Hold is Yours
Jamaal Barber is an artist and printmaker exploring Black identity. He shared recent prints and paintings.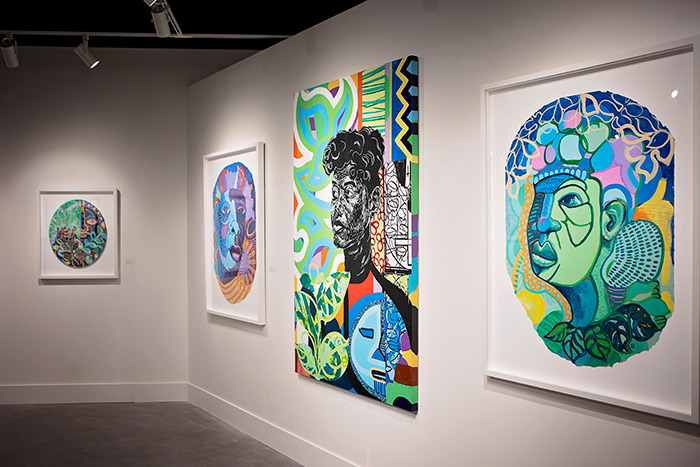 2020-2021
The Dream Deferred
Print Exchange sharing works of 31 diverse artists response to racial injustice.
Syzygies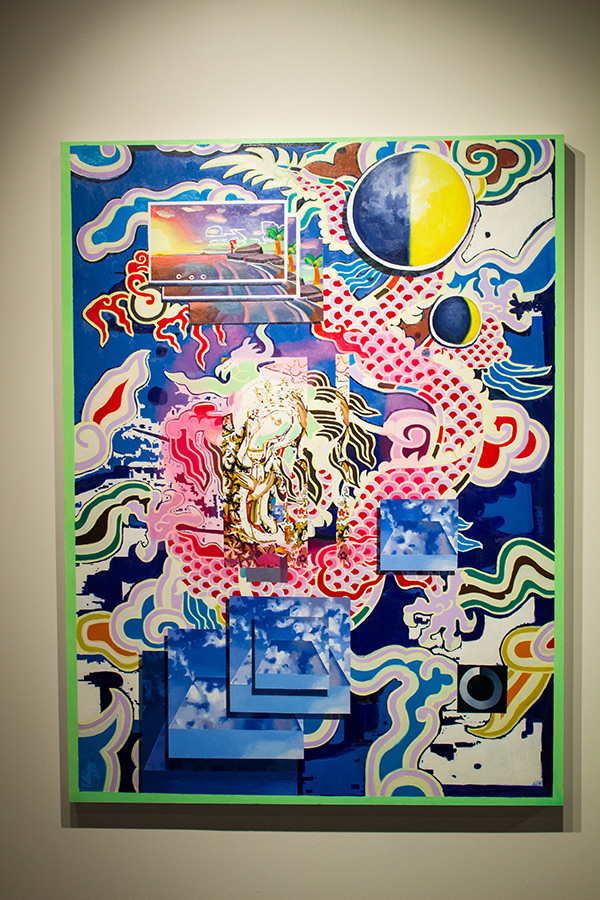 Syzygies presented 12 oil paintings by West. West described her work in this way, "The word syzygy refers to an alignment, often of the celestial variety. In my paintings, I create a cosmos of symbols sacred and domestic, ancient and contemporary, corporeal and digital. The fragmentary nature and floating aspect of these forms creates new narratives, alternately diaristic and global. At the heart of my work is an interest in transformation and desire."
Graceland Graceland
Samford professor Joe Cory shared works that were shaped by the pandemic.