2023-24 Art and Design Series
We have planned a unique combination of exhibits that will feature our students' work along with faculty, regional and national artists. 
More-Than-Human World
featuring works by Studio By The Tracks artists Sponsored by Paul Barrett and supported, in part, by a grant from the Alabama State Council on the Arts
July 13-Sept. 28 
Opening Reception: Thursday, JULY 27, 4:30-7 p.m.
Closing Reception: Thursday, SEPT. 21, 4:30-7 p.m.
In partnership with Studio By The Tracks, a local nonprofit studio for artists on the autism spectrum, More-Than-Human World will showcase the talent and depth of expression found in the work of their participating artists. The organization's motto "art forms life" serves as a fitting thread to our exhibition season's emphasis on sustainability of life and our living world. Informed by a strengths-based neurodiversity paradigm and the social model of disability, More-Than-Human World will endeavor to promote and celebrate neurocosmopolitanism as essential to the flourishing of all life.
roundabout
featuring new works by recent Samford Art & Design alumni
Oct. 12-Nov. 16, Reception: Thursday, Oct. 26 , 4:30-7 p.m.
Recent Samford Art & Design alumni will be featured in roundabout. Artists include Molly Greene Lay '20, Kaitlin West '19, Nicole Weldy '21 and Connor Gayda '21. These talented alumni will be sharing some of their newest works.
Art & Design Senior Exhibitions
Nov. 30-Dec. 9, Reception Dec. 8 , 4:30-6 p.m.
This exhibition features the work of graduating graphic design seniors and their senior capstone projects.  
Deeply Placed
featuring new works by Karen Brummund, Jessica Henderson and Elisabeth Pellathy
Jan. 25-Feb. 29, Reception, Jan. 25, 4:30-7 p.m.
What does it mean to be present when the life we live moves untethered between a physical and digital universe? Karen Brummund, Jessica Henderson and Elisabeth Pellathy observe and draw these two parts of our life, tracing the footprints we leave. Using digital tools like video, laser cutters and 3D scanners and printers, these artists extend the art of mark making and move past the surface in more ways than one.
Art & Design Student Showcase featuring juried student work Underwritten by Michael J. and Mary Anne Freeman
March 19-April 4, Reception and Awards Ceremony: TBD
This yearly exhibition spotlights work created by our Studio Art, Graphic Design, 3D Animation and Game Design, and Interior Design and Architecture students.
Art & Design Senior Exhibitions
featuring the work of graduating seniors and their senior capstone projects
April 15-27, reception following commencement
2021-2022
Matter & Spirit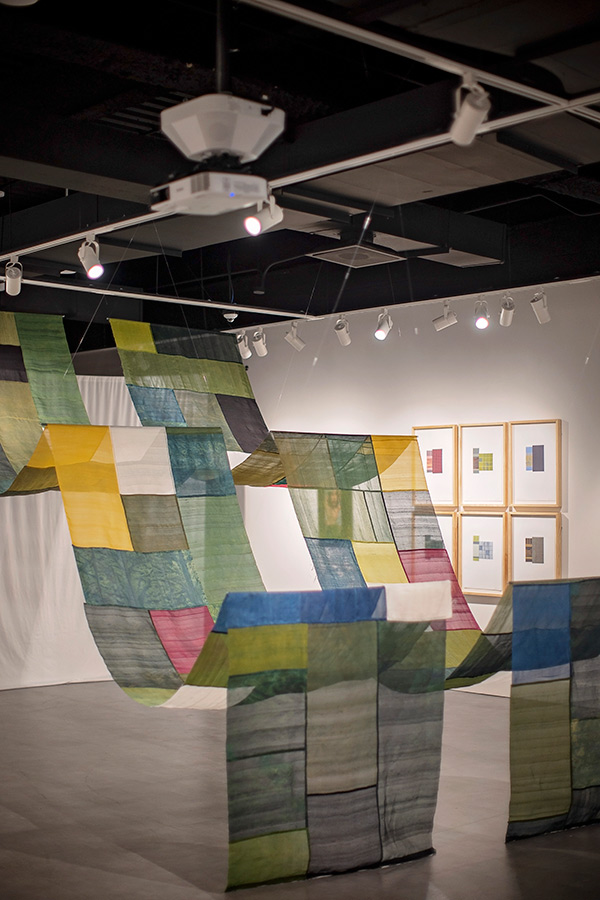 The show was a collaborative effort between Chinese and American artists. Matter + Spirit explores the question "What is the place of the spiritual in contemporary life, particularly in highly materialistic—and increasingly secular—cultures, like the United States and China?"
Disclosure
Disclosure included pieces from Gloeckler's "Room" collection which sequenced methodically disassembling furniture and the wall assembly and floor system that support it. Project components are then reassembled into a series of eight intricate sculptural installations.
Samford Art & Design Faculty Exhibition
The Sum of Our Parts was a combination exhibit featuring the work of 17 art and design faculty members.
All That You Hold is Yours
Jamaal Barber is an artist and printmaker exploring Black identity. He shared recent prints and paintings.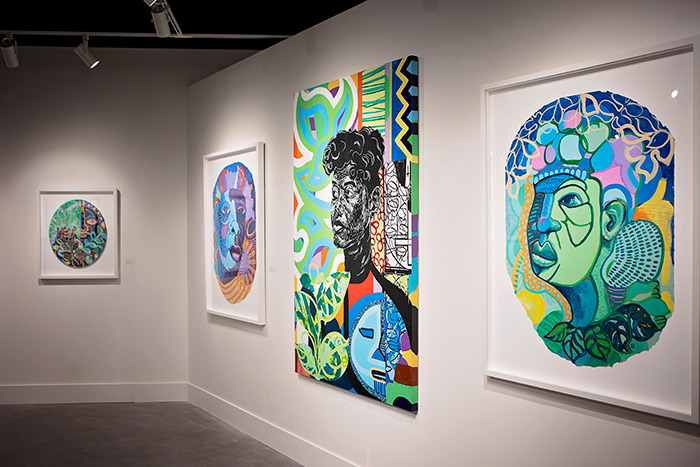 2020-2021
The Dream Deferred
Print Exchange sharing works of 31 diverse artists response to racial injustice.
Syzygies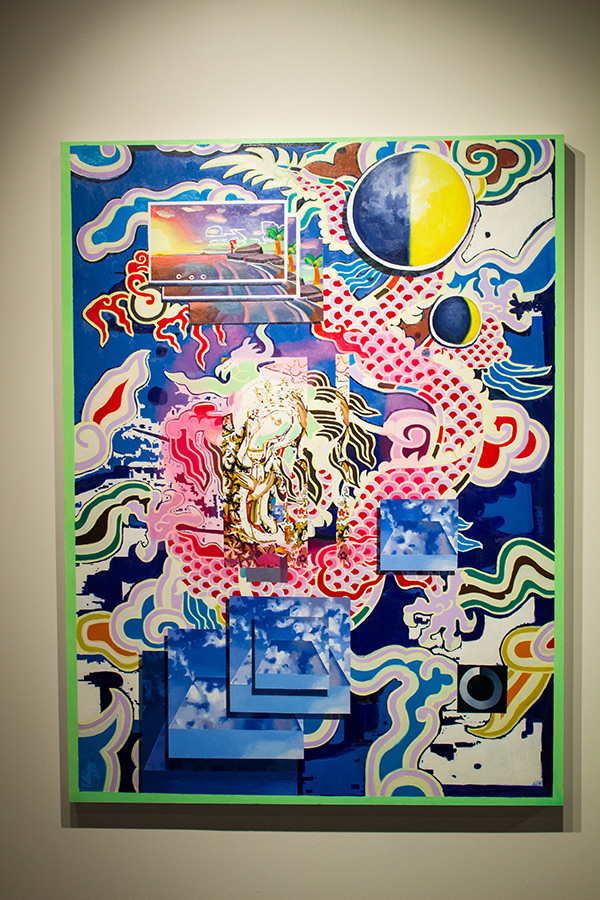 Syzygies presented 12 oil paintings by West. West described her work in this way, "The word syzygy refers to an alignment, often of the celestial variety. In my paintings, I create a cosmos of symbols sacred and domestic, ancient and contemporary, corporeal and digital. The fragmentary nature and floating aspect of these forms creates new narratives, alternately diaristic and global. At the heart of my work is an interest in transformation and desire."
Graceland Graceland
Samford professor Joe Cory shared works that were shaped by the pandemic.