Published on May 14, 2018 by Ashley Smith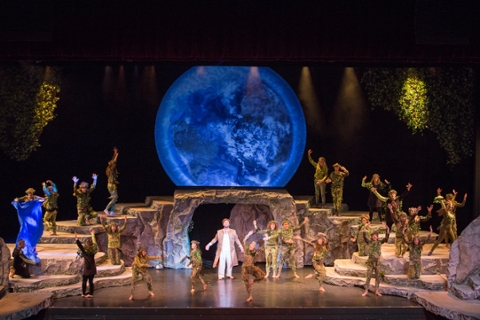 Children of Eden ends the theatre season with sensational performances by students and David Phelps. With over 2,500 attendees including students, parents and Samford Arts patrons, it proved to be a memorable event for Samford's School of the Arts.  Samford invited local agencies to attend the production as well as hosting local schools and church groups.  Parents traveled from near and far to support their students. 
According to President Westmoreland who was present throughout the weekend, "If you attended one of the performances of Children of Eden, produced by our School of the Arts last week, you witnessed the incredible talent of our students and the influence of our faculty as they brought this complex production to the stage of the Wright Center.  Jeanna and I assisted Joe and Suzanne Hopkins in welcoming guests for the performances.  One of the guests, unaware that our students were the performers, asked during intermission if the cast was a touring company.  'No, this is a student production,' I said, with a smile."
Don Sandley directed the program for the second time in his Samford history and the work of students and fellow faculty members exceeded expectations.  The set design, costumes, special effects and music were equally as impressive as the performers.  Creation seemed to happen before your eyes and animals roamed the stage in all shape and sizes thanks to clever costumes and props. 
According to Joe Hopkins, "We celebrated our 10thanniversary and our students with this performance.  Having a production of this scale in our large performing arts center provides real world experience to our students, and they managed the artistic demands with professional maturity.  You could not help but be exceedingly proud of Samford in this moment."
This production would not have been possible without the season sponsorship by Michael J. and Mary Anne Freeman and the underwriting of David Phelps' performance by John and Marsha Floyd.