Published on May 14, 2018 by Ashley Smith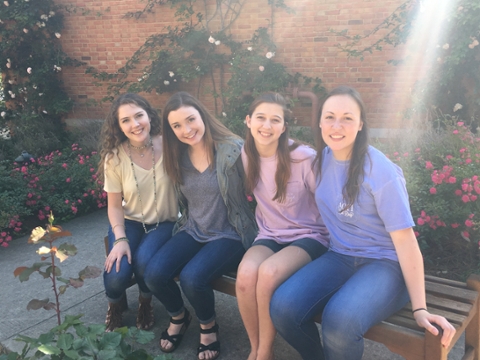 Twenty-four Samford students will travel to Spain and Portugal this summer as part of the new Catalyst Cohort. They will be taking SOA 250 co-taught by Associate Deans Larry Thompson and Kathryn Fouse.   The trip also includes students from across the Samford campus. 
The new Catalyst curriculum launched this past fall and engages all School of the Arts students in a collaborative and innovative environment to prepare for their respective arts fields, culminating in an immersive senior project.  Integrating travel and mission experiences into the curriculum is one of the many key components to ensure students gain global perspectives. 
Four of these students recently used their creative talents to help fund their trip.  Under the direction of Larry Thompson, they painted a mural at The Point dog park at Oak Mountain.  Aspen Herzog, Nicole Weldy, Madison Cooper and Rebekah Casagrande worked with the park's owner to develop the mural design and then spent a Saturday painting the mural.  Thompson noted the hard work, initiative and perseverance of these students and said "In short, they painted a mural so they can fly to Madrid, get off the plane, and literally hours after landing can see Pablo Picasso's epic mural, Guernica!"
Students will take in the museums and culture of Madrid, Toledo, Valencia, Barcelona, Montserrat, Arab and Bilboa, Spain and then travel on to Lisbon, Portugal.  Thompson and Fouse will guide the group and look at how art manifests itself in a variety of locations, disciplines and history.