Published on October 9, 2019 by Ashley Smith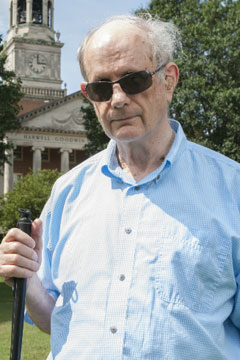 It was 51 years this September that a young graduate of the Perkins School for the Blind (Watertown, Massachusetts) and the University of Alabama entered Samford University for graduate studies in music.  He would continue in studies at the Schola Contorum (Paris), University of Michigan, and the Royal Carillon School of Belgium (his final diploma earned "With Distinction") studying organ and carillon with such greats as Hudson Ladd, Jean Langlais, and Robert Glasgow.  Six year later, Professor Stephen Knight returned to Samford to become our Carillonneur in Residence. 

Now, 45 years later, Mr. Knight continues to enrich our campus with beautiful, creative, and poignant music that has become an essential part of the fabric of Samford, the cherished memories of our alumni, and indeed, the culture of our community.
He played an anniversary concert on September 19 at 4:30 that included a wide range of favorites. Samford employees and students listened from the Quad and others tuned into the Livestream opportunity on the School of the Arts Facebook page.