The Master of Accountancy (MAcc) program in Samford University's Brock School of Business prepares graduates to succeed as accountants and advisors to organizations in today's dynamic, global business environment. In the MAcc program, you will develop technical, interpersonal, critical-thinking and communication skills that enable you to derive and interpret information used by investors, managers and governments.
At Brock School of Business we are committed to connecting you with accounting professionals to facilitate career and placement opportunities. We provide numerous opportunities for you to network with students, faculty, alumni and business leaders.
Curriculum and Objectives
As a graduate of the Master of Accountancy program, you will possess an understanding of the importance of the following:
Ethics: You will maintain personal and professional ethics and integrity while including appropriate values in developing and maintaining professional careers.
Communication: You will effectively communicate ideas, analyses, plans, and evaluations to individuals and groups.
Professional Research Skills: You will possess skills to perform basic financial, auditing, and tax research.
Analytical Skills: You will possess analytical and problem solving skills necessary to enter the accounting profession.
Teamwork: You will recognize the importance of effective team work, value diverse perspectives and skills, and willingly assume a variety of roles to accomplish team goals.
Technical Knowledge: You will possess strong technical skills in the functional areas of accounting (financial, tax, managerial, governmental/NFP) that lay the foundation for success in today's business world.
For more information about the graduate courses and electives offered at the Brock School of Business, please visit the Brock School of Business section of the Samford University Catalog.
Admission
Brock School of Business welcomes applications for the Master of Accountancy program from students and professionals with solid academic abilities and managerial potential.
Academic ability is evaluated on the basis of undergraduate and graduate academic records and academic recognition. Managerial potential is evaluated on the basis of work experience and professional recognition. Work experience is preferred, but not required. Involvement in continuing education and extracurricular, community and church activities are considered as part of the admission process.
Admission decisions are made on a rolling basis, meaning admission decisions are made as applications are completed. You will be informed of the admission decision by email. Once you are admitted to the program, you will have an individual advising and orientation session with a graduate program advisor to review program information and policies as well as to determine your individual course plan of study.
Application Deadlines
Fall (August start date): July 1
Spring (January start date): December 1
Summer (May start date): May 1
Admission Requirements
To be considered for admission to the MAcc program you must:
Possess a bachelor's degree from a college or university that holds institutional accreditation

In light of the decision by the U.S. Department of Education to no longer differentiate between institutional and regional accrediting agencies, Samford will no longer require regional accreditation for transfer credits or prior degrees for admission into graduate programs. Rather, Samford will require these institutions hold institutional accreditation.

A GMAT/GRE score is waived for applicants with an undergraduate GPA of 3.0 or higher. An entry exam is required for applicants with an undergraduate GPA below 3.0.
International applicants also must score at least a 90 on the TOEFL or 6.5 on the IELTS.
For an application to be considered complete, we must receive all of the following*:
Online application for admission: Please be sure to list your personal e-mail address on the application.
$35 Application Fee: This non-refundable fee is payable by credit card and is waived for Samford alumni, and current Samford students, faculty or staff.
Official Transcript(s) from all higher education institutions attended: Transcripts are considered official only when they bear the issuing institution's seal and arrive with the seal intact. Transcripts can be sent electronically to gradbusi@samford.edu or by mail. A transcript evaluation from a NACES approved evaluation agency is required for applicants with a degree from a non-U.S. institution. WES is the recommended evaluation agency.
Professional Resume: You will attach this to the online application.
*International Applicants should visit the International Applicants page for additional requirements.
To check the status of application items, you may login to your application account and view the list of application items received.
Tuition and Financial Aid
Tuition
Tuition for in-state and out-of-state students is $938 per credit hour. Tuition may be paid online or at Samford One Stop and it must be paid by the first day of each semester/term. Policies and methods for tuition and fee payment can be found in the Samford University catalog and the Samford One Stop website.
There are no graduate assistantships available.
Financial Aid
A financial assistance program administered by Samford One Stop has been established to aid students in attending Samford University.
Most graduate students are eligible to receive the Federal Stafford Loan. Lending institutions make these loans directly to the students. The application process begins with certification of the application by Samford One Stop. Application forms should be processed through Samford One Stop at least 10 weeks before registration.
To learn more about financial aid options, please visit the Samford One Stop or call 205-726-2905.
Preparation for the CPA Exam
Whether working for your own firm, a corporate accounting department, a public accounting firm, or a nonprofit or government agency, success in the accounting profession typically includes successfully passing the Certified Public Accountant (CPA) Exam.
In nearly all states, the CPA exam can only be taken after completing a 150-hour program of study. A combination of the Bachelor of Science in Business Administration (BSBA) accounting major and the MAcc degree fulfills this requirement.
London MAcc Experience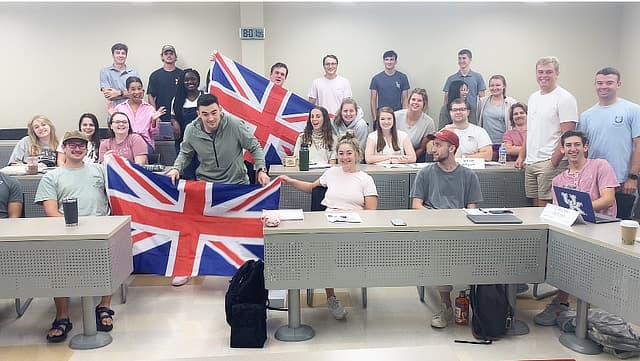 The 2023-2024 MAcc class will have the chance to participate in an opportunity of a lifetime through a unique educational experience in London, England. During the summer 2023 term (July 24-29) students can travel to Samford's Daniel House in London while participating in the Tax Research elective course. Through the asynchronous class, students will study for and take the REG CPA exam together and visit corporations in London including Google Headquarters, Amazon, Coca-Cola and Ernst & Young. The trip will solidify lifelong learning and relationships. More information will be available in spring 2023 before registration.