Published on August 3, 2021 by Morgan Black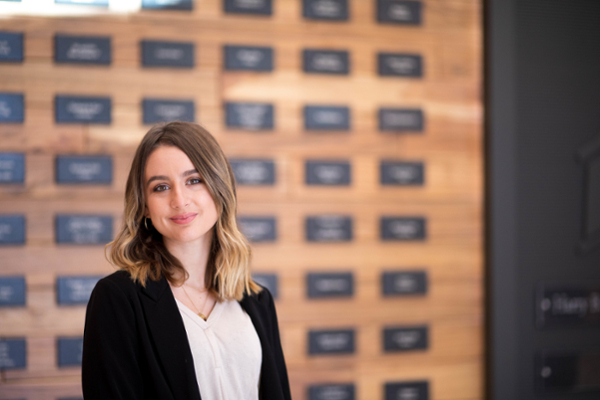 For the second year in a row, a
Samford University Brock School of Business
student has been selected for the American Enterprise Institute's (AEI) Initiative on Faith & Public Life's
Young Scholars Program
. Sydney Rennich, a Brock Scholar from Knoxville, Tennessee, was chosen as one of six undergraduate students in the country to participate in this prestigious program.
Through the program, Rennich and her fellow scholars will have an opportunity to explore issues of economics, public policy and society from a perspective of the Christian faith. Under the mentorship of Samford
Professor of Economics Art Carden
, Rennich will examine the relationship between social capital, institutions and geographic mobility in the United States to determine the forces preventing geographic mobility between socioeconomic groups.
Rennich said, "Because one's geographic community is one of the most important influencers of socioeconomic mobility, understanding migratory stagnation is vital for social mobility and economic well-being." Using regression analysis, she will analyze the effect of positive social networks, encouraged by high social capital levels, on an individual's willingness to move to neighborhoods with better opportunities, and evaluate the role of institutions in facilitating migration.
Upon submitting her final project at the end of the 2021-22 academic year, she will travel to the institute's headquarters in Washington, D.C., to present and defend her work before a panel of experts, and her completed research will be published by AEI.
In addition to the real-world experience she will receive through the program, Rennich will be awarded a $5,000 scholarship to use toward tuition.
"I know that having the support of my Samford professors, the AEI scholars and policy experts will allow me to produce quality research that contributes to the longer-term discourse surrounding efforts to encourage mobility and opportunity in the United States," she said. "I am excited in anticipation of all I will learn and look forward to presenting my research in D.C. next year."
"Samford students have absolutely shined in AEI programs," Carden said. "It's a testimony to the high quality of the work they're doing that we have a second student admitted to the Young Scholars Program."