Published on July 25, 2017  
Transcript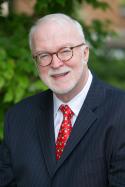 "I'm a scholar, I'm a teacher, I'm a preacher, but one day I got a call out of the blue from the president of Samford University...Dr. Corts said, 'We are thinking about starting a new seminary, a new divinity school, here at Samford University.'"
Chapters
Introduction and Poverty-Stricken Childhood Home
Timothy George discusses being raised by his two great-aunts in an incredibly poor, integrated community. Despite hardship, however, there was a strong sense of community and friendship among those who lived there.
Childhood Experiences and Education
Timothy George discusses the strong influences that his religious and public school education had on his life. He learned to be a theologian from arguing about the Mormon versus Baptist faiths and realized his love of reading and preaching thanks to "Book-mobiles" and supportive teachers.
Call to Ministry
Timothy George was called to ministry on August 6th, 1961, when he read an article in the Royal Service magazine that convinced him he was meant to preach. He would practice preaching in front of a variety of audiences as a child and eventually focused on youth revivals.
Higher Education
After high school, Timothy George attended the University of Tennessee at Chattanooga and then went to Harvard Divinity School. His studies at Harvard allowed him to participate in Baptist mission pastoral work, to study with his role model George Williams, and to expand his horizons.
Job at Southern Baptist Theological Seminary
Timothy George chose to work at the Southern Baptist Theological Seminary after attending Harvard and soon afterward started his family in Louisville, Kentucky. Despite tense political situations near the end of his time there, he thoroughly enjoyed the ten years he spent working at Southern.
Move to Beeson Divinity School
Timothy George received a call from the president of Samford University asking for help in starting the new Beeson Divinity School, and after extensive prayer, he decided to accept the new job offering. Despite widespread skepticism, George believed in Ralph Beeson's vision and has since received considerable support at Samford.
Transcript
Audio Information

| Attribute | Value |
| --- | --- |
| Date | 2014-08-18 |
| Interviewer | Evan Musgraves |
| Interviewee | Timothy George |
| Repository | Samford University Oral History Collection |
| Collection | STORI Collection |
| Accession | SUHist/Faculty/004 |