Published on June 14, 2017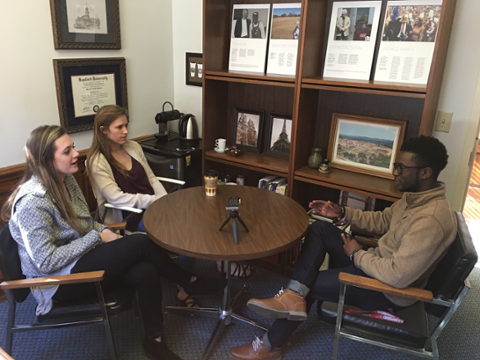 In this podcast, students Jenny Cockerham and Jessica McKee interview fellow student Oliver Barreau, a Haitian immigrant who moved to the United States as a child. With his feet in two different worlds, he describes his experience growing up in Haiti, New York City, and Birmingham as well as finding his identity. 
Chapters
Introducing Oliver Barreau - Born in Brooklyn
Oliver tells how he and his sister were born in New York and then his family moved back to Haiti after his birth.
Returning to Haiti - Early Life in Haiti
Oliver sums up the years he lived in Haiti.
Unrest in Haiti
Jenny and Jessica discuss the political unrest in Haiti in the 90s and 2000s. Oliver talks about how this unrest impacted his family.
Migrating to the US - Integration in New York
Oliver tells how his family migrated to the United States to live in Brooklyn. He discusses how he and his sister adapted to the culture.
Moving from New York to Alabama
Oliver talks about how the move to Alabama from New York was a greater challenge for him and how he adjusted there.
Being Haitian in Alabama Schools
Oliver relates his experiences in Alabama schools as a Haitian.
Maintaining Haitian Roots
While he and his family have made themselves a home in America, Oliver describes how he and his family have maintained their Haitian roots.
Transcript
Audio Information

| Attribute | Value |
| --- | --- |
| Interviewer | Jenny Cockerham and Jessica McKee |
| Interviewee | Oliver Barreau |
| Repository | Samford University Oral History Collection |