Published on October 31, 2018  
https://www.samford.edu/departments/oral-history/projects/samwav/Appetizers.mp3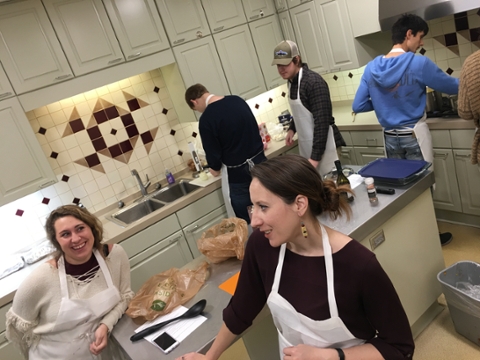 " . . .once you have the food of a different culture, you can start asking questions in a way that might have been uncomfortable in another setting, and how, say, eating Ethiopian at the Pizitz food hall, um, allows you to start to think about, you know, the agriculture of that region, the history of that region, um, why are there Ethiopians in Birmingham, that sort of thing. Um, and you can start to connect to larger issues while also enjoying a meal."

Chapters
Introduction: Tracing Class in the South through Bread
Michelle Little introduces the History in the Recipe series and interviews Dr. Erin Mauldin about the study of foodways.
The Objectives of Dr. Mauldin's Food and History Class
Dr. Mauldin explains the benefits of oral history and of studying foodways and discusses what she hopes students in her class gained from the experience.
Elizabeth Poulos: Greek Cooking and Community
Elizabeth Poulos describes her experience as a second-generation Greek American and the importance of food in Greek culture.
Scott Peacock: Southern Cooking and Memory
Dr. Mauldin and Michelle Little outline the upcoming interviews in the History in the Recipe series, and Scott Peacock recalls an interview that showed him the strong link between food and memory.
Transcript
Audio Information

| Attribute | Value |
| --- | --- |
| Repository | Samford University Oral History Collection |
| Accession | SUHist/STORI/004 |