Published on October 5, 2018 by Catie Bell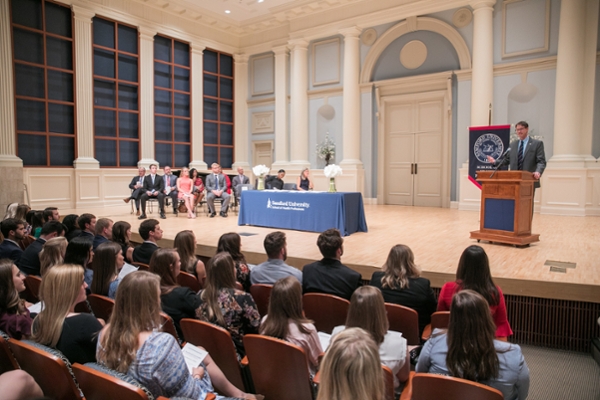 Samford University's School of Health Professions commemorated its third Commitment to Calling Ceremony on September 12 in Brock Recital Hall. Sixty-seven graduate and undergraduate student candidates answered their calling to serve others during the event. Candidates from multiple programs were represented including those in the Doctor of Audiology, Doctor of Physical Therapy, Master of Athletic Training, Master of Science in Speech Language Pathology and the Bachelor of Science in Respiratory Care programs.
The purpose of the Commitment to Calling Ceremony is centered around instilling in each student the commitment to use whatever gift they have to serve others. "This ceremony is based on a theme that is foundational to our school," said Alan P. Jung, School of Health Professions dean. "It is the idea of answering one's calling." 
"We hope you see that you are not simply pursuing a degree or a job, or even your dreams or your passions... what you are pursuing is the calling that God himself has placed on your life," Jung said. "You are pursuing what God created you to do; your purpose."
Speakers included Daniel Gaither, a Doctor of Physical Therapy student and special guest speaker Paula Smalley, a Homewood resident directly impacted by the care of physical therapy after an accident left her injured and unable to walk.
"The one thing I have learned is that the work of a health care professional is not a job, it is a calling," Smalley said. "And it is not a job - it is a team sport - many people cared for me. Also, please know that you all will hold a special place in the heart of your patients."
 As part of the ceremony, each student recited the School of Health Professions pledge, vowing devotion to a lifetime of compassionate service to humankind. Students were also presented with a pin to remind them of their commitment.
 The Commitment to Calling ceremony is an biannual tradition with ceremonies occurring every fall and spring.