Published on July 6, 2021 by Jackson Willyerd  
Using an analytics software, Affinio, I studied how relevant the twitter accounts of ten MLB official sponsor is among three populations. The first and largest population is made up of 4.7 million general twitter users. This population of twitter users who follow either YouTube, Snapchat, LinkedIn, Instagram, or TikTok and live in the U.S. were used as the control group in this study. The "General Sports Fans" is a group made up of the 1.3 million followers of the MLB official twitter who live in the U.S. Lastly, our smallest population was made up of the only 16,685 who live in the U.S., follow MLB, and have tweeted something involving the MLB or an MLB team in the past thirty days. In our view, the more interaction with the MLB on twitter that someone has, the bigger the MLB fan they are.
Affinio's social media relevance analytics produce a number that reveals how many people in the population you are studying, out of one hundred follow and interact with a specific twitter account. To standardize the data, I indexed the relevancy data by finding the average of all the competitors and divided each of the relevancy scores by the average and then multiplied that number by one hundred. Thus, a score of one hundred would be the average while a score of two hundred would be twice as relevant as average. For the sponsors' sake, the more that someone pays attention to the MLB, the more interaction they should have with the official sponsors of MLB. If the hypothesis holds, in the graphs below the blue bar should be the lowest, orange a bit higher, while grey is the highest relevance score. Marketing firms, Sprout Social and Marketing Dive claim that "9 out of 10 people say they buy from companies they follow on social media". A 90% conversion rate between social media engagement and purchases is a desirable statistic for any company. All ten of the official sponsors studied are hoping that the exposure from MLB will lead to more customers and revenue.
The ten sponsors include Geico, Bank of America, Budweiser, Camping World, Chevrolet, Gatorade, Google, Hankook Tire, Mastercard, and Taco Bell.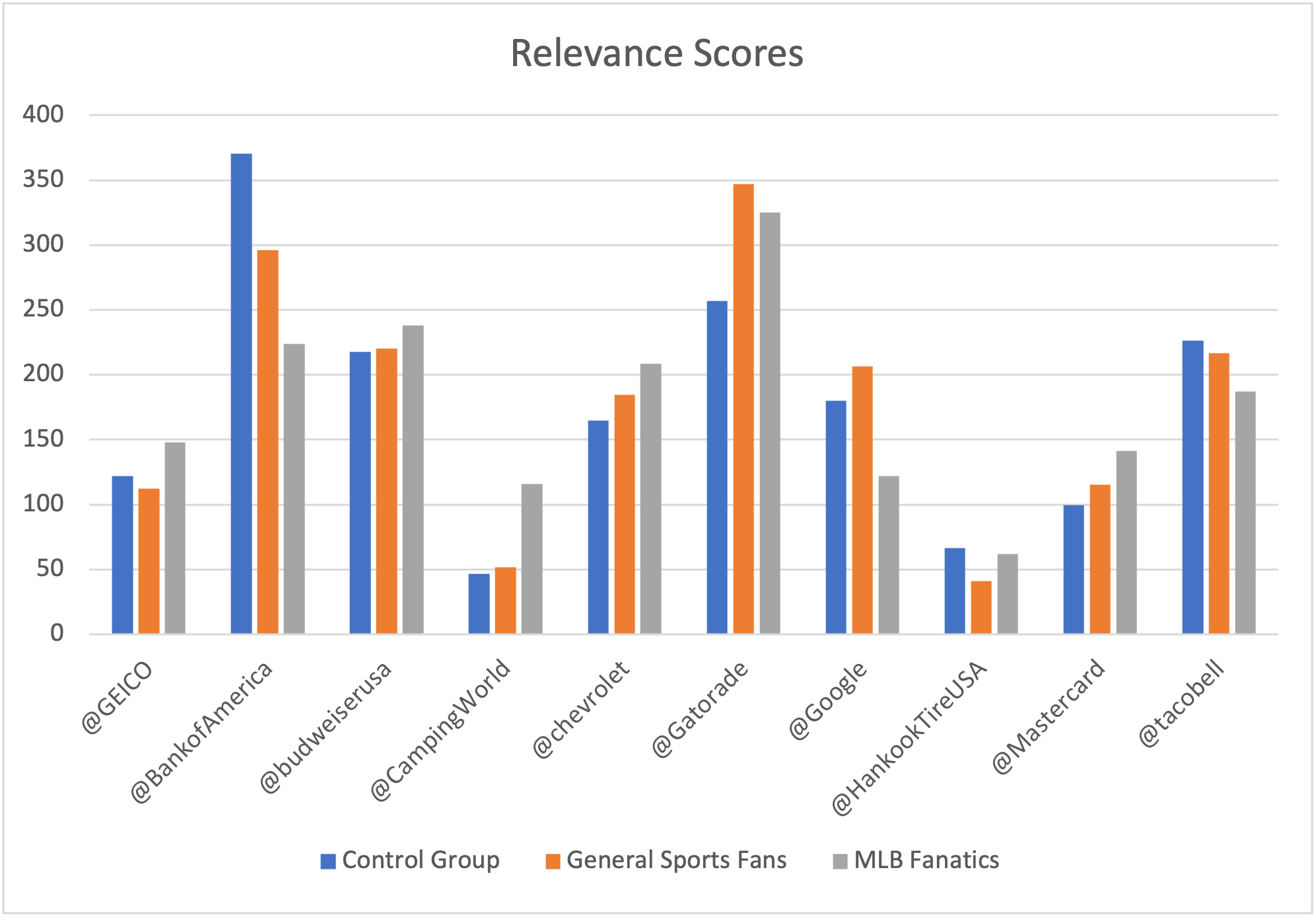 Geico has the most engagement among the "MLB fanatics" population of the study. This appears to hold to the hypothesis however, interestingly Geico has 8.5% more engagement among the control group compared to general sports fans. One of Geico's primary competitors in the insurance industry, State Farm has the highest engagement levels among all populations among nine insurance companies. State Farm performs the best among the control group and general sports fans while Nationwide insurance is the most relevant insurance company among MLB fanatics. Geico's sponsorship is making their name brand more known among MLB fanatics, but they are still not passing Nationwide or Progressive among this population.
Bank of America's sponsorship may be in vain. They are the most relevant bank (out of the thirteen banks in our study) among our control and general sports fan groups but fall behind the largest bank in the world, JPMorgan Chase, among MLB fanatics. However, on average, among all three groups Bank of America is 8% more relevant than second place Chase and 56% more relevant than third place Wells Fargo. Sadly, for Bank of America, they are 40% less relevant among MLB fanatics compared to the control group. If the sponsorship were working as intended, these number may be reversed.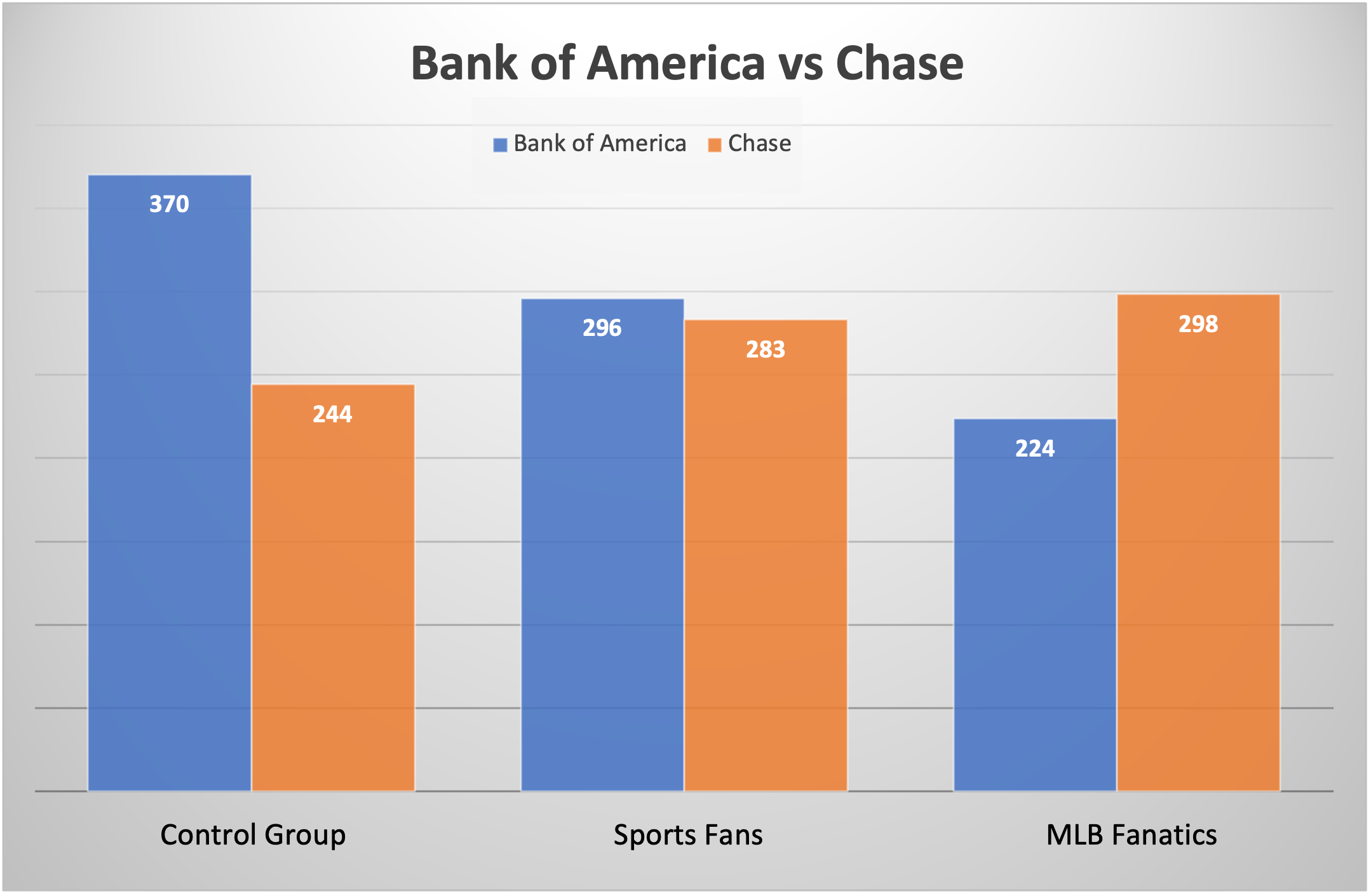 Beer companies love to sponsor athletic teams and leagues because of the billions of dollars spent on alcohol by sports fans in the U.S. every year. Budweiser is the first of our sponsors that has held to the hypothesis of increased relevancy among each population. Budweiser has a relevancy score of 217 within the control group, 220 among general sports fans, and 238 among MLB fanatics. With an average score of 243 among all three populations, Bud Light is the most relevant twitter account among the sixteen largest beers brands in the United States. Bud Light is the official sponsor of the NFL and NHL, two of the "big five" sports leagues in the U.S., which may be part of the reason why Bud Light is outperforming the other beers. However, Budweiser should be pleased that their sponsorship is encouraging MLB fanatics to interact with them rather than their competitors.
Camping World, like Google and Amazon, has competitors in a few sectors. They are competing with REI, Cabela's, Bass Pro Shops, and Academy in the outdoor activities retail space as well as Winnebago in the RV industry. Camping World falls below average among these competitors at an average standardized relevancy score of 71 while REI is averaging a 204. However, an MLB fanatic is 223% more likely to interact with Camping World compared to someone in our control group. This may reveal that Camping World's sponsorship is successful because they are drastically more relevant among those who are exposed to their brand through baseball. However, they have some catching up to do in the general population.
Chevy's sponsorship dollars seem to be going to the best use out of any of the ten studied here. Chevy increases their relevance by 11% between the control group and the general sports fans and just over 11% between the general sports fans and the MLB fanatics. It should be noted that MLB fanatics are more likely to follow and interact with almost all car companies compared to the control group. However, Chevy scored the highest among general sports fans, MLB fanatics, and had the highest average over all three populations. Interestingly, Chevy, Ford, and Jeep perform best among MLB fans on social media which will often lead to a loyal customer for one of these automotive companies. Creating a sense of community and loyalty among vehicle owners is crucial because of the high lifetime value of a loyal customer. Creating even fifty loyal Chevy customers may make a $100,000 official sponsorship worth the cost. More research will need to be done to determine how strong the correlation between the social media engagement and the actual purchasing decisions of the people and companies in this study, but from the limited information that is shown, Chevy's sponsorship is succeeding with flying colors.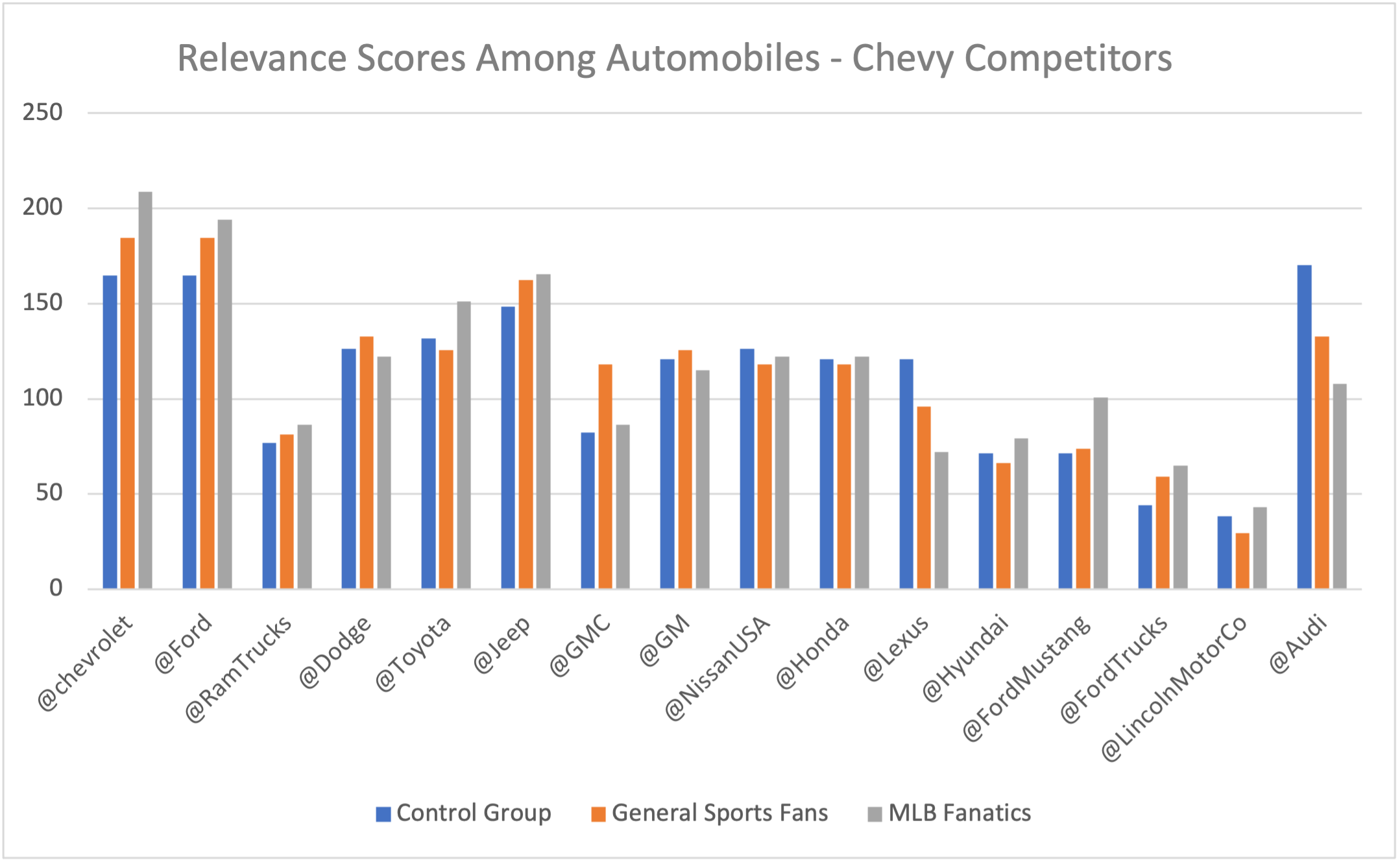 Another company who has been successful in using their sponsorship dollars wisely is Mastercard. While they are not the most relevant credit card or financial institution in this study among any of the three populations, their relevance increases in line with the MLB fandom of the population. With a score of 100 among the control group, 115 among general sports fans, and a 141 among MLB fanatics, this trend is exactly what Mastercard wants to see. Interestingly, one of their direct competitors and juggernauts in the financial sector, American Express, moves in the opposite direction. They have a relevance score of 204 among the control group, 185 among sports fans, and 155 among MLB fanatics. While all of Americans Express' scores are higher than all Mastercard's, the sponsorship seems to be working. Beginning with a 104-point disparity among the control group and only falling behind by 14 points among MLB fanatics should be viewed as a win for Mastercard.
Not surprisingly, Gatorade scored the highest out of all sponsors and competitors among general sports fans. With a relevance score of 347, the PepsiCo brand towers over their direct competitor, Powerade, which has a score of 116 among general sports fans. Among MLB fanatics, Gatorade is four times more popular than Powerade. With products that do not place a heavy purchasing burden on consumers, such as consumables, it is important to stay topical. Gatorade is succeeding in staying top of mind among their target market, sports fans and athletes, compared to their direct competitors.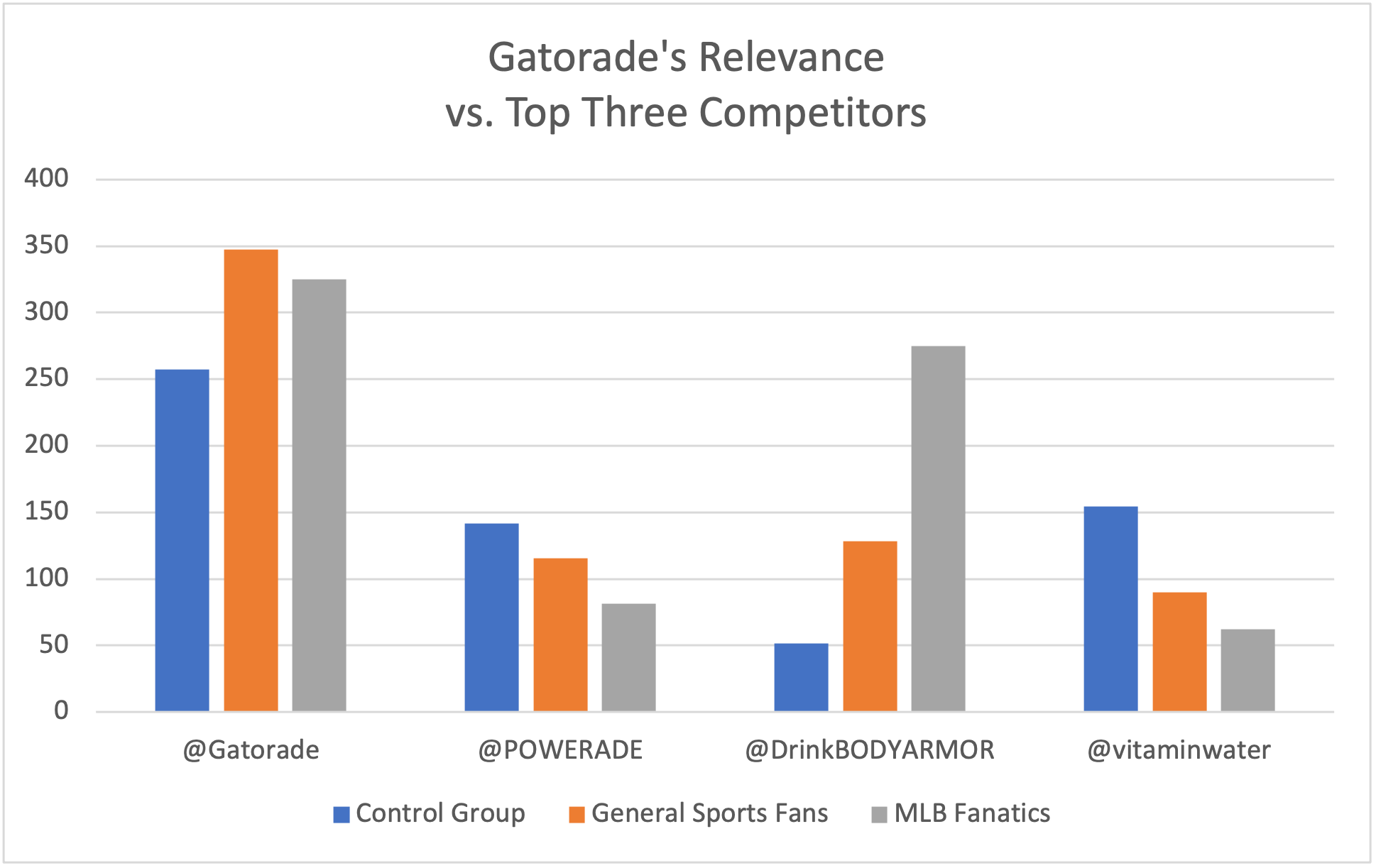 Lastly and staying in the food and drink industry, Taco Bell. The fast-food chain based out of California is not experience much success with their sponsorship. The bigger the sports fans the population consists of the less relevant Taco Bell becomes. It appears that sports fans, baseball fans specifically, seem to interact with Wendy's and Popeye's the greatest. Wendy's is known for using their twitter account to be a bit sassy and poke fun at their competition, which provides entertainment for twitter users. Wendy's has also partnered with the young-adult cartoon, Rick and Morty, to promote both of their products. This entertainment value of the tweets and success of the partnership is revealed in the 3.8 million twitter followers of Wendy's compared to the 1.9 million followers of MLB's official fast-food chain, Taco Bell. Taco Bell has had a long-standing partnership with Doritos, but it may be time to investigate other partnerships that their apparent target market of sports fans, may be attracted to. (Yes, I am looking at you Gatorade).
In conclusion, the thousands, or hundreds of thousands of dollars it costs to be an official sponsor of the MLB seems to bring in a positive ROI for some companies while others need to increase their efforts or direct funds elsewhere. Mastercard, Gatorade, Camping World, Budweiser, and Chevy seem to be using their marketing dollars wisely. Taco Bell, Bank of America, and two companies I did not expound upon, Google and Hankook Tires, should re-evaluate their sponsorship contracts with MLB.
Author Bio: Jackson Willyerd is a junior double major in Accounting and Economics with a minor in Christian Ministry. After graduation in May 2023, he plans to earn a Master of Accountancy (M.Acc.), become CPA, work for an accounting firm in the Southeast United States, assist churches with their finances, and spur churches on toward effective missions. Check out his LinkedIn profile.