Published on June 8, 2022 by Keegan Sullivan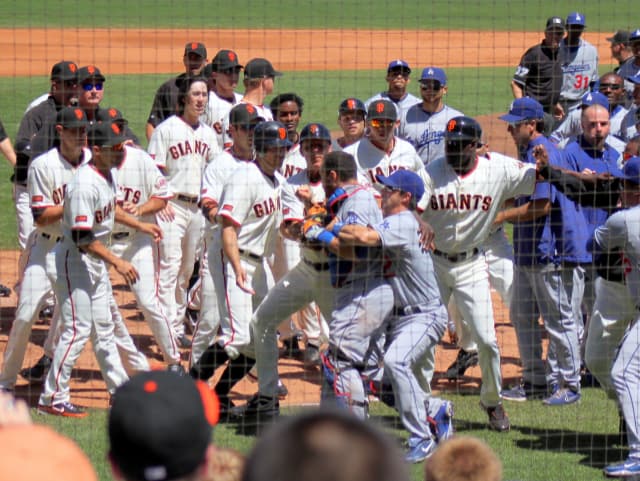 Pre-Game Festivities
Rivalries are everywhere in sports. No matter where you look, every fan base will talk about that team that they dislike the most. It could be because of the history between the teams, the geographic location of the teams, or the divisional lines of a league that form these rivalries. High schools have them, college athletics have them, and professional sports teams are no different. It is common to have more than one rival, and these rivalries promote competition, which is great for the sport. Fans use terms such as "hate" or "despise" when talking about their team's biggest rivals, and it comes from a place of emotion. However, do fans of an MLB team follow their biggest rivals on social media, even if they do "hate" them? By doing so, fans of a team can see their rival's scores, roster moves, news updates, and more.
Setting up the Scorecard
To access the data necessary for this research, Zoomph, an online database regarding social media activity, was used. This database provided a representative sample of the population that follows each MLB team on Twitter. From this sample, it became possible to look at the percent of followers of one team that are following each of the other 29 teams in the MLB. A baseline audience was also created, which was a representative sample of the population that follows any of the MLB teams on Twitter or the MLB Twitter account itself. This allowed each team's sample to be indexed against a larger sample to see how each team's following compares to a larger population. To determine rivalries, the percent of one team's followers of other clubs was plotted against the index number compared to the baseline. With these graphs, it was easy to see how both statistics compared to the rest of the data, and teams that were on the higher end in one, or both, of the statistics, became evident.
Call to the Bullpen
The initial strategy did not go exactly as planned, but a new plan was put into place to accomplish the goals of this study. The biggest issue with the initial plan was that four of the biggest market teams in the MLB constantly appeared near the top for each team's followers, but they were almost always near the bottom in terms of the index. These four teams were the Los Angeles Dodgers, New York Yankees, Chicago Cubs, and Boston Red Sox, and the two statistics were replotted, but with those teams removed from the data. By doing this, new rivalries appeared that were not as evident as when the four teams were included.
Fan Favorites
There was one team that appeared near the top of each statistic for most teams, and that team was the Los Angeles Angels. However, this can be explained by the recent popularity and success of the team. With players like Mike Trout and two-way superstar Shohei Ohtani, baseball fans, in general, are interested in what the Angels are doing. They have been one of baseball's most exciting teams over the past 12 months, and the research from this study shows that the fans of baseball think the same. Because of this following from every fanbase, the Angels were excluded from the rivalry list unless it made sense in terms of geographic location or divisional lines.
Game Results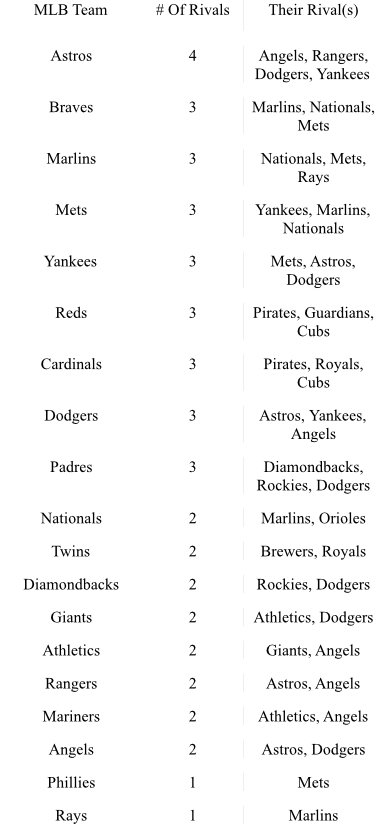 Astros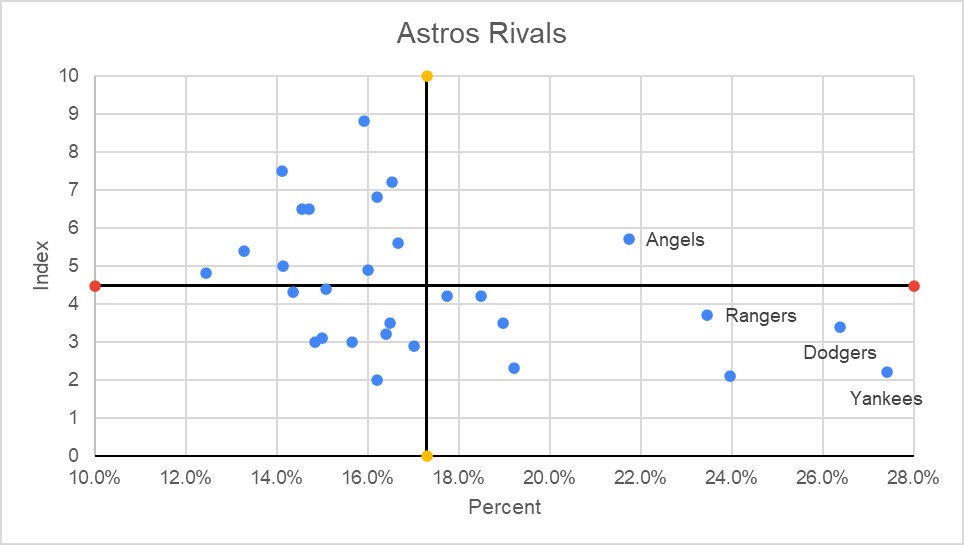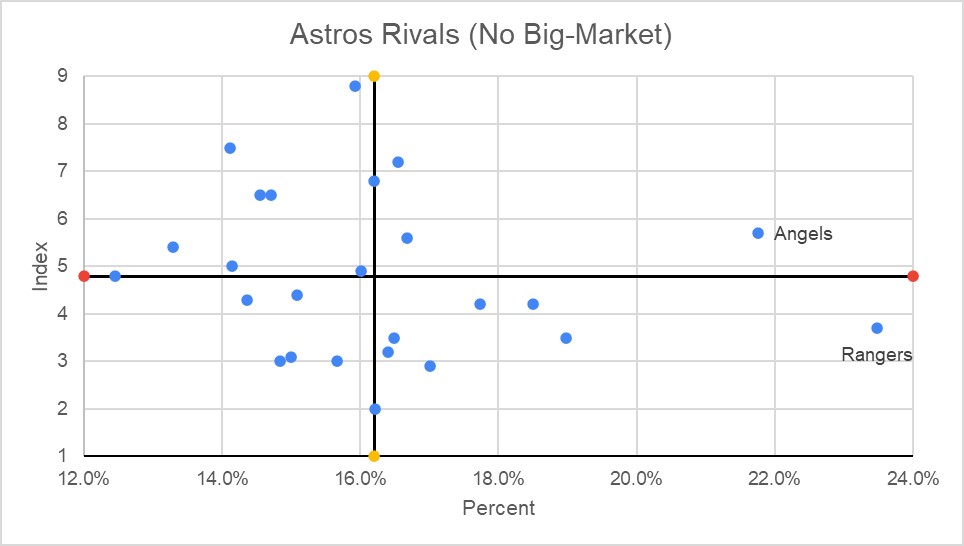 Yankees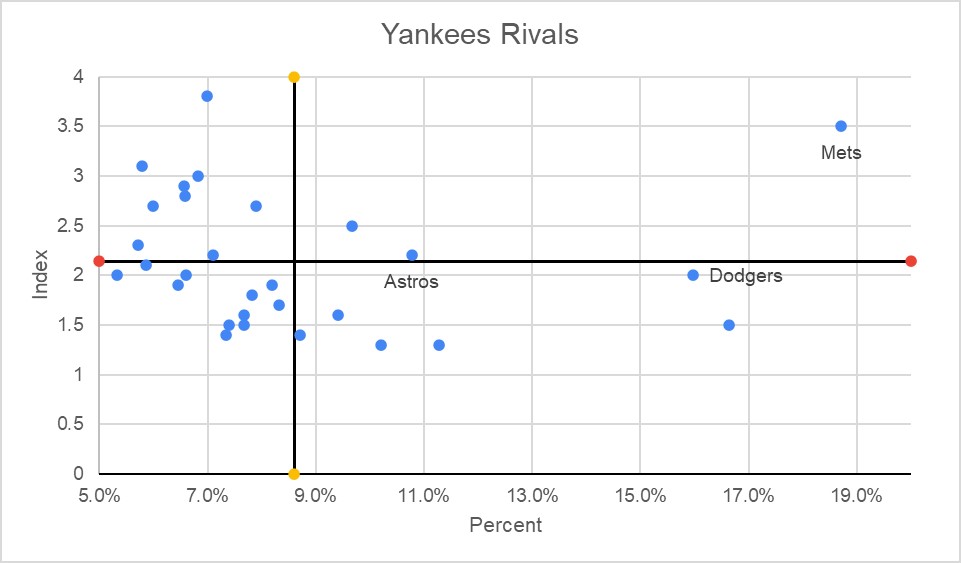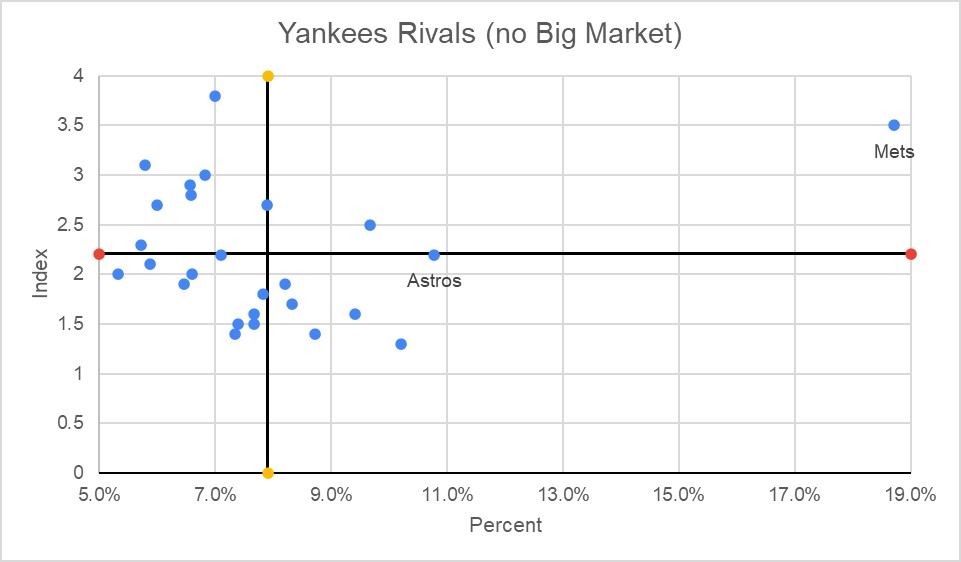 Red Sox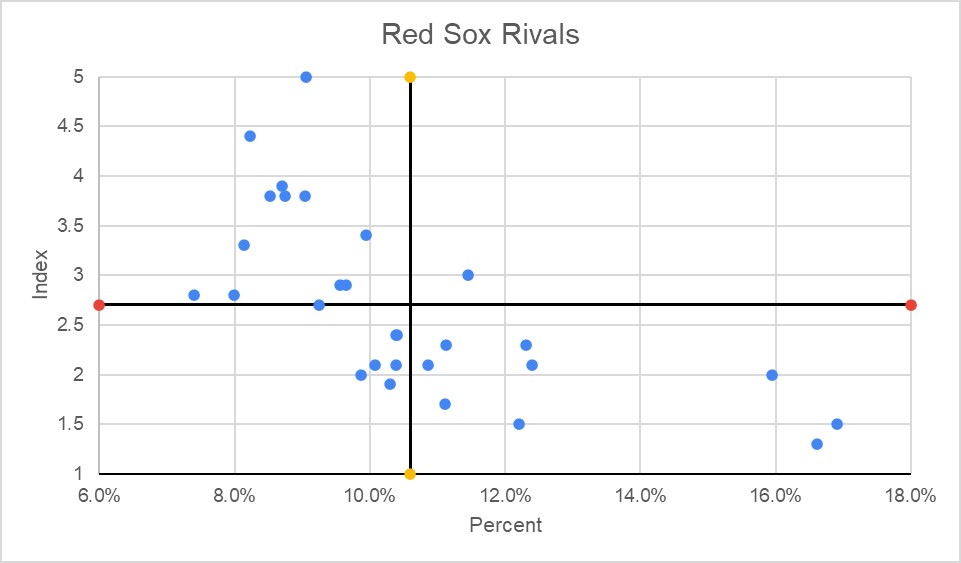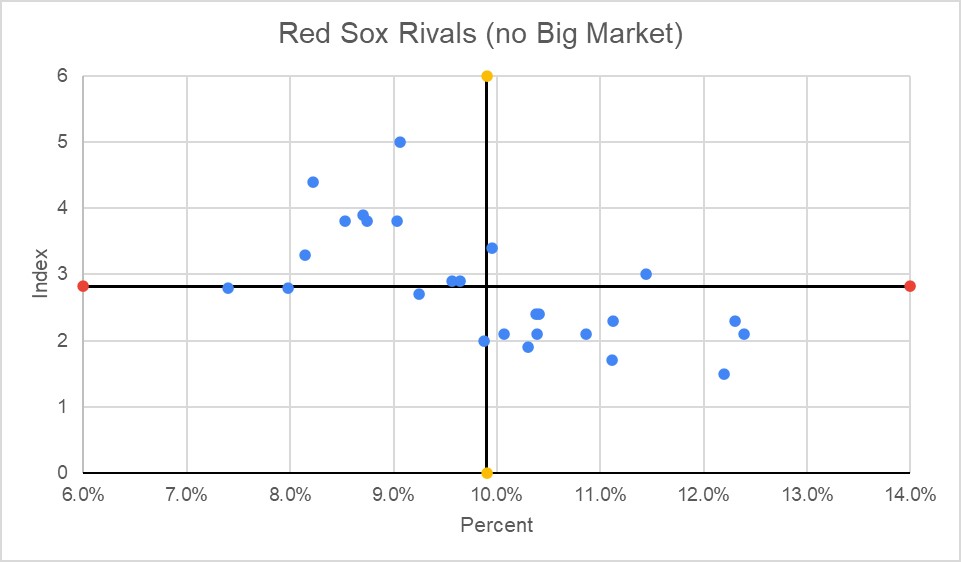 Post-Game Analysis
The results show that the Dodgers were listed most often as a rival, which makes sense given how successful they have been in recent years. Since they have one of the most talented teams that baseball has ever seen and are not afraid to spend money to acquire more talent, fans want to keep up with all things Dodgers. On the other side, the Astros are listed as having the most rivals. These teams are the Los Angeles Angels (a divisional foe), Texas Rangers (share the same state), Los Angeles Dodgers (the 2017 World Series Matchup), and the New York Yankees (2017 & 2019 ALCS Matchup).
There were a few key rivalries that the research did not pick up. These include Yankees-Red Sox, Brewers-Cubs, and Braves-Phillies, to name a few. In terms of the first two rivalries, they both include one of the four big market teams mentioned earlier, and that could explain why all of their rivalries were not found through the research. For the defending World Series Champion Atlanta Braves, they were never found to be a rival. This could be because they are fresh off a World Series Championship and there are lots of baseball fans who are following them, so they do not stick out for any one team.
The rivalries that almost always appeared were the geographic ones. Yankees-Mets, Angels-Dodgers, Cubs-White Sox, Rangers-Astros, Giants-Athletics, Rays-Marlins, and Orioles-Nationals all share a similar geographic space, and each team's fan base identifies the other as a rival, according to social media following. Divisional lines usually rounded up the rest of the identified rivals, and teams that did not share a geographic location or division usually did not identify the other as a rival. The history between clubs proved less important, as most fans on social media are focused on their teams today. Social media following proved to reveal rival teams to an extent, and as social media continues to develop, the activity of the followers of these clubs will continue to develop as well.
Sources
Thank you to Zoomph for collecting and allowing the use of their data.
https://zoomph.com/
Biography
Keegan Sullivan will start his senior year at Clemson University this fall. He is a mathematical science major with an emphasis in statistics and is getting a minor in sports communication. Keegan's goal is to be a data analyst for a professional sports team once he gets his degree.
https://www.linkedin.com/in/keegan-sullivan-b1950a215