Published on January 27, 2022 by Jack McLeod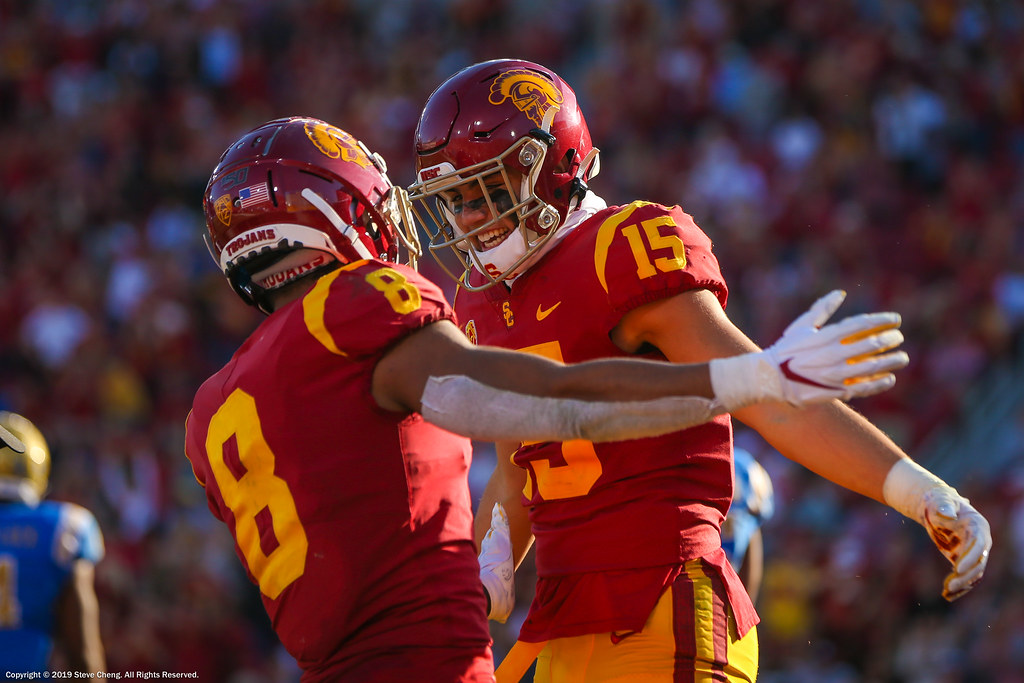 The college football landscape is ever-changing, and the new Name, Image, and Likeness (NIL) rules have fundamentally changed the game.
Before this past year, college athletes were considered amateurs and hence were not allowed to make money off their Name, Image or Likeness. As a result, scholarships and stipends were the only permitted form of compensation for student-athletes. Athlete compensation has been hotly debated for years. Former USC running back Reggie Bush is a prominent example as he was forced to return his Heisman trophy after taking money from outside sources. Major college sports, particularly football, generate a large percentage of revenue for athletic departments, and student-athletes increasingly believe they should be allowed a share of the wealth.
After the legislation was passed in 2021, college athletes can make money off their Name, Image, and Likeness, meaning they can post sponsored content on their social media and endorse companies' products and services. Since many of these athletes have a huge social media following, this is an essential subject to dive into for endorsements. Figuring out which athletes are the most influential and provide the biggest bang for the buck is vital for companies to understand. The research summarized here used social media big data to identify who the most valuable players are in college football.
After using PFF's (Pro football focus) preseason teams to determine the projected talent for the upcoming college football season, those athletes' Twitter handles were put into Affinio and ran through a report to see who has the best social media relevance score. The social media relevance score refers to who is the most valuable for endorsements. Throughout this paper, we will define social media relevance and how Affinio is so advantageous while also showing who the top 10 athletes in college football are for endorsements and sponsorships.
Defining Social Media Relevance
Affinio is an augmented analytics platform that surfaces deep consumer insights within social media data sets. Social media relevance was calculated for thousands of college football player accounts. Social media relevance is a custom calculation for how contextually influential (or relevant) a brand is to college football fans. Twitter was the social network utilized for all data analyzed. This is a powerful social platform for analyzing sports behaviors as it is the only social media platform to see a significant lift during major sporting events. It is the "virtual Buffalo Wild Wings" of social media platforms. Experts agree that social media data is a remarkable source of unsolicited, unbiased consumer data that gives us insights into actual behaviors rather than self-report opinions. The Center for Sports Analytics has utilized the Affinio platform on hundreds of projects and has thoroughly validated its metrics via traditional marketing research methods.
View the NIL Master Results
Importance of Results
As the NIL landscape evolves, including how it interacts with the transfer portal, it is essential to discuss why these results are valuable. Many people have studied who the biggest names in NIL are this year and who will be the most prominent names in the future. Year to year, this is not going to be difficult as the biggest names on the best teams will be the most attractive for sponsors, albeit more expensive as well. However, the value of this study comes from the smaller name players, such as players like Bo Nix, Paul Tyson, and Ryan Hilinski. These players are not necessarily Heisman favorites, nor are they on the best teams in the country. Still, they can provide serious value for smaller or local companies looking to get into the NIL business. We see these big sponsorship deals by large companies that make national headlines, but the actual value of NIL, in our opinion, is going to be for the smaller businesses in these college towns. For our study, we looked at total affinity, which gives an overall number to an athlete's success. However, we also broke up affinity and looked at other categories. The categories include College football fans, NFL Fans, Politically Active, Other sports Fans, and Pop Culture. These categories will show the 'magnetism' an athlete has to individuals who fit in those categories and help us uncover the niche markets that some smaller athletes have. For example, Bo Nix had a total affinity score of 102, which is barely above average across our results. Many of these big brand companies with lots of money to spend on athletes would not be so impressed by that number and would turn to someone else. However, Bo Nix still has lots of potential value for NIL sponsors. With the 'Politically Active' group from our report, he had the largest index score at 680, 6.8 times better than average in our sample. This is an astonishing result, especially considering the next athlete is only at 615, which is 65 points worse than Bo Nix. While it's hard to tell what is pushing this significant score, the data is there to back it up. Any company looking to push a demographic on someone they would consider 'Politically Active' would need to give Bo Nix a serious look, even though his affinity score for the total study was low.
Take another example of Ryan Hilinski. He is also at the top of the Politically Active group and the 'College Football Fans' group. For those who don't know the backstory of Ryan Hilinski, his brother Tyler died of suicide his junior year while playing Quarterback at Washington State. So Ryan has been a huge advocate for mental health awareness and done a fantastic job of helping those who struggle with mental health issues. While Ryan, like Bo Nix, does not have a powerful affinity score (only 112), he performs very well in these niche groups and markets where some sponsors could succeed if they can leverage their marketing around these markets with Ryan. The final example we would like to point out is Paul Tyson, maybe an unknown name for some but not for Alabama fans. Tyson was a previous four-star quarterback recruit who is now in the wings at Alabama, where he will hope to follow Bryce Young as the future Quarterback of the Tide. Bear Bryant, one of the greatest college football coaches of all time, is also Tyson's great grandfather. While Tyson has not seen the field in any meaningful playing time, he has performed well in most categories and even has a stronger total affinity score than Bo Nix and Ryan Hilinski at 162. He provides lots of value in the Tuscaloosa area, but local businesses will have to act fast. When he becomes the Quarterback of the Tide, he will most certainly be a name large corporations will look at for sponsorships in the future. While it can be easy to get caught up in the biggest and most lucrative NIL deals for the most prominent name players, it is still essential to look at where the value comes from some middle-of-the-road players who maybe haven't even seen meaningful playing time yet. Every college football athlete can provide value to a potential sponsor; we have to find the market to help the athlete and the sponsor succeed.
Conclusion
NIL has had a massive impact on the college football landscape, including current players and recruiting. Having successful players with NIL deals can have a significant impact on recruiting, as high school players want to go to a school that has the potential for large NIL deals. Quarterbacks are the best position for NIL success, as they are the so-called leaders of the team and get most of the TV time during a football game. The SEC also has most of the big players and will have tremendous success as it is arguably the best conference for football. We have seen everything across the board in terms of deals, from TiVo sponsoring the entire Georgia Tech football team to fast food chains like Bojangles signing DJ Uiagalelei and Sam Howell. With NIL, the line between professional and amateur football players will continue to blur, and we will only see the success of NIL continue in the future.
About the Author
Jack McLeod is a senior Economics major at Samford University with concentrations in Sports Marketing and Data Analytics. He works as the lead analyst for UAB baseball. Jack hopes to attend graduate school at Samford and continue to pursue data analytics.
LinkedIn: www.linkedin.com/in/johntmcleod
Twitter: @JackMac2k
Email: jmcleod2@samford.edu