Published on November 5, 2019 by Sean Flynt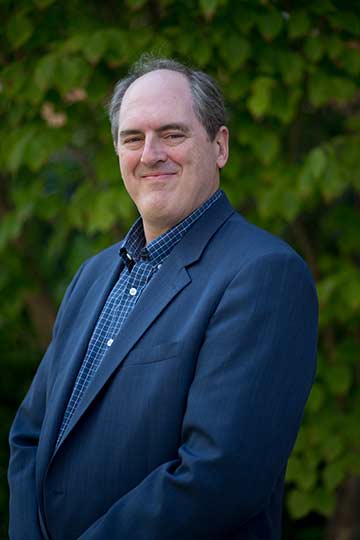 Roy Ciampa, chair of Samford's Department of Biblical and Religious Studies, was one of four scholars  honored for excellence in scholarship at the Southeastern Theological Fellowship (STF) meeting at the annual conference of the Evangelical Theological Society in San Diego Nov. 20.
The Fellowship was created by Southeastern Baptist Theological Seminary to foster fellowship among scholars, publishers and research students in the broader evangelical world. The scholars it honors each year are selected from among colleges, universities, seminaries and divinity schools for excellence in conservative evangelical research and writing. 
Ciampa is an ordained minister and internationally celebrated scholar whose research focuses on the use of the Old Testament within the New Testament and Pauline studies. He is the author of The Presence and Function of Scripture in Galatians 1 and 2 and The First Letter to the Corinthians (with Brian Rosner) in the Pillar Commentary on the New Testament series, among many other scholarly articles and essays. He previously served the Nida Institute for Biblical Scholarship at American Bible Society, where he provided advanced professional development in biblical studies, Bible translation and Scripture engagement for leaders in that area of scholarship around the world. He also was Professor of New Testament and chair of the Division of Biblical Studies at Gordon-Conwell Theological Seminary, where he taught for thirteen years. He was a missionary professor of biblical studies in Portugal for over a decade and served as a translator for the Portuguese Bible Society's contemporary Portuguese translation of the Bible.
Since coming to Samford in 2018, Ciampa has led the creation of a major and minor in biblical studies and a minor in theology and ethics. He also led revision of the university's core religion course to focus on providing a strong foundation of Bible literacy, including familiarity with the Bible's contents and primary theological and ethical themes.
"Roy Ciampa's leadership in the growth of the Department of Biblical and Religious Studies has clearly demonstrated his commitment to Samford's Christian foundation," said Howard College of Arts and Sciences dean Tim Hall.
"This new honor reminds us that he also is a leader among our many outstanding scholars."
Samford provost Mike Hardin noted the particular value of having faculty who are respected scholars as well as experienced ministers as the university expands its academic offerings for students called to ministry. "For those students who plan to continue their education in seminaries and divinity schools on their way to leadership of the church, there simply isn't an experience to compare with having mentors like Roy Ciampa," he said. "The respect he enjoys, the breadth of his ministry experience and the quality of his scholarship will undoubtedly open many doors for our students."