Published on September 3, 2019 by Sean Flynt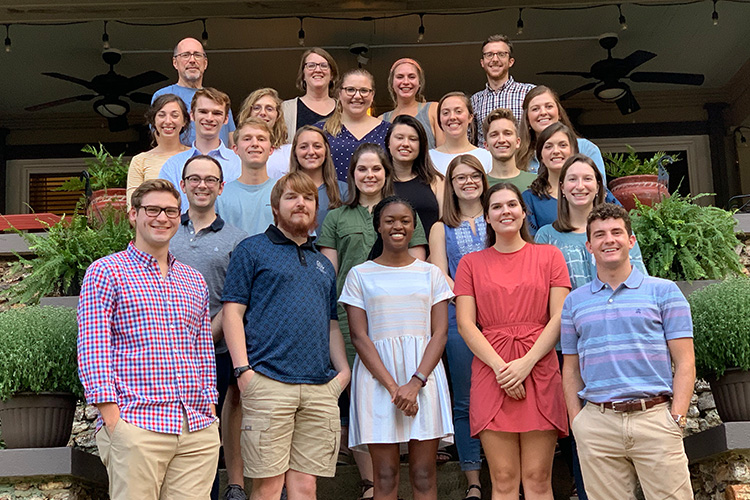 Samford University's Howard College of Arts and Sciences has named its newest class of John Howard Scholars. The students, led by dean Tim Hall, associate dean Emily Hynds and academic adviser John David Corwin, represent a variety of arts and sciences disciplines and are among the finest students in the college.
Howard Scholars participate in a variety of activities that promote research and interdisciplinary engagement both within the group and throughout the college. In the coming year they will meet J. Roderick Davis Lecture Series distinguished guest Roosevelt Montás, help organize the annual Howard College Undergraduate Research Fair and take part in various other special activities.
The John Howard Scholars program, like the college itself, takes its name from the English reformer John Howard. Born in 1726, Howard led an unremarkable life as a country squire in Bedfordshire until he was elected as the county sheriff. He was outraged to learn that some prison inmates were held captive even after they were found innocent because they could not afford the jailer's fee.
Howard made it his life work to survey the jails of Europe in an attempt to bring public attention to the shameful treatment of prisoners. He died in 1790 in the Ukraine during an inspection of the prisons and military hospitals in Eastern Europe. His life became a model of Christian compassion for society's outcasts, and a statue in St. Paul's Cathedral was raised in his honor. Fifty years after his death, a group of Alabama Baptists decided to name their new college in honor of this great humanitarian.
Howard College of Arts and Sciences traditionally celebrates its namesake's Sept. 2 birthday by naming its class of John Howard Scholars. The class of 2019-20 includes:
Hannah Atchley
Brice Boyer
Rachel Brockwell
Logan Casperson
Bailey Deavers
Drew Fillinger
Hannah Florence
Lauren Gattie
Alyssa Gregory
Leah Halls
Cameron Hunt
Andre'A Roper
Sarah Schansberg
Claire Scott
Alex Speir
Hannah Thompson
Brooke Warden
Megan West
Stephanie Westaway
Max Willinger

2019-20 Peer Mentors include:
Shae Corey
Holly Vlach
Justin Young