Published on April 30, 2018 by Sean Flynt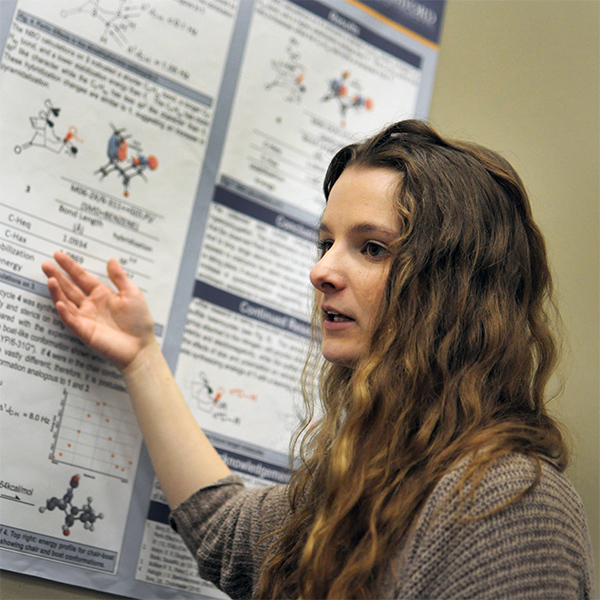 Students in every Howard College of Arts and Sciences (HCAS) department presented their original research at a special April 20 event hosted by the John Howard Scholars. The scholars are selected student academic leaders who promote research and interdisciplinary engagement throughout the college. HCAS Associate Dean Emily Hynds, who leads the scholars program along with Dean Tim Hall and Coordinator of Academic Enrichment Victoria Smith Knierim, was pleased with the first of what she hopes will be an annual expression of the college's emphasis on undergraduate research. "The topics covered were widely varied, the presenters were enthusiastic and knowledgeable, and the visitors were genuinely interested and engaged," Hynds said.
Jillian Walters is completing her first year in Samford's McWhorter School of Pharmacy, but her Research Fair presentation featured a project she began last year with Bryan Bashrum and Gabriel dos Passos Gomes under the direction of chemistry professor Paul Wiget. Typical of many STEM research projects, this exploration of chemical reactions was the result of many students working and will continue with new students as it develops. "Basically, this entire lab is just one big puzzle, and everyone is working together to find one truth, figure out what's going on at this molecular level," Walters said. "We're taking it one piece of information at a time."
Walters said the research she began as a Samford undergraduate helped her develop key skills, such as learning how to conduct herself in a lab and how to present her work as she has introduced the research at conferences. "It's really given me the opportunity to network, meet new people and broaden my communication skills," she said. It will also play a role in her professional opportunities. She will join a McWhorter professor's research lab this summer, and looks forward to continuing such work in her own career. "I love research!" she said. "I really have found a true passion in it."
Stephen Boutwell, Bailey Bridgman, Frank Jordan and Ryan Lohrengel researched the misuse of the classical tradition for professor Shannon Flynt's senior classics seminar. "Dr. Flynt gave us a blank syllabus, essentially, with the one theme of 'the dark side of classical tradition,'" Lohrengel explained. "In light of recent events, we wanted to look at how people are misusing the classical tradition to justify their own hateful and harmful beliefs."
Lohrengel said the students traced that misuse from the Renaissance through the Reformation and fascist Italy and Germany up to the present day. "You have to be really careful not to take the classical tradition and make it whatever you want it to be, because it has a such a privileged place in the world today that it's easy to appeal to as a point of authority," he said. "If you're using that authority only to justify hateful beliefs, that's dangerous both in the power it gives you and in the interpretation of the legacy that it leads to."
As Lohrengel enters William and Mary Law School this fall he has the advantage of this research and years of studying the foundations of western culture. "One of the things that drove me to be a classics major is that the classical tradition is so integral to our world, especially in law and politics," he said.
Margaret Schultz presented a research project she developed in a senior history seminar on the theme of justice. History professor Jonathan Bass had recently published his latest book on justice in the Jim Crow era, and hoped students would be interested in further exploration of capital punishment in Alabama. Schultz, who has interned with a federal district judge, found her topic in the story of Rhonda Bell Martin, executed by the state of Alabama in 1956 in spite of a medical diagnosis of schizophrenia and insanity plea. Schultz worked with official records related to the case as well as newspaper accounts to tell Martin's story and relate the case to the development of the insanity defense in American law.
In addition to her law internship, Schultz also interned with the Alabama Humanities Foundation, learning the ins-and-outs of nonprofit work and helping develop the Making Alabama bicentennial traveling exhibit. "I would love to do something in public history, long term," she said.
Physics majors Jack Kawell and Ben Nilsen attended the fair to present an autonomous rover inspired by NASA's Mars rovers. Kawell and Nilsen worked with a group of physics students to develop a proof–of-concept vehicle in a seminar led by professor Henry Glotfelty last year. "It was really simple, but it worked," Kawell said of that first rover. At the end of the project, he and Nilsen decided to continue the work in their senior year. The result, described in their presentation, is an autonomous rover that uses light detection and radar (LIDAR) technology and a sophisticated suspension to navigate challenging terrain independent of distant controllers.
The applications for the technology are significant– mapping a burning building or the site of a radioactive incident to identify hazards before emergency workers follow, for example – but the process of research and development proved to be most valuable to the students. From electrical wiring and steering mechanics to computer assisted design and 3-D printing, Nilsen said, "we've been able to take what we learned in our classes and apply to an actual thing that will work."
Kawell will begin a robotics Ph.D. program at University of Colorado-Boulder this fall, but wants to continue the rover project as a hobby, adding cameras and making it operable by cell phone as an option. Nilsen, who earned a second major in computer science, will begin a job as a research engineer at a defense contracting company in Illinois. Like Kawell, he said his own research will continue no matter what he does for a living. "I'm a tinkerer at heart," he said. "I'll have my own workshop, and I'm going to be doing this kind of stuff the rest of my life, just for myself."
Arts and Sciences Research Fair projects and presenters included:
Cytotoxicity and Molecular Complexity of Venom from the Local Wandering Spider, Ctenus Hibernalis–Johnathan Berkuta  
Evaluation of Long-Range Hyperconjugation in Constrained Eight-Membered Rings–Jillian Walters
Tarnished Tradition: Tracing the Misuse of the Classical Legacy–Stephen Boutwell, Bailey Bridgman, Frank Jordan and Ryan Lohrengel
Deeper Visions: Yusef Komunyakaa's Odes and the Elevation of the Mundane–Ryan Lally 
Small Island Coral Nursery Implementation: A Case Study on Saba, Dutch Caribbean–Forrest Courtney
I Guess I Loved Them to Death: The Life and Trial of Alabama Murderer, Rhonda Belle Martin–Margaret Schultz
Navigating the Digital Age for Regional and City Magazines–Olivia Halverson
A Quadratic Quandary and Fancy Forms– Caroline Carlisle and Ray Herbert,    
God and Future Contingents: Engaging the Counter Perspectives of Open Theism and Molinism–Mason Hicks
Omni-directional Autonomous Rover with Adaptive Suspension– Jack Kawell and Ben Nilsen                      
Manager-in-Chief: The Effect of Management Style on Presidential Advisors– Kathryn King       
The Effects of Surface Acting on Customer Satisfaction with an Aerobic Exercise Program–Gretchen Powell                        
The Role of Civil Religion in Broadway Musical Hamilton–Emily Jenkins     
Economic Influences on Attitudes Toward Immigration–Kendall Luna         
Barbaric Bureaucrats Civilizing Classrooms–David Beutel
Samford is a leading Christian university offering undergraduate programs grounded in the liberal arts with an array of nationally recognized graduate and professional schools. Founded in 1841, Samford is the 87th-oldest institution of higher learning in the United States. Samford enrolls 5,791 students from 49 states, Puerto Rico and 16 countries in its 10 academic schools: arts, arts and sciences, business, divinity, education, health professions, law, nursing, pharmacy and public health. Samford fields 17 athletic teams that compete in the tradition-rich Southern Conference and ranks 6th nationally for its Graduation Success Rate among all NCAA Division I schools.