Published on August 20, 2020 by Sean Flynt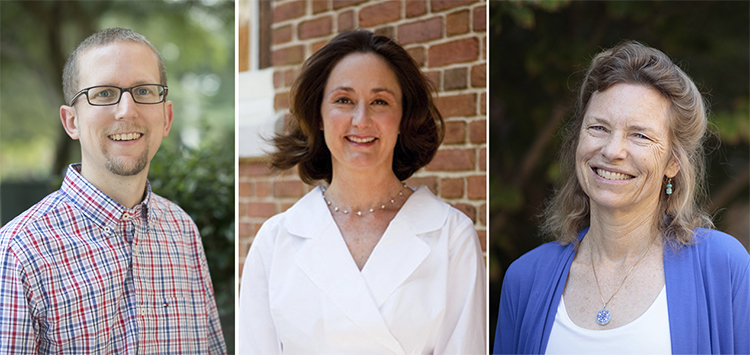 Samford University's Howard College of Arts and Sciences presented its annual Dean's Awards during an online assembly Aug. 19.
Biological and Environmental Studies professor Betsy Dobbins earned the Scholarship Award. Dean Tim Hall observed that Dobbins has enjoyed some of the college's greatest success in conducting significant collaborative activities funded by sizeable federal grants. In the last year, Dobbins edited a book and published a book chapter, a conference paper, and an invited paper in a special issue of a philosophy journal focused on Ecological ethics and ecopolitics. She is currently writing an invited chapter on COVID-19, climate change and modernity. Hall also praised her leadership of Samford's National Science Foundation-funded STEM Scholars Program, which recruits and mentors academically talented and financially at-risk students. Dobbins–the inaugural Paul N. Propst Professor of Natural Sciences–is a leader of academic initiatives in STEM and an active researcher and community volunteer.
Communication Studies professor Rhonda Parker earned the Excellence in Advising Award. Political Science professor Marissa Grayson presented the award and reminded the faculty how important advising sessions and even email communication can be in shaping students' lives. Parker, she said, "Exemplifies the idea that advising is part of her teaching." A nominating student who switched to a communication studies major after being introduced to Parker in a general education course also emphasized those points. "She has helped so much by helping me not only navigate wanted to do with my life, but also by helping me navigate my way to get there," the student wrote.
Math and Computer Science professor Jeffrey Powell earned the Teaching Award. Dean Hall said Powell's students praised his accessibility, clarity and ability to make a very challenging subject as fun and interesting as possible. "He also has been instrumentally involved in developing general education assessments, and has made excellent use of the results to make improvements in the mathematics curriculum," Hall said. "Dr. Powell is the best math teacher I have ever had," wrote one nominating student. "He made feel like I could actually do math!"