Published on May 6, 2020 by Sean Flynt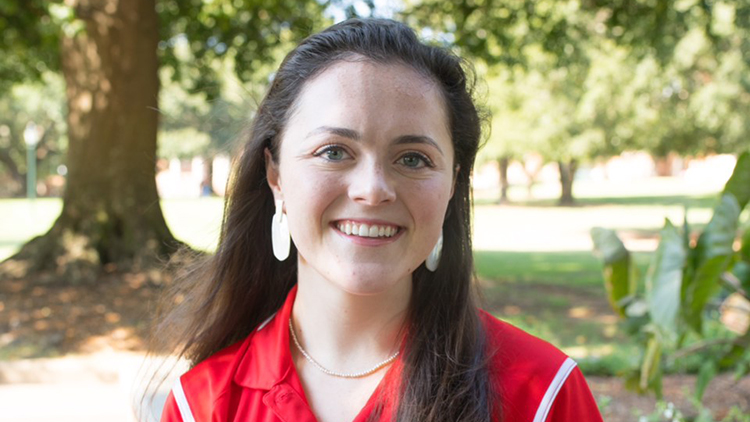 Interdisciplinary respect and cooperation allow Howard College of Arts students to create uniquely personal academic and career paths. Graduating senior Carol Graffeo is interested in the relationship between law and religion in the U.S., so she combined Samford majors in English and religion on the road to one of the nation's most prestigious law schools.
"I was confident that studying what I loved in college would naturally open doors for future studies and career opportunities," Graffeo said. "I knew that no matter what path I chose career-wise, the skills gained and qualities cultivated in these departments would strengthen me as a student and purpose-driven individual."
Graffeo cited the writing and other communication skills she developed in the English Department and Department of Biblical and Religious Studies as especially important in her development as a leader both in and outside the classroom. Travel, undergraduate research and the model of her mentors also made a significant impact not only on her undergraduate career, but on her future plans.
She began this most unusual academic year in Israel with Biblical and Religious Studies professor Jeff Leonard, a journey she described as "a beautiful capstone to my Samford experience and studies in the department." As academic capstones, being the first recipient of the department's W. Landon Miller Award for Academic Achievement and graduating in the top ranks of the dean's list aren't too bad, either. She also earned an ASPIRE undergraduate research grant to work with Biblical and Religious Studies professor Lisa Battaglia on a project called, "Who is my Neighbor?: Applying Interfaith Study to Transformative Community Action."
Graffeo said Battaglia and English Department mentor Rosemary Fisk inspired her to consider returning to the college classroom as a professor someday. First, she'll continue her interdisciplinary exploration at Notre Dame Law School, where she'll begin work for a J.D. degree this fall.