Published on March 18, 2020 by Sean Flynt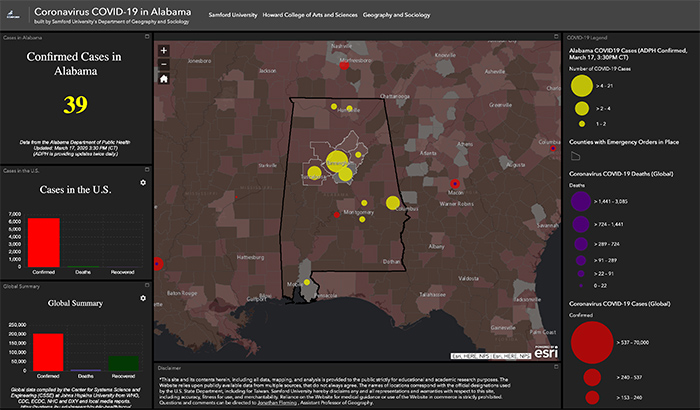 Samford University's
Department of Geography and Sociology
has developed a pandemic data dashboard, 
Coronavirus COVID-19 in Alabama
, for the dual purpose of public information and continued instruction as the university transitions to online courses this week.
Geography professor Jonathan Fleming created the geographic information systems (GIS) project and updates it several times each day using data from multiple sources, including  Johns Hopkins University, Alabama Department of Health and the Centers for Disease Control's Social Vulnerability index (SVI). Hundreds of thousands of visitors have viewed the site since it's launch in mid-March.
Department chair Jennifer Speights-Binet said professors will be using the new resource as a classroom tool in the coming weeks, emphasizing to students their discipline's vitally important role in the world as it also keeps them up to date with the best available information about the pandemic.