Published on February 10, 2021 by Sean Flynt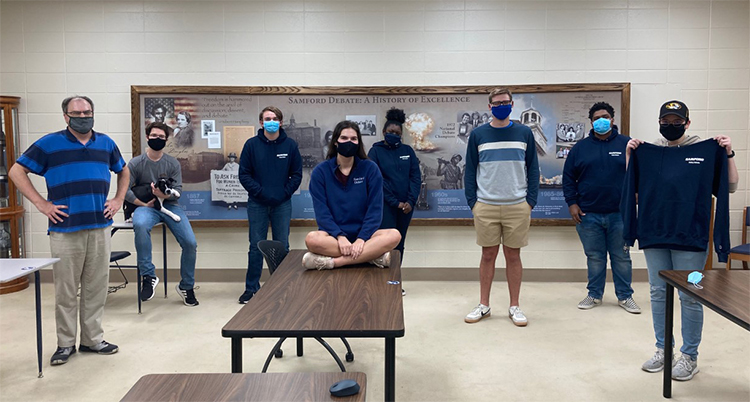 Samford debaters delivered strong back-to-back performances in January, and two of them rose into the top 10 in national rankings.
The team of Max Willinger and Taijah Clark reached the final four of the virtual U.S. Naval Academy Tournament, logging wins against Cornell University, Liberty University and the New School of New York City. 
The junior team of Sawyer Emerson and Maddox Gates–already ranked 7th in the nation–had an especially impressive University of Minnesota Tournament, going 5-1 in preliminary competition and reaching the elite eight after defeating teams from the University of Minnesota, the University of Iowa, Gonzaga University, the University of Georgia, Missouri State University and Wichita State University. Emerson and Maddox were narrowly defeated by tournament finalist University of Pittsburgh. Emerson was named eighth speaker at the tournament. The team of Alyssa Gregory and Joey Tarnowski also competed at the tournament, defeating Indiana University and the University of Iowa.
"These two tournaments put us in a strong position for our goal of qualifying for the National Debate Tournament," director of debate Ryan Galloway said. "The fact that we have three teams competing at such a high level of competition speaks well for the future of the program," assistant director Lee Quinn added.
Samford's Debate Team currently is ranked #12 in the nation by the American Debate Association, ahead of traditional debate powerhouses including Harvard University, Northwestern University and Cornell University. It will next compete at the National Debate Tournament district qualifier hosted by Emory University at the end of February.