Published on July 22, 2021 by Sean Flynt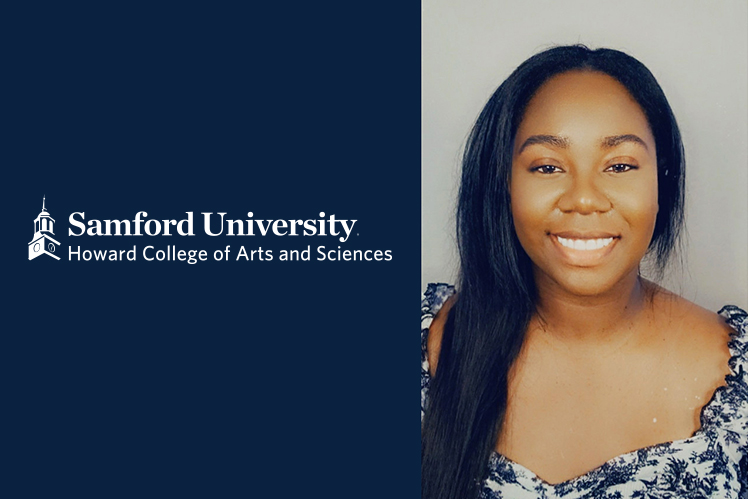 Samford University engineering physics alumna Brittney Terry '19 has been named a National Science Foundation (NSF) Graduate Research Fellow and a GEM/Intel Fellow. The exceptional pair of honors recognize the outstanding scholarship and career potential of one of the university's STEM Scholars–students who have transferred from 2-year institutions to complete their 4-year degrees at Samford. Currently, Terry is a Ph.D. candidate in the University of California-Riverside's electrical engineering program, and an intern in the Intel corporation's Healthcare and Life Sciences/Emerging Technologies division.
The GEM/Intel Fellowship, which is separate from Terry's Intel internship, furthers the National GEM Consortium's mission to enhance the value of the nation's human capital by increasing the participation of underrepresented groups at the master's and doctoral levels in engineering and science. Intel is the largest corporate partner in that effort
The NSF Graduate Research Fellowship Program (GRFP) helps ensure the vitality of the human resource base of science and engineering in the United States, and reinforces its diversity. A fellowship provides a three-year annual stipend of $34,000, a $12,000 cost of education allowance for tuition and fees, and access to opportunities for professional development. Past fellows include numerous Nobel Prize winners, former U.S. Secretary of Energy Steven Chu, Google founder Sergey Brin and Freakonomics co-author Steven Levitt.
Terry's higher education experience began at Lawson State Community College, where she earned a place in the Honors College and found faculty mentors. "When I began school, I had no idea what I was capable of, though I always had others who did," Terry said. At Samford,  biology professors Betsy Dobbins and Malia Fincher, and computer science professor Greg Kawell were among those who recognized her potential and encouraged her research exploration.
Kawell helped Terry connect with an Alabama Power Company recruiter who selected her for an internship at Southern Nuclear energy operator in 2019. Other internship and research experiences took her to Tuskegee University, Ghana (via Georgia Southern University) and the University of Alabama at Birmingham. Her work ranged from materials science to toxic metal contamination of food and medical treatments for post-traumatic stress disorder (PTSD). Her current research involves the fabrication and analysis of high entropy alloys.
Terry's remarkably rich internship and research experiences reflect not only her own initiative and dedication, but also the personal attention of faculty mentors and Samford's emphasis on undergraduate research, career exploration and preparation for graduate education.
"As I sit and think about how I became the professional that I am, with the many experiences and blessings under my belt, I think about how so many people decided that I was worth helping and teaching," Terry said. "I am thankful for everyone who believed in me, and now I get to follow my wildest dreams and passions because of it."