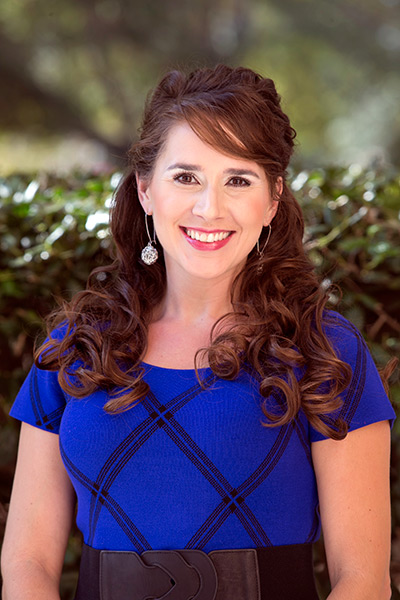 Executive Director of the Center for Worship and the Arts, Assistant Professor, Music and Worship
School of the Arts
Division of Music, Music and Worship
404 Buchanan Hall
Emily Snider Andrews believes worship lies at the heart of what it means to be a Christian disciple. To that end, she understands her efforts to equip future worship leaders and pastoral musicians as a means of serving Christ's church. Emily teaches church music and worship leadership at Samford, where she also serves as Director of the Center for Worship and the Arts.
Emily received the Bachelor of Music from Samford University, the Master of Music from Baylor University, the Master of Divinity from George W. Truett Theological Seminary, and the PhD in Christian Worship from Fuller Theological Seminary. Before moving to the southeast, Emily taught church music and worship at Mercer University and Azusa Pacific University.
Emily teaches undergraduate courses in music and worship leadership as well as graduate courses in church music. As an instructor, she's especially contributed to courses on congregational song, worship design, music as theology, and worship arts.
The Center for Worship and the Arts exists to equip congregations to engage intergenerational and artistic worship practices that glorify God, honor Christ, and join the transformative work of the Spirit in the world. As Director, Emily was awarded monies from Lilly Endowment, Inc. to further their mission, particularly their work and learning among teenagers and emerging adults at the intersection of worship and the arts.
Her research interests include studies of evangelical worship, sacramental theology, and the interlacing of music and theology. In particular, her work explores the sacramental potential of modern worship music practices in renewalist and other evangelical contexts. Emily is a member of the North American Academy of Liturgy and participates in their working seminar on Contemporary and Alternative Worship.
An ordained minister, Emily is deeply committed to the corporate worship life of the church and has maintained an active role in various worship ministries, having served congregations on staff in Alabama, Texas, and California. She understands her academic vocation as further service to her call, as she seeks to form students who will lead Christ's church to worship with godly wisdom and Spirit-led imagination.
Emily is married to Matt, a minister. They are the proud parents to three children, who occupy much of their free time. 
Degrees and Certifications
BM Samford University
MM Baylor University
MDiv George W. Truett Theological Seminary, Baylor University
PhD Fuller Theological Seminary
Select Publications
"We Practice 'Biblical Worship': A Southern Baptist Vision of Liturgical Authority." In Worship and Power: Liturgical Authority in Free Church Traditions. Eds. Sarah Johnson and Andrew Wymer. Grand Rapids: Eerdmans, 2023.
"Who's Minding the Music?: The Impact of Charismatic Renewal on Southern Baptist Training of Worship Leaders." Liturgy 37, No. 3 (2022): 36-45.
Andrews, Emily and Adam Perez. "Sacramental Encounter with God through Music?" Produced by Duke Worship Research Group. Conversations on Contemporary Worship. November 20, 2021. Podcast, MP3 audio, 01:18:00. Available on all major podcast streaming platforms.
"A Worship-Rooted Lifestyle? Exploring Evangelical Ethics at Bethel Church, Redding, CA." In Ethics and Christian Musicking. Eds. Nathan Myrick and Mark Porter. New York: Routledge, 2021.
"Ulrich Zwingli: Consummate Ritual Theorist or a Little Bit of Luck?" In The Gift of Music: Essays on Church Music and Hymnology. Eds. Samuel J. Eatherton, Nathan Myrick, and Marcell Silva Steuernagel. St. Louis: Morning Star, 2021.
"Evangelicals, Modern Worship Music, and the Possibility of Divine-Human Encounter." Proceedings: North American Academy of Liturgy (2017): 95-112.
"Hymns and Doctrine: God's Transcendence and Immanence." The Hymn: A Journal of Congregational Song 64, no.1 (Winter 2013): 28-34.
Expertise
Music and Worship
Liturgical Theology
Ritual Studies
Liturgical History
Sacramental Theology
Aesthetic Theology