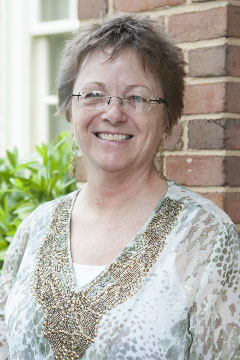 Laura S. Byland
Associate Professor
School of the Arts
Department of Theatre and Dance
Laura S. Byland, who is joining the Samford faculty this fall, has livedand taught in Shawnee, Oklahoma since 1992. In her time at Oklahoma Baptist University she taught, designed, and directed in the theatre department, most recently serving as Associate Professor and Director of Theatre. Byland is most proud of her work in developing the Theatre for Young Audiences that presented quality productions for children at OBU for nearly twenty years. An extension of her passion for children's theatre can be seen in the Scissor tail Children's Theatre, an independent children's theatre in Shawnee, co-founded by Byland andfor which she serves as Artistic Director.
Byland has created award-winning scenic and lighting designs for variouscollegiate, community, and commercial theatres. She was honored to light theaward-winning show Your's Isabel at the Edinburgh Theatre Festival in 2011. Byland has served as the Chair for the Kennedy Center American College Theatre Festival Region IV Oklahoma State and has received awards including Excellencein Scenic Design, The Director's Choice Award Region IV, Commendation fordirecting, and the University of Oklahoma's School of Drama award for Outstanding Lighting Design.
Byland's other creative interests include quilt making and designing andcreating stained glass. She also enjoys spending time with her husband, Dr.David Byland, their three daughters, son-in-law, and grandson.
Degrees and Certifications
MFA, University of Oklahoma
MA, Oklahoma State University
BA, Hiram College
Expertise