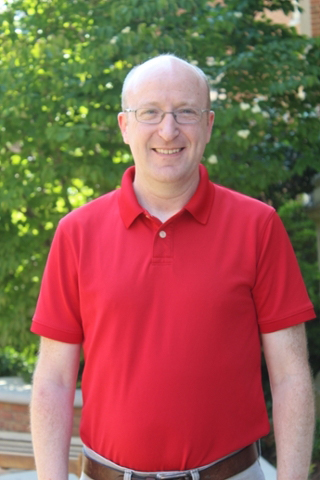 Chair, Professor
School of the Arts
Department of Theatre and Dance
216 Buchanan Hall
Mark Castle is a professor in the Department of Theatre and Dance, teaching in the areas of acting, directing and design, and is the advisor for the Musical Theatre program. Originally from England, he attended drama school at the Arden School of Theatre in Manchester. He received a B.A. (Honors) degree in Drama from the University of Leeds, focusing on Scenography. During this time he spent a semester at Ouachita Baptist University in Arkadelphia, Ark., where he met his wife, Starla.
Before coming to live in the States, he worked professionally as a designer and stage manager at several theatres in England. He earned his M.F.A. in Theatre from the University of Memphis, Tennessee, in directing, and has worked as an actor, stage manager, director and designer at Greenbrier Valley Theatre in West Virginia.
In the Birmingham area Mark has performed with Birmingham Festival Theatre, Muse of Fire & Theatre Downtown.  He was the voice of Charles Wesley in the documentary film "A Heart Set Free", and his short play "The Night the Widget Broke" was published by iUniverse, and performed at the Short & Sweet Festival in Sydney, Australia.  Mark is also the director of the Praxis Project, a collaborative faculty/alumni theatre company.  He has two sons Sean & Charley.
Degrees and Certifications
BA (Hons) Leeds University, UK
MFA University of Memphis
Expertise
Awards and Honors
Memphis Theatre Awards - Best Production 1999
Publications
"The Night The Widget Broke" in Stage This, Too! from iUniverse, Inc.
"A Heart Set Free—The Life, Ministry and Lyrics of Charles Wesley" Documentary Film (Voice of Charles Wesley)
Presentations
"Once More From the Top - Auditioning Techniques" (Southeast Theatre Conference, Spring 2011)
"Alicia in La Loteria" A Children's Play - Edinburgh International Festival, Summer 2011
Resources
Muse of Fire
Birmingham Festival Theatre [Link broken as of 10/30/2023]