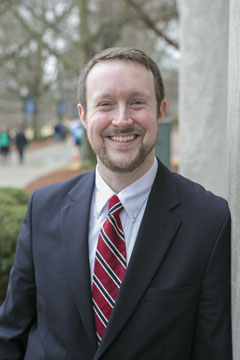 Associate Professor for Music Theory, Composition, and History
School of the Arts
Division of Music, Theory and Composition
Office: 214 Beeson Hall
Davis received a Bachelor of Music degree in Theory and Composition with Honors in Double Bass Performance summa cum laude from Samford University before earning his Master of Arts and Doctor of Musical Arts degrees in Composition at Claremont Graduate University.  His teachers include Peter Boyer,Edward Zeliff, James A. Jensen, Rebecca Remley, and Bob Burroughs.  He has participated in master classes and seminars with Eric Whitacre, Steven Stucky, and Sam Jones, and he has pursued independent studies in arranging and film scoring with Van Dyke Parks and Bobby Horton.  He has performed as a double bassist with the Alabama, Tuscaloosa, and Gadsden Symphony Orchestras, and his conducting appearances include concerts and premieres by various choral and instrumental ensembles at Shades Mountain Baptist Church, The Master's College, and Samford University.
As a composer, orchestrator, arranger, producer, and performer, Davis remains active across a wide array of genres:  his commissioned compositions have received premieres at Carnegie Hall, the Great Hall at Harlaxton Manor, and the Palais Ferstel in Vienna; his film scores have been featured in international film festivals, as well as television and internet broadcasts; his orchestration credits include premiere performances by the San Francisco Symphony, the Hollywood Bowl Orchestra, the Boston Pops, the Academy Awards Orchestra, and the Grand Rapids Symphony; and his production credits consist of EPs and albums for singer-songwriters, bands, and various vocal and instrumental ensembles.
Davis's scholarly interests include the practice of hymn quotation in American music; the relationship between religious faith and the humanities; the resurgence of tonality among contemporary composers; the far-reaching influence of film and popular music; and the increasing impact of technology upon the arts.  His doctoral research culminated in a multidisciplinary D.M.A. paper entitled The Populist Variations: The Role of Hymnody in the Music of Charles Ives, Aaron Copland, and John Adams.  He has presented film screenings of his original music scores at the Lilly Fellows Program National Conference, as well as the Christ College Symposium at Valparaiso University.  His awards and fellowships include the Lilly Graduate Fellowship in Humanities and the Arts, the Fernandez Prize in Music, and the Grace Hobson-Smith Music Fellowship.   Past and present professional memberships include the Birmingham Art Music Alliance, the American Composers Forum, the Society for Music Theory, the American Musicological Society, the College Music Society, Broadcast Music International (Classical and Film/TV), and the honor societies of Omicron Delta Kappa, Pi Kappa Lambda, and Phi Kappa Phi.
Davis is married to Lauren Heerssen Davis, a fellow Samford alum who serves as the Registered Dietitian at Magnolia Creek Treatment Center for Eating Disorders.  They have one daughter, Ansley Kate. 
Degrees and Certifications
B.M., Samford University
M.A., Claremont Graduate University
D.M.A., Claremont Graduate University
Awards and Honors
 Lilly Graduate Fellow in Humanities and the Arts
Resources