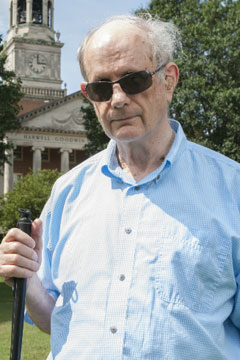 University Carillonneur, Lecturer, Carillon, Instructor
School of the Arts
Division of Music
Office: 407 Buchanan Hall
Stephen Brooks Knight is a pianist, organist, carillonneur and composer from Birmingham, Ala., and has been Samford University's resident carillonneur since 1974. Knight has received numerous awards and honors, including winner of the City of Mechelen Carillon Composition prize from the Royal Carillon School in Mechelen, Belgium, and two-year recipient of the Young Blind Composers Award from the National Federation of Music Clubs. He also received the Samuel P. Hayes Award from the Perkins School for the Blind and the Harry R. Wilson Award from Samford University.
Knight holds two undergraduate degrees from University of Alabama and graduate degrees from Samford University, Schola Cantorum in Paris, France, and University of Michigan. He received the Final Diploma "With Great Distinction" from the Royal Carillon School in Belgium.
Knight participated in the First World Congress of Guild of Carillonneurs in Ammersfoort, Holland, in August 1978. He has been a member of the Guild of Carillonneurs in North America since 1970 and is also a member the American Guild of Organists, American Federation of Music Clubs and Phi Mu Alpha Sinfonia.
Degrees and Certifications
A.B., The University of Alabama
B.M., The University of Alabama
M.M., University of Michigan
Royal Carillon School, Belgium
Degree Superior, La Schola Cantorum, Paris
Expertise
Awards and Honors
City of Mechelen Carillon Composition prize, Royal Carillon School, Mechelen, Belgium
Two-year recipient, Young Blind Composers Award, National Federation of Music Clubs
Involvement
Guild of Carillonneurs in North America
American Guild of Organists
American Federation of Music Clubs
Phi Mu Alpha Sinfonia