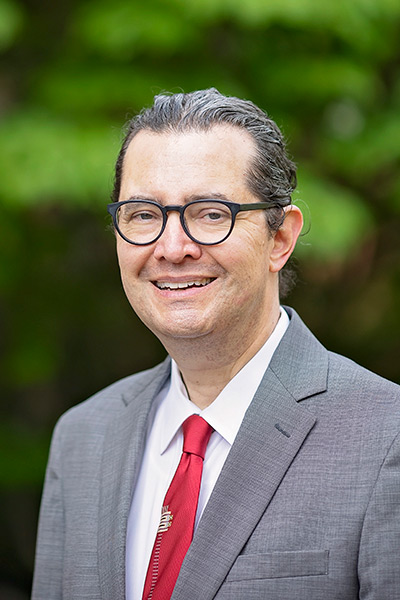 Associate Professor, Music Theory, Composition, Director of Graduate Studies
School of the Arts
Division of Music, Theory and Composition
Office: 306 Brock Hall
Mark Lackey composes new music that is "buoyant, at times playful" with "a classical, yet unrestrained lyricism" (ArtsBham).

As a composer of vocal, electronic, chamber, orchestral, and wind ensemble music, Mark Lackey has garnered premieres from many gifted artists including Orquestra Sinfônica do Teatro Nacional Claudio Santoro (the national theatre orchestra of Brazil), Rhymes With Opera, Fireworks, Eastman Wind Orchestra, Definiens Ensemble, Druid City Ensemble, cellist Craig Hultgren, Miolina NYC, violist Victor de Almeida, and violinist Courtney Orlando. A leader in the local new music scene, he is immediate past president and current treasurer of the Birmingham Art Music Alliance. His print music is available through Dorn Publications, Julian Date Music, and sheetmusicplus.com, and recordings are available on the Potenza Music and Centaur Records labels. Honors include finalist status in the American Composer Competition of the Columbia (MD) Orchestra, selection as Alabama Orchestra Association's Composition Contest 2020 winner, and a public reading by the Alabama Symphony Orchestra.

Mark Lackey is also an energetic educator. As Associate Professor at Samford University's School of the Arts, he teaches music composition and theory, and serves as Coordinator of Graduate Studies in Music. He earned the degrees Doctor of Musical Arts in composition, Master of Music in theory pedagogy, and Master of Music in composition from The Peabody Conservatory of Johns Hopkins University where his teachers included Bruno Amato, Nicholas Maw, and Christopher Theofanidis.

Mark Lackey makes his home in Birmingham, Alabama with his wonderful wife and daughter.
Degrees and Certifications
B.S., psychology, music, Lipscomb University
M.M., music theory pedagogy, The Peabody Conservatory of Johns Hopkins University
M.M., music composition, The Peabody Conservatory of Johns Hopkins University
D.M.A., music composition, The Peabody Conservatory of Johns Hopkins University
Awards and Honors
Johns Hopkins University Arts Innovation Grant 
American Composers Forum Encore Grant
Involvement
American Composers Forum
College Music Society
Birmingham Art Music Alliance
Pi Kappa Lambda National Honor Society in Music