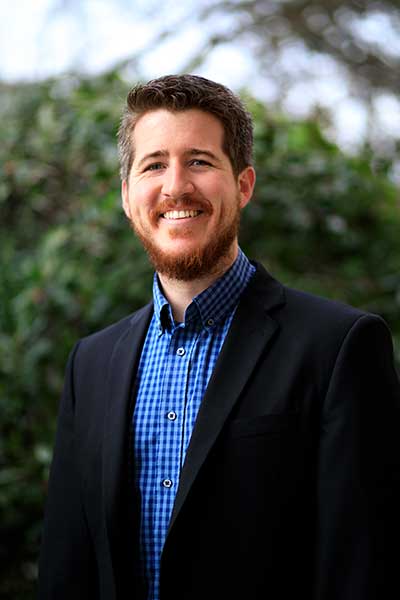 Associate Professor
School of the Arts
Department of Art & Design
Office: 109 Art Lofts
Stephen Watson received his MFA from The University of Alabama and his BA from Williams Baptist College in Arkansas. Before joining Samford in 2014, Watson taught as an adjunct faculty at The University of Alabama and Shelton State Community College in Tuscaloosa. At Samford, he teaches courses in design foundations.
Watson is a multi-disciplinary artist, but he is best known for his ephemeral installations of powdered spices and herbs on gallery floors. He strives to create theologically rich work that is both contemporary and faithful. He has had recent solo exhibitions at Gordon College in Massachusetts, College of the Ozarks in Missouri, and Ouachita Baptist University in Arkansas. He also recently completed two large-scale public murals in Louisville, Kentucky and Walnut Ridge, Arkansas.
Stephen and his wife Lily have two children, Eli (6) and Zoe (3), and they live in Hoover, Alabama.
Presentations
"Patterns of Devotion," Barrington Center for the Arts, Gordon College
"Meander," Boger Art Gallery, College of the Ozarks
"Emanate," Rosemary Gossett Adams Galleries, Ouachita Baptist University
"Watch Your Step," Dedo Maranville Fine Arts Gallery, Valdosta State University
"Vestige," Union University Art Gallery, Union University
"Interruptions," Ira M. Taylor Gallery, Hardin-Simmons University
Follow Watson on instagram @stephenwatson.art