Be a part of a Samford Legacy
The Samford University Marching Band supports university athletic teams, provides entertainment for our Bulldog fans, and builds positive community relations for the Athletics Department and the University Band Program. The Marching Band also seeks to improve student's musical skills, to provide performance opportunities, to enhance the overall quality of time spent in the university environment for its members, and to develop leadership skills to transfer into their academic and professional lives.
The Samford Marching Bulldogs rehearse on Tuesday, Thursday and Friday 3:30-5:30 p.m.
Follow us on Facebook @samfordbands and Instagram Samford_MarchingBand.  
We perform at home football games, one away game, and a high school marching exhibition. Membership is open to all with previous band experience; marching experience is not necessary.
2019-20 Football Season
Aug. 24 Youngstown in Montgomery
Sept. 21 Alabama A & M
Sept. 28 Citadel
Oct. 5 Furman
Oct. 26 East Tennessee
Nov. 9 UT Chattanooga
Nov. 30 FCS Playoffs
Dec. 7 FCS Playoffs
Dec. 14 FCS Playoffs
Interested in Joining?
If you would like to join the Samford Marching Band for the 2020-2021 Season, please complete the following link.  If you are a percussionist, dancer, majorette, or color guard member, you will still need to complete this form and your audition form.
For information regarding Athletic Bands Scholarships, contact Ryan Lovell with questions rlovell@samford.edu.
Alumni Band Day
Save the Date for Homecoming 2019, Nov. 8-9.
Color Guard/Majorettes
Color Guard and Majorette opportunities are also available.  Please contact Ryan Lovell rlovell@samford.edu with questions.  Audition information for 20-21 season TBA. 
Dance Team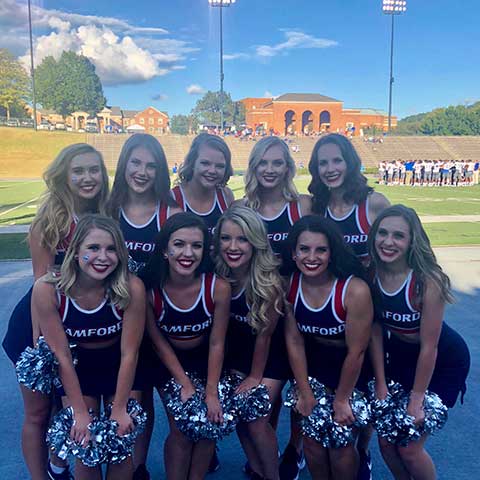 Who are we?
The Samford University Dance Team serves as part of the Samford University Athletic Band Program and encourages a level of spirit and enthusiasm for  Samford University sports. The team is made up of talented undergraduate students who are passionate about Samford, dance, performing and serving the community.  
What is our time commitment?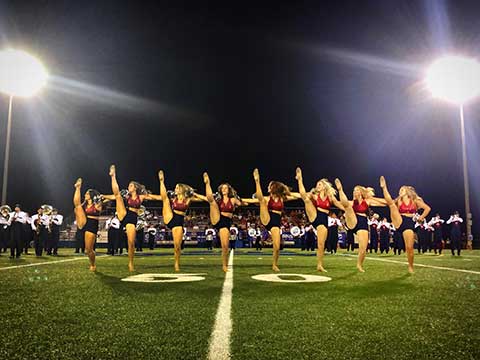 The Samford Dance Team practices three times each week including technique class and conditioning. They are required to dance at all home football games, home basketball games, and post-season basketball tournaments. Additionally, the Samford Dance Team performs at various events both on and off campus and are required to complete 10 hours of community involvement each semester. Audition information for 20-21 season TBA.
Athletic Band Scholarships
Athletic Bands Scholarships are available for winds, brass, percussion, color guard and majorettes through an audition. Students pursuing an academic major other than music can compete for an Athletic Bands Scholarship by completing an application form and live or video audition. When submitting a video audition, copy and paste link into scholarship application. Ensemble placement is at the discretion of faculty based upon scholarship application and audition results. 
Winds and Brass
Prepare the Samford Fight Song for your instrument, plus one additional piece that demonstrates your highest musical achievement.
Samford Fight Song
Percussion
Contact Dr. Grant Dalton if you have questions regarding percussion requirements.
Clinics and Camps
Dance Team Prep Clinic 
Pre-audition dance clinics are offered to prepare dancers for Samford University's Dance Team auditions or for anyone interested in auditioning for a college dance team. We will take you through the audition process to better prepare you for our auditions. The clinics are open to high school students, as well as college and transfer students.