Be a part of a Samford Legacy
The Samford University Marching Band supports university athletic teams, provides entertainment for our Bulldog fans, and builds positive community relations for the Athletics Department and the University Band Program. The Marching Band also seeks to improve student's musical skills, to provide performance opportunities, to enhance the overall quality of time spent in the university environment for its members, and to develop leadership skills to transfer into their academic and professional lives.
The Samford Marching Bulldogs rehearse on Tuesday, Thursday and Friday 3:30-5:30 p.m.
We perform at home football games, one away game, and a high school marching exhibition in the fall of 2018.  Membership is open to all with previous band experience; marching experience is not necessary.
SUMB Fall Performance Schedule 2018
8/30/2018 Shorter University 6:30 p.m. Kick Off
9/15/2018 Mercer University (family weekend) 2 p.m. Kick Off
9/21/2018 Furman (Volleyball Game) Pep Band 7 p.m.
9/22/2018 @UT Chattanooga 6 p.m. Kick Off
10/05/2018 Mercer (Volleyball Game) Pep Band 7 p.m. 
10/06/2018 Western Carolina 12:30 p.m. Kick Off
10/13/2018 Virginia Military Institute 2 p.m. Kick Off (HS Band Day)
10/26/2018 UNCG (Volleyball Game) Pep Band 7 p.m.
11/03/2018 Wofford 2 p.m. Kick Off
11/7/2017 Chattanooga (Volleyball Game) Pep Band 7 p.m.
Interested in joining?
If you would like to join the Samford Marching Band for the 2018-19 Season, please complete the following link.  If you are a percussionist, dancer, majorette, or color guard member, you will still need to complete this form and your audition form.
2018-19 Samford Marching Band Registration Form
For information regarding Athletic Bands Scholarships, contact Tim Heath at  theath@samford.edu.
Color Guard/Majorettes
Color Guard and Majorette opportunities are also available. Color Guard auditions will be held on the Samford Campus, April 21, 2018  from 9 a.m. until 4:30 p.m.  Please contact Tim Heath for more information at theath@samford.edu.  
Dance Team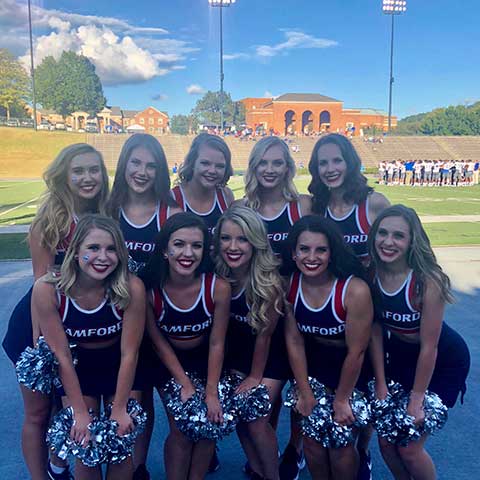 Who are we?
The Samford University Dance Team is a part of the Samford University Athletic Band Program. This team is responsible for raising the level of spirit for Samford University and the Samford community. The team is made up of undergraduate and graduate students who are passionate about entertaining at Samford athletic events and participating in community involvement.
What is our time commitment?
The Samford Dancers practice three times each week and workout twice each week. They are required to dance at all home football games, all home basketball games, and all post-season basketball tournaments. Additionally, the Samford Dancers perform at various events both on and off campus and are required to complete 10 hours of community involvement each semester.
What skills do we require?
All Samford Dancers are expected to display a proficient level of expertise in all styles of dance. This includes hip hop, jazz, pom, ballet, and contemporary dance. Dancers should be able to perform leaps, turns, jumps, and dances with ease. They should be able to learn dances quickly and to perform dances comfortably. Experience with sideline dance and performing sideline cheers is preferred but not required.
Athletic Band Scholarships
Athletic Bands Scholarships are available for winds, brass, percussion, color guard and majorettes through an audition. Students pursuing an academic major other than music can compete for an Athletic Bands Scholarship by completing an application form and live or video audition. When submitting a video audition, copy and paste link into scholarship application. Ensemble placement is at the discretion of faculty based upon scholarship application and audition results. 
Winds and Brass
Prepare the Samford Fight Song for your instrument, plus one additional piece that demonstrates your highest musical achievement.
Samford Fight Song
Percussion
Contact Dr. Grant Dalton if you have questions regarding percussion requirements.