The Samford Quartet is part of the Division of Music in Samford's School of the Arts. In addition to teaching applied lessons, the quartet works closely with chamber music groups and the Samford Orchestra, gives regular concerts on campus and collaborates with School of the Arts faculty in a variety of projects.
Since its inception in 2011, the Samford String Quartet has enjoyed playing concerts in various parts of the United States and around the world. The quartet was launched through a generous endowment from Drs. Wilton and Victoria Bunch who love music and Samford University.
The ensemble received critical acclaim from its premiere concert. The Birmingham News extolled its "finely blended sound" and "rhythmic energy". They added, "This quartet is on a fast track to putting Samford and Birmingham on the chamber music map". The Samford Quartet has performed together in England, France, the Dominican Republic, and throughout the United States. They performed a successful Carnegie Hall recital in 2016. In addition to performing standard quartet literature, the quartet is also interested in playing very new music, Appalachian music, and sacred music. In the spring of 2016, they gave the world premiere of Joel S. Davis' first string quartet: Vespers. The Samford Quartet has also taken the initiative to play for thousands of students in schools across the United States. The players interact with the students through performances, teaching and masterclasses.
Fall 2022-23 Performances:
String Quartet Recital 
September 15, 11 a.m. , O'Neal Library
Joel Scott Davis, Composer
September 20,  Reid Chapel 7:30 p.m. 
World premiere of Evan Mack's Sextet for Clarinet, Piano, and String Quartet
September 27, Brock Recital Hall 7:30  p.m.
Nashville School Performances at Brentwood, Hillwood, and Ravenwood High Schools.
October 18, 2022   
Chattanooga School of the Arts and Sciences, Hixson Middle School and Hixson High School
November 4, 2022
Trinity Presbyterian Church, Montgomery, AL
November 13, 2022, 10 a.m.  
Recital for the Bush Music Club
November 18, 10 a.m., Vestavia Hills Baptist Church
Advent Series
December 14,  6:30 p.m., South Highland Presbyterian Church
Concert
December 21, 11 a.m., O'Neal Library
Luncheon Concert
January 27, 12 p.m., Hoover Library
Samford Concert
February 21, 7:30 p.m., Brock Recital Hall 
About the Quartet Members
The Samford String Quartet is made up of two married couples. They have previously held positions in major symphony orchestras, performed and taught at many music festivals, and performed as recitalists. As professors at Samford, they work closely with students in applied lessons, chamber music, orchestral studies and pedagogy. Samford University, founded in 1841, is a private university located in a suburb of Birmingham, Alabama.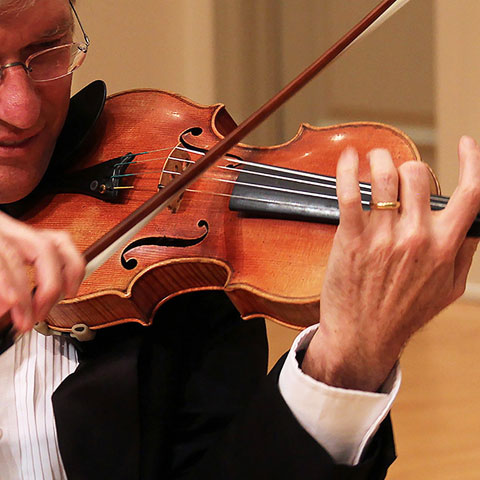 Jeffrey Flaniken, Violin
Violinist Jeffrey Flaniken was born and raised in Louisville, Kentucky. He is enjoying a multifaceted vocation as a chamber music player, recitalist, teacher and orchestral musician. He began his performing career by winning a chair in the Louisville Orchestra at the age of seventeen. Subsequently, he has had a chair in the Alabama Symphony and played with the Cincinnati, Atlanta, and Columbus symphonies; the Tanglewood and Aspen Festival orchestras; The Cincinnati Ballet and Opera orchestras; the Cincinnati Chamber Orchestra and many others. As a current member of the Samford Quartet, he has performed concerts in England, France and in many places in the United States. As a recitalist, Mr. Flaniken has regularly performed not only standard literature from the past three hundred years but also many very new works. In 2010, Professor Flaniken in conjunction with his wife Angela, Donald Sanders, Kevin Kozak and Sarana Chou released a recording of 21st century chamber music presenting music of Lansky, Jensen, and Chou. He also performed works of Andrew Rudin at Carnegie Hall.
An avid teacher, Professor Flaniken has been teaching at Samford University since 1994. His students have played on NPR's From the Top, been soloists with various orchestras, been accepted to Juilliard, Indiana University, Curtis Institute, Northwestern University, Cincinnati College-Conservatory of Music and many other notable schools. Mr. Flaniken holds degrees from Philadelphia College of the Performing Arts and Cincinnati College-Conservatory of Music.
His primary teachers were Dorothy DeLay, Hyo Kang, Masao Kawasaki, Kurt Sassmannshaus and Peter McHugh. He did additional violin study with Simon Fischer in London. His chamber music studies were with members of the Julliard, Tokyo, LaSalle and New York quartets.
He and his wife Angela have three grown sons and two daughters-in-law. He enjoys tennis, hiking, birds and dark chocolate with nuts.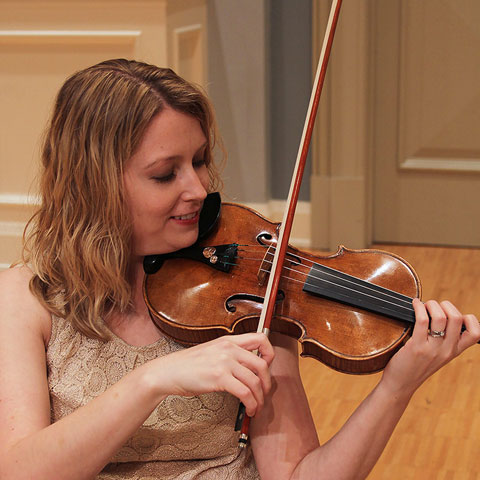 Caroline Nordlund, Violin
Violinist, Caroline Nordlund, is a lecturer at Samford University where she teaches string methods, instrumental pedagogy, and plays in the Samford String Quartet. Caroline teaches violin at the Alabama School of Fine Arts and serves as the President of the Alabama chapter of the American String Teachers Association.
Caroline is on the faculty of the Lutheran Summer Music Festival, where she teaches violin and musicianship, and coaches chamber music and orchestra sectionals. While at LSM, she is a member of the Omega String Quartet and performs in a variety of chamber and solo concerts.
As an orchestral musician, Caroline has performed with the Alabama Symphony, Charleston Symphony, Tuscaloosa Symphony, Northwest Indiana Symphony, and Augusta Symphony, and SC Philharmonic, among others. She is also a member of String Theory Birmingham, an instrumental pop group comprised of conservatory-trained musicians that plays an eclectic mix of original and modern pop songs arranged for string quartet and acoustic bass and drums.
In addition to teaching and performing, Caroline is an active adjudicator and presenter, giving sessions at the state and national levels. She is the former director of the Scrollworks Youth Music School in Birmingham, AL, a 501(c)3 non-profit organization dedicated to making music instruction available to all.
Caroline earned a Master of Music in violin performance and pedagogy from Northwestern University as a student of Gerardo Ribeiro. At Northwestern, she was awarded the Richard and Helen Thomas Fellowship while a graduate assistant to Stacia Spencer and Dr. James Kjelland. Caroline is a former faculty member of the Northwestern University Music Academy where she taught violin and Kindermusik. As the assistant group director of Northwestern Strings, Caroline led her students on a tour of Italy as a part of the American Celebration of Music.
Caroline has attended the Meadowmount School of Music, Aspen Music Festival and School, Spoleto U.S.A. and Sewanee Summer Music Festivals. She has participated in masterclasses and additional studies with Mimi Zweig, Vadim Gluzman, Benny Kim, Chee-Yun, Herbert Greenberg, Ian Swensen, Axel Strauss and Thomas Moore.
Caroline is a member of Pi Kappa Lambda, the American String Teachers Association and the National Association for Music Education. Originally from Hartsville, South Carolina, she graduated summa cum laude from the University of South Carolina with a Bachelor of Music in violin performance.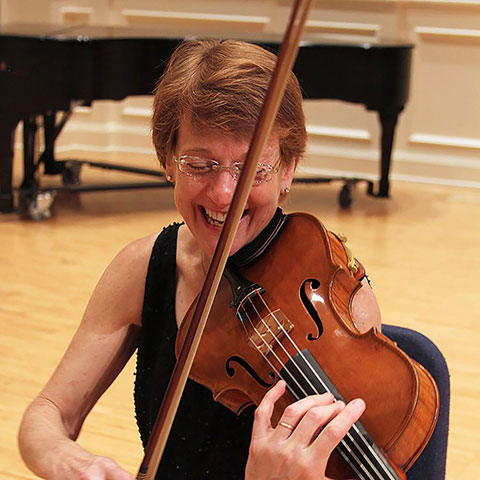 Angela Flaniken, Viola
Violist, Angela Marshall Flaniken, has enjoyed teaching at Samford University's School of the Arts since 1995 and playing in the Samford Quartet since it's inception in 2011. She has been a full-time member of many orchestras, including the Louisville Orchestra, Boston Chamber Orchestra, Cincinnati Symphony, Columbus (Ohio) Symphony, and the Alabama Symphony. She has performed at the Kennedy Center, Carnegie Hall, Faneuil Hall, Gardner Museum, Symphony Hall (Boston), and the Aspen Music Festival.
As a recording artist, she has made many orchestral, country, rock and gospel recordings. She collaborated with Samford colleagues on the CD, 21st -Century, a recording of new chamber music. An active recitalist, she has performed yearly programs at Samford University with her husband, Jeffrey Flaniken, and pianist Donald Sanders. Mrs. Flaniken has appeared on the Birmingham Chamber Music Society concert series, as well as BAMA, Artburst, UAB, Birmingham Southern, and Montevallo Series.
Angela received a Bachelor of Music Education from the University of Louisville, having studied with Virginia Schneider. She completed her Master of Music degree at Boston University, under Walter Trampler and Eugene Lehner. As a fellow for many years at the Aspen Music Festival, she studied with Masao Kawasaki.
She is married to Jeffrey FLaniken, has three grown sons, two daughters-in-law, and loves mountains and baking chocolate cakes.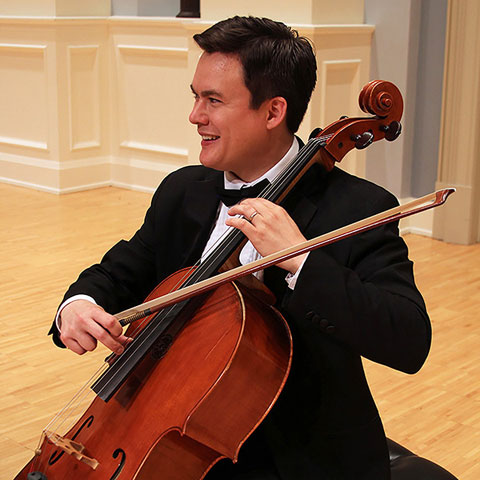 Samuel Nordlund, Cello
Samuel Nordlund teaches cello and chamber music at Samford University in Birmingham,AL, where he is also a cellist in the Samford Quartet. He is a regular member of the Huntsville Symphony Orchestra, and subs with the Alabama, Charleston (SC), and Tuscaloosa Symphony Orchestras. Prior to moving to Alabama, he was a member of the Civic Orchestra of Chicago, and a substitute player with the Chicago and Milwaukee symphony Orchestras. He holds a doctorate from the University of Alabama, a Masters from Northwestern University, and has performed at summer festivals including The Music Academy of the West, Meadowmount School of Music, Kent/Blossom Music Festival, and the Brevard Music Center. Primary teachers have included Hans Jorgen Jensen and Carlton McCreery, he has additionally studied with Richard Aaron, Steven Geber, Alan Stepansky, Thomas Landschoot, and Patricia Pilon.
A member of the Samford Quartet since 2012, Samuel also is faculty at the Lutheran Summer Music Festival, he teaches cello, performs with the Omega Quartet, and directs the early music Collegium Musicum. Additional faculty engagements include teaching at the Alabama School of Fine Arts, and at Samford's Piano and Chamber Music Institute.
Samuel is currently President of the Alabama Orchestra Foundation, which supports and organizes student orchestra functions across the state, including the All-State Orchestra Festival. Previously, he has served as Assistant Director of Performance Activities at the Music Institute of Chicago, and Music Director of Scrollworks and the Metropolitan Youth Orchestra of Central Alabama. Samuel has guest conducted the Cave Run Symphony Orchestra (Morehead, KY), and the Alabama ASTA Honors Strings Festival Orchestra.