Published on November 12, 2014 by Emily Duval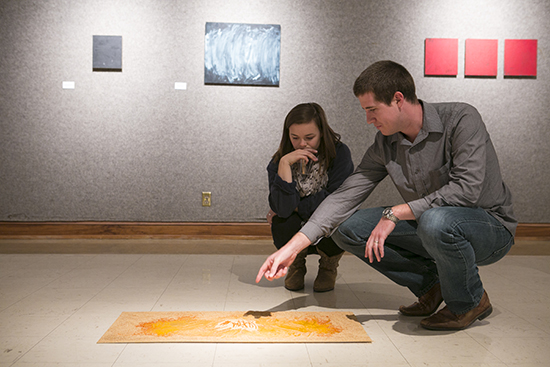 From Nov. 2-25 the Samford Art Gallery is showing the work of Samford University's newest art faculty members.  The exhibition features "Ground" by Stephen Watson and "Red Mountain" by Joe Cory.  Both joined the Samford faculty in fall 2014.
The gallery, located in Bonnie Bolding Swearingen Hall, is open from 9 a.m.-4 p.m. Monday-Friday.
Watson is known as the "3-D guy," and he has proven that he is not afraid of making sculptures from the unordinary. Watson's collection is made entirely out of spices, and because they are perishable each piece was created new for the show.
The idea first came to Watson when he was working on his master's degree thesis at the University of Alabama. The piece was made as a threshold to be broken, and an anointing of feet as the church goes out to spread the sweet aroma of Christ.
"Each piece has a target to represent where I am, this is the execution of my faith, this is where I hope my faith lands," said Watson.
With Watson's delicate spice sculptures left vulnerable and on the ground, the phrase "watch your step" has taken on a whole new meaning. "Art is all about interrupting the course of daily life, it is designed to expand your awareness of the world. So to leave the art available to be crushed, makes you aware of how little attention you are paying," he added.
Cory's collection is about trying to make sense of the new place he has come to. Cory came to Samford from Chicago to focus on two-dimensional media and printmaking. The "Red Mountain" collection reflects Cory's transition from the north to southern culture.
The paintings are oil paint mixed with a cold wax medium to create layers and texture.
"My work is primarily about the process of painting and manipulating paint on a flat surface to create texture and images. However, making a painting also gives me an opportunity to think about or reflect on the variety of things that are happening in my daily life," said Cory. 
Emily Duval is a journalism and mass communication major and a news and feature writer in the Office of Marketing and Communication.