Published on November 3, 2014 by Cassady Weldon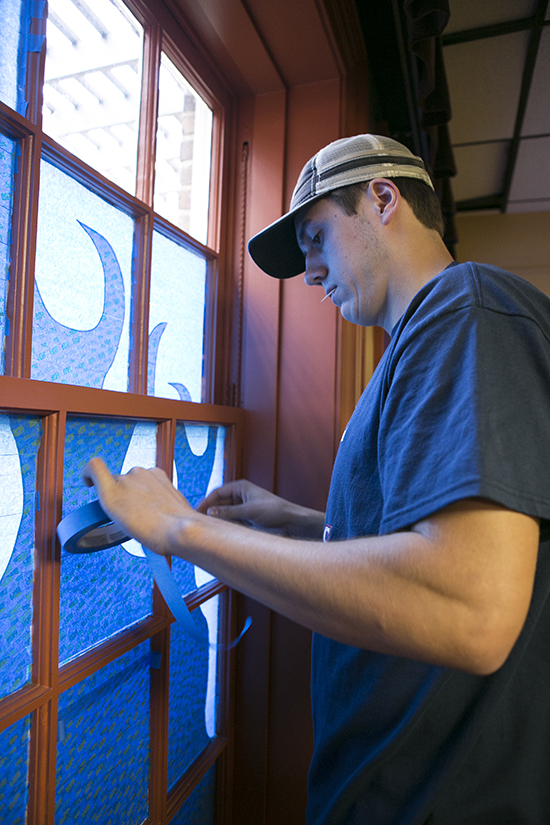 Thanks to Samford University School of the Arts students, 36 windows across campus recently were given a temporary "stained glass" treatment with blue painters tape.
The students spent a day in the classroom practicing with the material and then were each given their own window on campus to cover.
Stephen Watson, assistant professor of art, was one of the faculty members who coordinated the project.
"This project was really interesting because it showcased the raw creativity of the students," said Watson. "Students come into the class with varying levels of experience. Some students may have had a lot of experience with drawing and some may not have. But with the tape, no one really has experience with that medium."
The painters tape, when applied in layers, creates a "stained glass" window effect. Depending on the time of day, the designs can be seen from either the outside or the inside.
Celia Gannaway, a freshman interior design and interior architecture major from Decatur, Alabama, was responsible for a window in the Beeson University Center.
"I really enjoyed the freedom that the project gave me," said Gannaway. "I enjoyed getting to interact and explain the project to the students passing by that I may not have talked to otherwise."
For more information about the School of the Arts, visit www.samford.edu/arts.
 Cassady Weldon is a journalism and mass communication major and news and feature writer in the Office of Marketing and Communication.