Published on January 28, 2015 by Cassady Weldon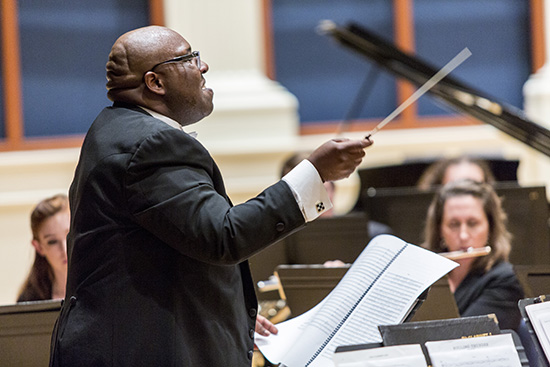 The Samford University Tuba/Euphonium Ensemble has been invited to perform at the 2015 United States Army Band Tuba and Euphonium Conference in Washington, D.C. 
The ensemble performs Jan. 30 at 3:30 p.m. CST. The performance will be broadcast live via YouTube. 
Demondrae Thurman, associate professor of music, will conduct the ensemble of seven students: Conrad Shaw, Max Benedict, Hoyt Sims, Caleb Cranton, Tom Yan, Doug Barr and Jalen Morgan. 
Dr. Thurman is looking forward to the performance and believes that the event will not only be a great opportunity for the Tuba/Euphonium Ensemble, but will also be an opportunity for Samford. 
"This event will allow our students the opportunity to perform with other extremely talented musicians, but also this is an unbelievable opportunity for Samford to recruit other musicians," said Dr. Thurman. "We are hoping to give a really great performance." 
Thurman and pianist Kathryn Fouse, associate dean for music in Samford's School of the Arts, will give a recital during the conference. Their performances can also be viewed live. 
Cassady Weldon is a journalism and mass communication major and news and feature writer in the Office of Marketing and Communication.