Published on May 12, 2017 by Ashley Smith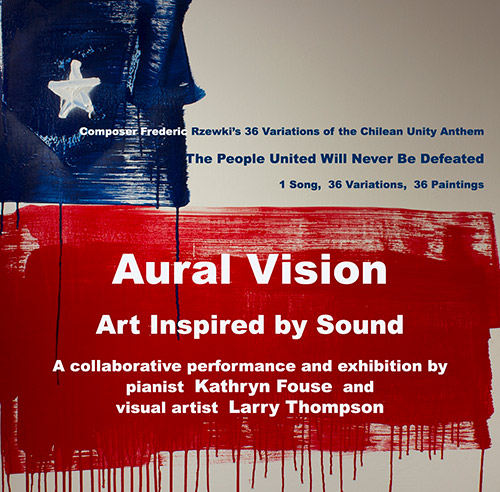 Samford School of the Arts professors Kathryn Fouse and Larry Thompson are committed to collaborative learning. Aural Vision: Art Inspired by Sound is a unique performance and exhibition project that combines music and visual art. The original painting installation and performance took place at Samford in the spring of 2016, and since that time Kathryn and Larry have installed and performed this project at music conferences and schools across the United States. They have plans to perform at the 12th International Conference on The Arts in Society, June 14-16 at The American University of Paris, France, and the World Piano Conference, June 27-July 3 in Novi Sad, Serbia.
 This performance and exhibition collaboration is the result of two artists from different disciplines finding points of commonality in the language of art. Seeds for this collaborative project were first planted when Kathryn and Larry co-aught a study abroad course. They intentionally scheduling art museum visits and concerts to coincide with one another, such as viewing a Baroque painting exhibition the same day as an evening Baroque concert. This fostered a conversation with the students about finding common intersection points within the different arts.  By the end of the class Kathryn and Larry had committed to return to campus and create a project that married their two areas of creative scholarship. Aural Vision brings the world of piano performance and the process of painting together.
The program content is inspired by the Chilean unity anthem The People United Will Never Be Defeated. The performance of composer Frederic Rzewski's 36 stirring and challenging variations on this theme is punctuated visually with 36 original paintings inspired by Rzewski's music. The integration of these art forms draws the audience into a multi-sensory experience making both the aural and the visual impact stronger and more meaningful. Rzewski's work epitomizes the message of strength by unification in a musical context and the paintings highlight and amplify the music's organizational structure resulting in a memorable, impactful realization of the message.
Both Kathryn and Larry plan to use this project as a prototype for other collaborations as well as a model for teaching their students about the intersection of all art forms. This role modeling is an excellent way for students to see the collaborative process in action. The School of the Arts recent renovations in curriculum will encourage more collective projects while increasing conversations among all students within the program across multiple disciplines. 
Fouse is professor of music and associate dean for the Division of Music at Samford University. In addition to her commitment to education, she continues to maintain an active performing career.
Thompson serves as associate dean and professor of art and design at Samford University.  His works have been shown at galleries throughout the U.S. and most recently at an exhibit at the Pentagon.