Published on May 14, 2018 by Ashley Smith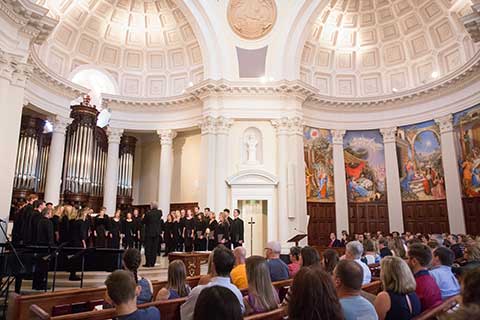 Samford University's A Cappella Choir performed at the Southern Regional American Choral Directors Association Conference Feb. 23 in Louisville, Kentucky. According to Jerry Jordan, formerly, Director of Choral Activities, Professor Emeritus, University of Mississippi, and owner, The NetVoice Companies, in a letter to Dean Joseph Hopkins, "There are more than 200,000 choirs in America.  To be selected to sing at one of these conventions is a commanding honor alone…. In 45 years of attending ACDA conventions, I have never heard a more moving performance nor a more impressive feat of teaching and learning.  These students, in a very innovative program, performed the most difficult music in the entire choral repertory from memory without the slightest imperfection, not a single rhythm or pitch out of place.  They sang as one voice to a degree almost unattainable.  Moreover, the performance was incredibly moving; so much so that the audience gave the choir a standing ovation mid-performance.  This assemblage of choral directors could not wait to acknowledge the excellence.  I have never before seen this at an ACDA convention."
Choir Director Philip Copeland credits the talented students and faculty at Samford for their excellence and hard work.  Copeland also notes that this year's choir is made up of 21 new members and that they have maintained the high standards of work ethic and performance quality of recent ensembles. This is Copeland's third appearance on the ACDA stage as conductor. 
As a former professor of Copeland, Jordan concluded his letter, "I do not believe one can imagine the heavenly choirs any more beautifully than these students perform, nor can I imagine that any public activity at Samford contributes more to the glory of your mission than the Samford A Cappella Choir under the direction of Philip Copeland."
This May, following the graduation performance, the choir will travel to Poland where they will visit Auschwitz, the Salt Mines, and give a concert at St. Mary's Basilica, which has its foundations in the 13th century. From there, the choir travels to Budapest, Hungary to compete in the Laurea Mundi International Choral Competition.  After four days there, they travel to Bratislava, Slovakia and then to Vienna, Austria.