Published on October 25, 2018 by Ashley Smith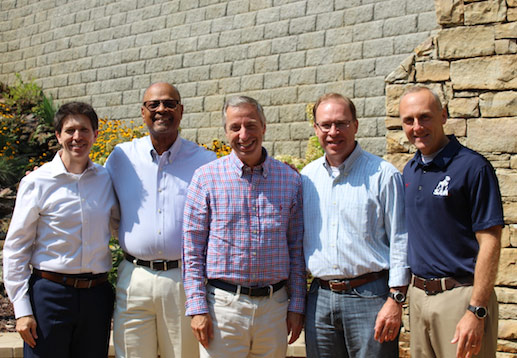 Samford University launched a new degree, Christian Ministry,  in the School of the Arts that has significant roots in programs already taking place at Samford. According to Samford's Provost Dr. Michael Hardin, "Art provides a relatable outlet for a new generation of worship and mission leaders and Samford can help this generation communicate and heal through different media and mediums."  Hardin sees this as an opportunity for Samford to continue to lead the way in providing structure for worship and for those who want to be a part of sharing a message of hope.
Dean of the School of the Arts Joe Hopkins says, "This is an opportunity for the School of the Arts to connect with all elements of Samford as the Christian Ministry program is woven into areas across the university. We believe this will become an identifying program for Samford and a creative tool for students as they prepare to serve."
The new team, including Executive Director and Assistant Professor Scott Guffin and two new faculty members, J.D. Payne and Galen Jones, will offer a major that can pair with other areas of study to prepare for a wide variety of ministry possibilities.  Students will be immersed in discipleship and practical ministry studies.
Guffin, who has been at Samford for a year planning for the degree, shares his philosophy of the program, "We live in a unique time, one in which we're seeing changes in our cultural landscape that are challenging the church to its core. This program is intended to equip committed individuals for the work of ministry and missions. "
Payne comes to the program from The Church of Brook Hills in Birmingham and Guffin notes, "J.D. comes to us as a world-class scholar and highly sought-after expert in the field of missiology."  Jones will relocate to Samford in early 2019 from Oklahoma Baptist University.  He shared his enthusiasm for the program, "I am overjoyed by what God is doing through the new Christian Ministry program at Samford.  Our team will be teaching, training and equipping a new generation of young people who will take the Gospel around the world."
The new degree allows students to hone their mission skills and prepare for lifelong service regardless of their vocational aspirations.  Guffin said that many students want to pursue other careers but have expressed an interest in being better prepared for serving in a mission capacity.   Christian ministry embodies the spirit of Samford and plans to offer more intentional connections with mission work locally and globally.  Guffin anticipates partnering with groups like the International Mission Board and sees opportunities for students to gain substantial practical experience while pursuing the degree. 
The program will join forces with the Ministry Training Institute (MTI) which is under the direction of Kevin Blackwell.  The MTI is a non-degree program that equips ministers and lay leaders for service through online certificates, pre-seminary training for college students, and diploma courses administered all over the southeast, including underserved communities and prisons. 
Hopkins adds, "The Ministry Training Institute could be one of Samford's richest opportunities.  Joining Christian Ministry, the School of the Arts undergraduate and graduate curricula, and the Academy of the Arts creates a powerful and versatile array of resources, teaching modalities, and ways to share the best in education and Christian mission."
Interestingly, Guffin's grandfather, Dr. Gilbert Guffin, founded the Howard Extension program in 1947 which is now Samford's Ministry Training Institute, and later served as dean of religion during 1961-71. His father, Truett Guffin, taught nurse anesthetists for a number of years and later served as a trustee of Samford.  The Howard Extension program was established as a state-wide program with Baptist moorings.  According to Blackwell, "MTI gives Samford an even greater external footprint providing high quality educational opportunities."
Additionally, the School of the Arts will now offer a Bachelor of Arts in Worship and the Arts which allows students to explore vocational opportunities in arts fields that can serve the church.   This degree is a natural extension of art and worship opportunities initiated by current programs.   According to Hopkins, "Church Music was one of the founding curricular interests expressed in the charter of our University.  Today, the worship curriculum and the Center for Worship and the Arts continues this vital work through thriving programs in worship and music, church music, worship leadership, online certificates, summer camps, community engagement, and ministry internships.   This success creates a wonderful place of collaboration for Christian Ministry.  Partnerships will also extend beyond the School to the Department of Religion, Beeson School of Divinity, Student Ministry, and the Center for Faith and Health."
The new degree will complement new initiatives while remaining true to fundamental values of the school.  Hopkins says, "The School of the Arts has always been interested in Christian Ministry.  Our new Catalyst curriculum challenges every arts major to consider how faith, arts, and scholarship work together in career and life.  Bringing the Christian Ministry program into our school only deepens opportunity and our commitment to prepare students for avocational and vocational ministry."