Published on October 10, 2019 by Ashley Smith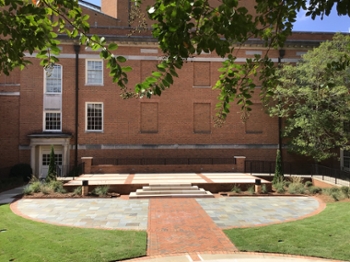 Samford School of the Arts plans dedication of new Hazel P. Boren Courtyard Theatre.  It is a fitting tribute to a long-time friend of the arts Hazel Boren who passed away this September.  She and her husband Russell have embraced the School of the Arts and offered significant support over the years.
The official opening will take place at noon on Friday, Oct. 25 with a ribbon cutting ceremony and performances by some of the School of the Arts ensembles.  This dedication comes 11 years after the courtyard was originally added between Brock Recital Hall, Wright Fine Arts Center and Buchanan Hall music building, and serves as a connecting point between the Samford School of the Arts facilities and an important place of meeting and fellowship for the Samford community.
Boren proposed naming the gardens for his wife in the early 2000's. He has numerous family ties to Samford in addition to Hazel's service to the School of the Arts advisory board and the Samford Auxiliary which is now the Legacy League. He is a lifelong Baptist whose elementary teacher and various pastors all were Samford graduates. Not only have they given to the construction of this courtyard and theatre, but they have also underwritten a scholarship for music students.
The new space will be the first outdoor performance space for the School of the Arts and is anticipated to be a wonderful addition for all disciplines.  According to Dean Joe Hopkins, "We are humbled by the Boren's generosity and know that this space will be a brilliant tribute to our dear friend Hazel."
Russell Boren owned Boren Explosives, Dixie Drilling Company and Apache Construction Company of Birmingham. His businesses worked with coal mining, rock quarry and construction companies. He is a native of Blount County.
For more information about giving to the School of the Arts, contact Julie Boyd at jboyd10@samford.edu.