Published on May 17, 2019 by Ashley Smith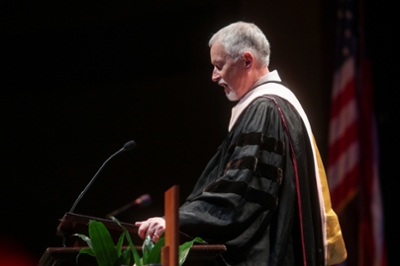 Samford's School of the Arts is fortunate to have such dedicated and talented faculty. Luckily, retired faculty continue to be part of our community and we anticipate these three members of our family will continue to mentor our students, alumni, staff and other faculty.
After 39 years, Randall Richardson is retiring from the Division of Music where he most recently served as chair of the performance area.  He has seen his students go on to perform on Broadway, at Disney World and on other national and international stages.  His career has included performances with the Kansas City Lyric Opera, Atlanta Ballet, Alabama Ballet and Symphony, Pensacola Opera, Missouri Repertory Theatre, Birmingham Civic Opera and others.  An avid cyclist, he plans to spend more time riding his bike and traveling in his retirement. 
Larry Hardin has experienced Samford as an undergraduate, graduate, adjunct and full-time faculty member.  According to Dean Joe Hopkins, "Larry Hardin has hit the academic cycle at Samford."  He has been a professional music educator since 1978 and shared his expertise with our music education students as well as assisted with the Orff Level classes Samford provides each summer.  Hardin said that he was thankful to have had the opportunity to end his career where it began. 
Richard Dendy departs Samford along with six talented graphic design seniors who excelled and honed their skills under his tutelage. Dendy mentored his students to challenge themselves and think critically. According to sophomore Conner Gayda, "He taught me how to analyze the visual world around me and find the most thoughtful answers to visual problems. Without his guidance, I would not have nearly as strong of a foundation that I do now. I am better designer and person after having him as a teacher and mentor."
As these three mentors ride off into the sunset, the School of the Arts will continue to bask in the light they shed on our students.