Published on January 9, 2019 by Ashley Smith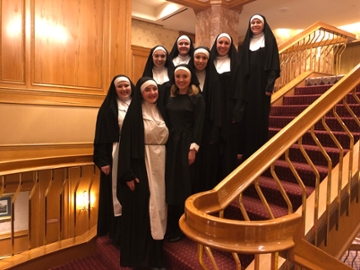 Samford Opera students are on a whirlwind tour this month which began in Salt Lake City at the National Opera Association Scenes Competition where they qualified as national finalists. They performed a scene from Puccini's Suor Angelica. Additionally, the opera they just premiered in November, The Ghosts of Gatsby, won the National Opera Association's Dominick Argento Chamber Opera Competition, and the work is currently a semi-finalist for The American Prize.
Upon their return to Alabama, they will travel to Mobile to participate in Mobile Opera's 7 Days of Opera and perform The Ghosts of Gatsby on Jan. 10. From there they will showcase the new opera in Montgomery on Jan. 15 at the Montgomery Museum of Fine Arts. They will perform one show for area schools and another one for the public at 7 p.m. This is a joint program with the Fitzgerald Museum in Montgomery and underwritten by Law Lamar, a generous supporter of a variety of Samford Arts events and student related programs.
Kristin Kenning, director of the Samford Opera will be stage directing The Ghosts of Gatsby in New York as part of Opera America's New Works Forum on January 11, in a partnership with Opera Birmingham. The industry showcase segment will feature three new works including The Ghosts of Gatsby which was commissioned by Samford and created by librettist Joshua McGuire and composer Evan Mack.
Samford Opera has received national recognition in recent competitions and demonstrates innovative training through the commissioning of its very own opera. Students were given the opportunity to develop roles and see the creation of an opera from beginning to end.
According to Kenning, "The Ghosts of Gatsby has been a living, breathing production for our students. It is exciting to be a part of the initial creative process and to know that we commissioned something that will live on for years to come. This has been a life-changing experience for our students."