Published on October 10, 2019 by Ashley Smith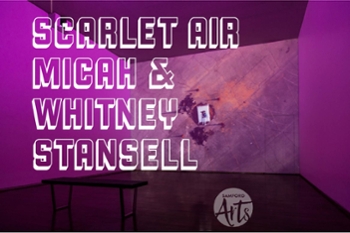 Collaborators and former Samford University students, Micah and Whitney Stansell's body of work ranges from fibers, sculpture, painting and drawing to single and multichannel film and video works, as well as installations. The Stansells' work often explores ideas of family history, narrative traditions and binary relationships that pull from contemporary issues influenced and informed by environment and location. Much of their interest in narrative stems from the rich Southern tradition of storytelling.
Scarlet Air is a multi-channel video and sound installation.  The film follows a young woman as she navigates a world set in the pre-hyper-connectivity in the 1980's in the midst of the rise of hyper-consumerism– a world in flux.  Based on a re-imagining of the coming of age stories of the artists' older siblings, Scarlet Air invites viewers to participate in the creation of the work by bringing their own context to the opening  narrative by choosing to  listen with curiosity to the additional audio component and by acting as editors in selecting which screen to focus on at a given moment .  Two additional Samford alumnus participated in this installation; John Mac Kilgore wrote the music for their video and John Harkey wrote the dialogue.  John Harkey will also be here on Nov. 7 to give a live reading.
Harkey shared his enthusiasm for this collaboration, " 'Giddy' may sound cliché, but it's the right word in this case: first, the chance to see Micah and Whitney's work honored at Samford like this makes me so happy. Micah really is an exceptional filmmaker/artist, and over the past 16 years I've watched him and Whit together develop as artists and forge an incredible body of film-work. And additionally, I'm giddy about the chance for the group of us—all of whom have pursued arts/humanities vocations—to return to campus 20 years later as friend-alum-collaborators."
Scarlet Air is the second exhibit this year in the John and Marsha Floyd Art and Design Series.  Curator for the gallery, Lauren Evans wanted to bring a variety of artists from across the region and offer different mediums.  She said, "Each exhibition will radically transform the space, giving viewers an opportunity to engage with art in unique and varied ways."
The Art Gallery is open to the public M-F from 9-4 and will also be open during Homecoming weekend.