Published on May 6, 2019 by Ashley Smith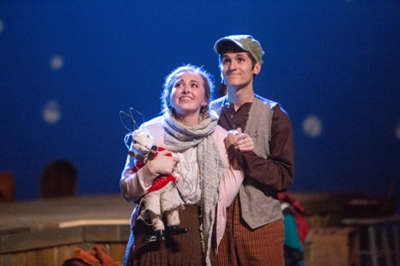 Samford's Department of Theatre and Dance recently earned full accreditation by the National Association of Schools of Theatre (NAST) for its  Bachelor of Fine Arts in Theatre for Youth. The accreditation comes after a three-year comprehensive review process. 
Membership to NAST is granted only to institutions that meet the rigorous accreditation standards established for undergraduate and graduate degrees and other credentials for theatre and theatre-related disciplines. The association also provides assistance to institutions and individuals engaged in artistic, scholarly, educational, and other theatre-related endeavors. 
Samford University is one of few Christian universities in the country to offer this degree, which helps students integrate their passion for theatre with their calling to work with young people.
"By providing students with a Christ-centered education and an others-centered world view, the B.F.A. in Theatre for Youth at Samford University will meet a need that is currently unmet by the other B.F.A. programs in youth theatre," Director of the Theatre for Youth program Laura Byland said. 
Three students will graduate from the program this year. Alumni have gone on to contribute to the theatre community through professional children's theatre, missions service working with children, and teaching drama to adults with special needs.
"Through classroom experiences, live performances, community outreach, and ministry opportunities, our students engage and impact a diverse world while demonstrating the service-oriented heart of Christ," Byland said.
Samford's Department of Theatre and Dance has been accredited by NAST since 2015.  In addition to theatre for youth, it offers a range of programs from musical theatre to acting and directing and production design and technology.