Published on April 24, 2020 by Ashley Smith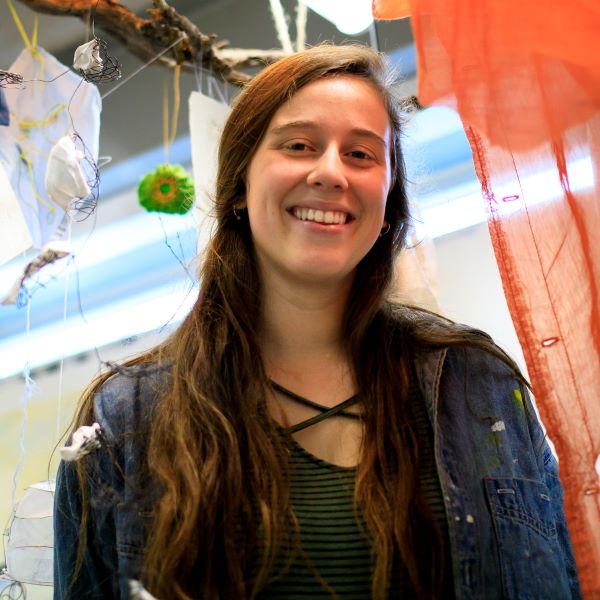 Samford's Division of Art and Design hosted a virtual awards event April 23 to present division awards, endowed scholarships and announce the winners of the Annual Juried Student Exhibition. Hosted by associate dean Larry Thompson and gallery coordinator and assistant professor Lauren Evans, the event was attended by students, faculty and friends of the arts. John and Marsha Floyd sponsored the Art and Design Series for the second year in a row and were on hand to congratulate the students. Other donors and sponsors in attendance were Steve and Debby Heitzke, Clay and Penny Campbell, and Michael J. and Mary Anne Freeman. 
This year's Annual Juried Student Exhibition included 22 pieces. The Dean's Awards were selected by Joe Hopkins and will be displayed in his office during the coming year.  Recipients included Kameron Watson, Hannah Grace Smith, Connor Gayda, Julie Ramsey, Clarissa Smith, Sammy Solberg and Trent Carruth. Show winners were selected by guest judge Sarah West.  Merit awards went to Clarissa Smith, Contemporary Anne Settee, Interior Architecture; Annabelle Brown, Stepford Wives, Book Cover, Graphic Design; Hannah Grace Smith, Now a Memory, Studio Art. Third place overall went to Noah Stalcup, Euros Motion Typography.  Second place went to Julie Ramsey, Wait. The Best in Show went to senior studio art major Molly Greene, Memory I.  Molly is planning on attending the M.F.A program at the University of Alabama where she recently received a full scholarship to continue her studies.   
Endowed scholarships, academic awards and medals were also announced. Professor and chair of the Department of Interior Architecture Jeannie Krumdieck presented the interior architecture awards. Friends of the Arts Outstanding Sophomore went to Mollie Ottsen and Outstanding Junior went to Daisy Jones. The Rebar Award, which recognizes a senior who has consistently "built a strong bond in the learning community," went to Abi Ontiveros.   
Professor and chair of the Department of Art Scott Fisk presented the Studio Art and Graphic Design awards.  Caroline Mangum received Friends of the Arts outstanding sophomore in graphic design.  Averie Perce was recognized as the outstanding sophomore in studio art.  Trent Carruth received the Lowell Vann Endowed Scholarship.  Nicole Weldy received the Trevlyn Grace Campbell Memorial Scholarship in Studio Art. Noah Stalcup received the Heitzke Graphic Design Scholarship in honor of Sarah and Eschol Taylor. 
Thompson applauded the students and his faculty for adjusting to the online setting to finish the year.
"I am proud that we were still able to celebrate the hard work of our students at a time when celebrating together is problematic," he said. "It was great to see faces, even if by pixels, and have a moment to applaud our students for their work this year in the studio and classroom.  I am especially grateful for the hard work and leadership of our gallery coordinator Lauren Evans, and department chairs Jeannie Krumdieck and Scott Fisk, for pulling together our juried show and academic awards into a seamless event for the division and our students."