Published on November 20, 2020 by Ashley Smith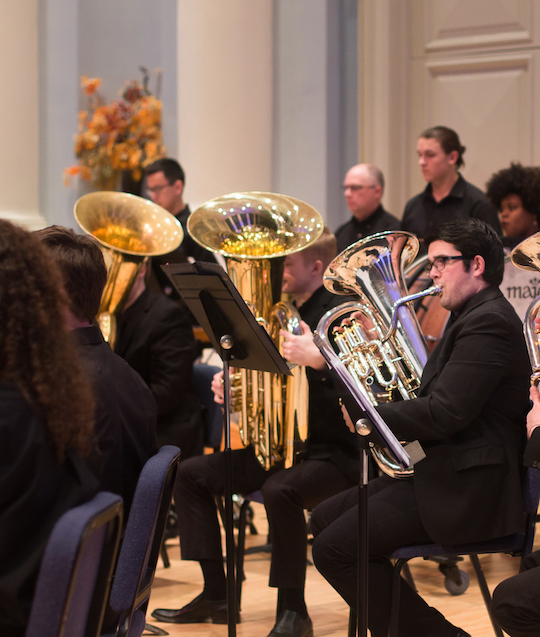 For Baxley Roberts, coming to Samford meant the opportunity to learn from internationally acclaimed euphonium player Demondrae Thurman, a musician he had long admired. "As a euphonium player, I had been watching Demondrae's videos and listening to his albums while growing up in band," said Roberts. "When I found out he taught at Samford, I immediately knew I wanted to audition."
The road to Samford included a long bus ride alone from Jacksonville, Florida for his audition and the hurdle of paying for his tuition, but his determination has carved a bright future for this music education major who will graduate in December.
While visiting Samford, the warm welcome from Thurman and other music faculty showed how much more the university could offer him. "After my audition, I ate lunch with Dr. Mark Lackey and Dr. Joel Davis in the cafeteria and that's when I really got a full image of what the rest of the School of the Arts faculty were like," Roberts said. "Everyone was so welcoming and kind. The experience really made Samford stick out from my other college auditions."
Roberts impressed Samford as well. In addition to being awarded several scholarships, he was also recognized in April for exemplary service by Samford's Mann Center for Ethics and Leadership. He has worked for Residence Life throughout his time at Samford and this year is the Residence Manager for Beeson Woods 2020-2021 where he currently leads the Residence Life Council alongside Assistant Director of Residence Life Nathan Taylor.  He also held a student position on the Community Standards Council as a student representative for Residence Life last year.
"Baxley came to us as a special person, but he really took on a leadership role and gained the respect of everyone very quickly," said Thurman. "He's been a role model for every class of students since his arrival."
Although he enrolled as a euphonium player, Roberts has since mastered additional instruments  while working closely with Thurman and other faculty members, including associate professors Captain Brian Walden and Joel Davis. The experience has matured his skills in conducting and composition while broadening his overall musicianship.
Roberts will be graduating with a music education degree in both instrumental and voice, which according to Walden is a very difficult task.
 "He studied very hard to acquire the knowledge and skills he will need to become a successful music educator," said Walden. "He performs well on several instruments and with his voice. This will help him immensely as a music educator and as a professional performing musician in the future." 
Roberts said he plans to use his music education degree to teach music in middle school. "I am an educator first. I feel a strong calling to teaching and leading a new generation," said Roberts. "Sixth through eighth grade is when students start to turn a very important corner in their lives. They start to develop the person they will become as adults. I see this age group as an opportunity to mentor a new generation of not only musicians but people. If my students leave my music classroom having learned hard work, dedication, common respect for one another, and a willingness to learn then my job will be done. I will not care if they ever pick up their instrument or sing another note in their lives as long as they leave my class as a better person."
Both Thurman and Walden hope that Roberts continues his love of music, shares that knowledge with others, and that he leaves Samford knowing that his Samford family is always here to support him.
"If every student were like Baxley, we would all be grateful," said Thurman. "His love of Christ is evident in the way that he speaks, the way that he makes music, and his commitment to excellence. He is diligent in his pursuit to become a better euphonium player, academic, and overall musician."