Published on March 11, 2020 by Ashley Smith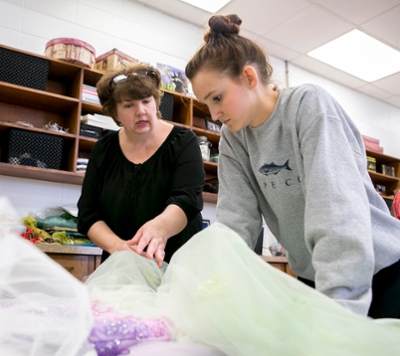 After attending a technology conference in California last year, School of the Arts leadership learned the importance of having an instructional designer as part of the education team. At the same time, the School of the Arts was preparing to issue iPads to all faculty, staff and students to allow for a base technology shared by all members of the School of the Arts community.
Instructional design focuses on technology and the psychology of learning and how to integrate technology into instructional systems.  Samford faculty uses Canvas, one of the leading education platforms that helps schools build a digital learning environment. 
The School of the Arts began a search for an instructional designer but soon realized that they had an excellent candidate already on campus and hired Mary Gurney to fill that role starting last summer.
Mary Gurney has been with Samford University for over 12 years helping the theatre department bring productions to life through incredible costume designs.  While working at Samford, Mary pursued her Master of Science in Education (M.S.E.) in Instructional Design and Technology at the Beeson School of Education.
Since her appointment, she has worked closely with leadership, faculty and Joe Cory who has overseen the iPad initiative to get faculty and students proficient in both the iPad and the Canvas system to enhance teaching and learning. She said, "I have been charged to look at the big picture to see how we can improve instruction and how we can support our faculty and students better."
With the recent concerns over the Coronavirus, Gurney implemented a Faculty Resources Guide that was shared with the entire Samford community as well as hosted workshops for faculty to prepare for potential remote teaching.  Her goal has been to maintain consistency and ensure the continuity of high standards. 
According to Joe Hopkins, dean of the School of the Arts, "Having Mary Gurney in place has helped us tremendously to prepare for the uncertainty of today. Our students, faculty and staff are equipped with the technology and the resources to continue to provide high quality education regardless of potential remote learning."