Published on March 2, 2020 by Ashley Smith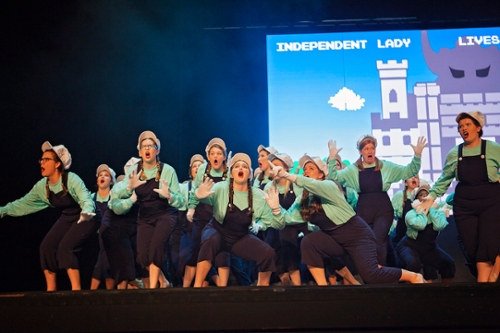 Samford School of the Arts students and alumni have played a unique role in the production of Step Sing, Samford's long-time dance concert. Reviewing the most recent program, you will find many of our students in creative positions in addition to performing. Our students and alumni have been composers, choreographers, costume designers and music directors gaining extensive professional experience from Samford's largest, most high-profile event. Students collaborate, manage big budgets and work with a variety of students from across the campus. 
This year, composition major Kerry Joiner arranged the music for Spectrum. His music knowledge allowed him to take a new approach. He said, "I wanted total freedom over the arrangement of the songs, so I decided to use virtual MIDI instruments as well as my own instruments (acoustic and electric guitar) and create each one from scratch in Logic Pro X, my DAW (Digital Audio Workstation). This way, I could customize the arrangement, as well as have a consistent sound throughout. It was truly a wonderful experience to work with my fellow students and use skills so relevant to my music composition degree."
Music performance major Annesley Street  is a four-year veteran of Step Sing. This year she was the music director of Spectrum and enjoyed both the technical aspect as well as the collaboration with her peers. Other students and alumni with leadership roles include music and worship major Molly Biddle who directed the Zeta Tau Alpha show and recent graduate Smith Leithhart who composed and arranged for several groups. Numerous other School of the Arts students contributed and or performed in this year's event. 
Graphic design major and dancer Sammy Solberg took on a significant leadership role with Independent Ladies. Solberg was able to combine her love of dancing and her graphic design skills all in one show. She created a six-minute video as the backdrop as well as working on the choreography. Last semester, she took a motion graphics class as part of her major and really fell in love with the medium. After realizing that the Mario themed graphic had too many copyright hurdles, she decided to create her own version which took close to 100 hours and most of her Christmas break but she says that the effort was worth it. Not only has the Samford community acknowledged her accomplishment but she has been asked to take on more projects both on campus and professionally. 
According to Solberg, "It is important to step out of your comfort zone and be proud of the skills you can offer to this process. I hope that I have opened the door for my peers in graphic design to get involved and take advantage of this incredible learning opportunity right here on campus." She has a lot of takeaways from this experience but says that she appreciates "all the work it takes to make something so complicated look easy."
Step Sing exposes a wide variety of students to the creative world. According to Solberg, "Through my own observations, I can see that it creates an opportunity for people not normally involved in the arts to get a first-hand experience of the process: including the time it takes, the planning, the learning, the amount of effort needed to put on something like Step Sing. It allows others to really appreciate what makes this field so difficult yet rewarding."