Published on February 16, 2021 by Ashley Smith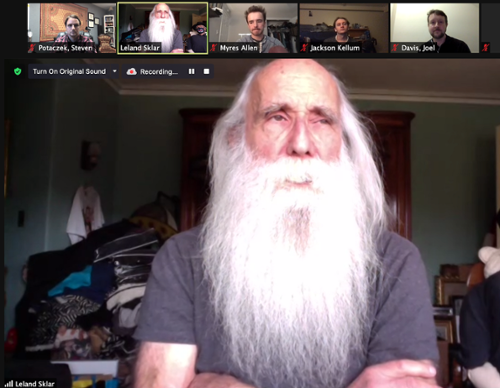 James Taylor. Carole King. Phil Collins. Jackson Browne. LeAnn Rimes. Reba McEntire. Michael W. Smith. What do all these artists have in common? They all had records and tours with Leland Sklar on bass guitar.  
Students within Samford's commercial music program had the opportunity to meet with Mr. Sklar virtually on Feb. 4 to be inspired, hear stories, and learn from this seasoned music professional. The private session lasted for over 90 minutes and included incredible stories of the history of how recordings such as "Sweet Baby James," "Tapestry," and "In the Air Tonight" were written, recorded, and are played year-after-year on the road.  
The director of Samford's commercial music program, Steven Potaczek, arranged the small gathering as a part of the Music Business Revenue Streams course. "This course is one of many in our program that helps aspiring artists understand the way money is made within the music industry," Potaczek said. "Ultimately, Samford's commercial music program is not just about learning history and theoretical knowledge, but also real-world applications that will benefit students throughout their careers long after their school days are over." 
"We will be bringing in big name artists and guests on a somewhat regular basis," said Potaczek. Guests will include entertainment lawyers, booking agents, talent managers and others from the field.  Potaczek is a recording artist as well as assistant professor and brings in-depth industry knowledge and connections like Sklar.
Commercial music is a new major in the School of the Arts fostering entrepreneurial skills in music business, production, songwriting, live touring and performance.