Carve your own path with concentrations in music business, music production, songwriting, and live touring and performance.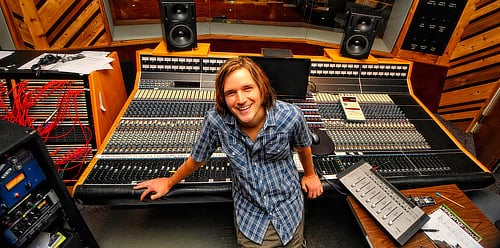 Students will become business-savvy musicians with the artistic, technological and entrepreneurial skills needed to thrive in the 21st century. The program instills and fosters a do-it-yourself attitude necessary for any musical entrepreneur ready to compete and succeed in today's marketplace.
Important Notice: This program has been approved by Division of Music Faculty, School of Arts Faculty, the University Curriculum Committee and the Samford University Board of Trustees. It has been submitted to the Division of Music's accrediting body, the National Association of Schools of Music (N.A.S.M.), where it is pending review and approval.
Why This Program?
The Bachelor of Arts in Commercial Music is an undergraduate, liberal arts degree with a major in Commercial Music and a concentration in one of four chosen areas: live performance and touring, music business, music production, and songwriting. This degree program has been prepared recognizing there are multiple sectors within the commercial music industry that include artist promotion and management, musical instruments and products, performance, publishing, recording, copyright and intellectual property, and technology among other areas.
Each sector within the commercial music sphere requires general knowledge of the entire music industry culture and its highly interconnected web of people, skills, resources, technologies, and careers, as well as specific knowledge. Those who pursue careers in this field need general competencies and skills in leadership, entrepreneurship, music, financial management, collaboration, communication, business, and technology. This general training for the commercial music industry is found in the eighteen units of core courses in this degree. However, those who pursue careers in the music industry also need specific skills in focused areas such as those representing the four concentrations in this program. The concentrations which range from fifteen to twenty-two units are intended to serve as an easy entry-point introduction into the specific skills required that particular area.
Overall, this degree recognizes that these skills are interdisciplinary and while they can be learned in a classroom setting, many will be learned through individual study, mentorship, internship, and apprenticeship programs that may or may not happen in a University environment. Finally, while much of the music industry remains in the for-profit sector, we recognize the increasing influence of the music industry on the not-for-profit sector where music may contribute to the common good of the people in ways that are specifically congruent with the mission and vision of Samford University.
Curriculum & Concentrations
Important Notice: This program has been approved by Division of Music Faculty, School of Arts Faculty, the University Curriculum Committee and the Samford University Board of Trustees. It has been submitted to the Division of Music's accrediting body, the National Association of Schools of Music (N.A.S.M.), where it is pending review and approval.
Samford University's Division of Music offers a 128-hour bachelor of arts in commercial music degree with four unique concentrations. This program empowers students to become musicians with artistic, technological, and entrepreneurial skills to thrive in the twenty-first century. Students choose from one of four concentrations within commercial music: music business, music production, songwriting, or live performance and touring. Each concentration aims to instill and foster a do-it-yourself attitude necessary for any entrepreneurial musician, while offering a unique approach to the commercial music industry that supports Samford University's Christian mission.
Concentration in live touring and performance four-year graduation plan
Concentration in music business four-year graduation plan
Concentration in music production four-year graduation plan
Concentration in songwriting four-year graduation plan
What Will I Learn?
Commercial Music Seminar (MUSC 0080)
Student and faculty forum providing a learning environment dedicated to discussing and applying artistic, technological and entrepreneurial principles and skills within the commercial music context.
Introduction to Music Business (MUSC 1810)
This course introduces students to music industry careers. It offers a broad overview of copyright, licensing, music publishing, collection and distribution of royalties, the record industry past and current, deal structures, product distribution, and the impact of rapidly changing technologies and media on the music business and culture at large.
Music Business Revenue Streams (MUSC 1820)
This course explores historical and contemporary models related to financial profit in music industry. Collaborative practicums engage students to analyze, evaluate and create real-world revenue streams. Emphasis is placed on entrepreneurship and networking, including the acquisition, exploitation, administration, and protection of songs in the contemporary music publishing business.
Recording Techniques I (MUSC 2830)
Foundational course in technology for commercial music production. Introduces students to Pro Tools and Ableton Live. Addresses topics such as signal flow of MIDI and audio flow within the DAW environment, sound processing plugins, recording gear, software synthesizers, quantizing and refining rhythmic grooves, and utilizing hybrid production techniques.
Recording Techniques II (MUSC 2835)
Advanced course in recording technology with concentrated study and practice in recording, editing, mixing and mastering. Topics include understanding and selecting appropriate hardware and/or software designs in EQ, compression, and reverb, practical microphone placement, and appropriate application of advanced mixing techniques. Emphasis is placed on audio perception skills for recording engineers.
American Popular Music (MUSC 2840)
This course provides an overview of Western society popular music from late 19th century to present. Influential songs and songwriting styles will be surveyed and analyzed with emphasis placed on how various aspects of, and approaches to, songwriting have reflected and influenced society and culture, including the development of the music industry.
Songwriting (MUSC 2850)
Foundational course for writing compelling and commercially viable songs. Creative process includes analyzing melodic, harmonic and rhythmic structures prevalent in current market trends, learning best practices in melodic and lyrical writing, reviewing the history of popular song structures, and learning basic arrangement techniques to flesh out song demos that command an audience. 
Music Production (MUSC 3860)
Students will elevate their proficiency in songwriting, arranging, audio engineering and administration. Learn how to arrange and write rhythm charts for session players, grow in understanding the fundamentals of using a DAW, improve their personal communication with artists/bands, and produce an actual artist/band as the final for the class.
Live Performing and Touring (MUSC 3865)
Examines the business of public performance, including creating a brand for consumers and maximizing live performance techniques.
Pop and Funk Ensemble (MUSC 1780 and 3780)
 An auditioned ensemble that will study and perform seminal music from the funk/pop genre including music from the 1960s to the current era. Vocal and instrumental opportunities will be given for a full rhythm section, as well as a horn section. The repertoire covers well-known material, as well as encourages original compositions from students and faculty.
Applied Music Production 
Private, applied instruction for students in the areas of acoustic and electric guitar, bass guitar, and drum set.
Applied Instruction in Songwriting 
Private, applied instruction with advanced students who wish to delve further into concepts and practical exercises with an instructor.
Key Practical Skills
Audience/Fan Engagement
Audio Engineering
Branding and Marketing
Critical Thinking
Effective Communication
Entrepreneurship
Industry Knowledge & Know-how
Music Arranging
Music Production
Project Management
Revenue Stream Creation
Songwriting
Touring and Live Performance
Professional Development
Develop a diverse skill set in musicianship, technical competency, and entrepreneurship, including songwriting and arranging, performing, musical production and recording, marketing and promotion, as well as copyright management and administration.
Build a professional portfolio prior to graduation with Samford's unique Catalyst program.
Experience real-world opportunities for intellectual development, creative expression and the creation of potential revenue streams.
Progress into professional practice with practical guidance about the commercial music industry.
Work collaboratively with peers and professionals in the music industry in Birmingham and beyond.
Participate in diverse ensembles with unique performance and sound engineering opportunities.
Apply your studies through University and Arts-based events such as Annual Step Sing and Celebrate Christmas events.
Career Opportunities
Students who graduate with this degree may get jobs with companies who are searching for music creators, producers, artists, and engineers with abilities in communications, audio and video production, product development, sales, and other skills; pursue graduate studies, or find jobs with congregations. Other students may progress from this degree on their own as entrepreneurs, singers, songwriters, and other options within the field. The technological advancements of the 20th and 21st centuries have created a number of career opportunities for students interested in areas of commercial music. According to the U.S. Bureau of Labor Statistics, employment for broadcast and sound engineering technicians is expected to grow 8% from 2018 to 2028, while the jobs for marketing managers will also increase 8% from 2018 to 2028. This chart below shows some of the options graduates of this program may be able to pursue.
Key Skills
Leadership
Entrepreneurship
Financial Management
Collaboration
Communication
Technology
...lead to a wide variety of career options
Post Grad Studies
Law Degree
Copyright Specialist
M.B.A.
Educator
Technology
Audio Engineer
Instrument Tech
Product Designer
Software Designer
Administration
Fundraiser
Nonprofit Admin
Business Manager
Venue Manager
Arts Advocate
Performance
Artist
Church Musician
Concert Promoter
Game Audio Designer
Orchestra Manager
Studio Musician
Touring Musician
Worship Leader
Industry
Artist Management
Booking Agent
Music Supervisor
Promoter
Producer
Publishing Staff
Record Label Staff
Songwriter
Streaming Distribution Staff
Sync Licensing Agent
Retail/Merchandiser
Artist Relations Staff
Marketing Specialist
Product Representative
Product Developer
Product Sales
Publisher
Tech Support Representative