Published on March 10, 2021 by Ashley Smith  
As a resident assistant at Samford last spring, Nicole Weldy, a senior studio art major, volunteered to stay at Samford once quarantine began to help others remaining on campus. Feeling the isolation of the experience, she began creating her senior project, the Unity Ball, which is a large rolling sculpture with intertwined hands and forearms.   
The sculpture is made out of duct tape casts. As the project unfolded, Weldy realized that she would need a lot of duct tape. "Have you ever started working on something and realized you were in over your head on how much the supplies would cost," Weldy said? She reached out to Duck Brand to see if they would provide enough tape to finish her project.  "Duck Brand sent me every single roll I requested. It was a really neat experience that taught me not be afraid to ask for help."
"Many casted arms later, I filled the void I was feeling in the mix of the pandemic beginnings and quarantine regulations. Every cast I made felt like a snug hug on my arm," Weldy said.  "Humans weren't made to go through life alone. The only way we can fight off the virus is together. The only way we can move forward as a society is to accept others' values and work peacefully moving forward together. The art of communication has changed over the past year. Don't let virtual communication stop you from being physically present in what you do, pursue and make."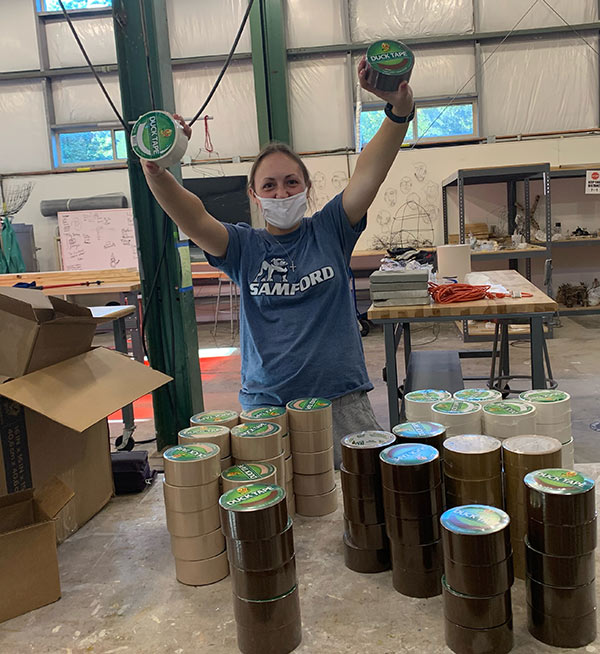 Over the past year, Weldy has reflected on the need for art in society and how Samford has prepared her for graduate school and beyond.  She credits many of her faculty mentors for supporting her and pushing her to be a better artist. 
"Samford has given me the right tools I need to succeed as an artist.  The faculty go above and beyond for their students.  They have made me aware of what I can pursue and where I can go with my major if I put forth the effort and ambition," Weldy said. "They have been nothing but supportive these past four years and I know they will continue to support me after I graduate."   
"It wasn't until the pandemic hit that I realized how important my field was.  Art is a funny major.  It's experimenting with materials, questioning theories and looking at the past, where we came from and where we are going as a society.  It really is all majors rolled into one. I see how much freedom I have to research, create and make a difference in this field."
Her project can be seen in the Samford Art Gallery April 6-16 in a dual show with senior Aspen Herzog.  She and Herzog will host a virtual artist talk on April 6 at 5 p.m.