Published on January 11, 2021 by Ashley Smith  
Samford University's School of the Arts recently received accolades from two national arts organizations in recognition of outstanding performance and production work for multiple productions. 
Four theatre artists are recipients of the 2020 BroadwayWorld Birmingham Awards: lighting faculty Christian Specht earned "Lighting Design of the Decade" for Children of Eden (2017); musical theatre director Chelsea Nicholson earned "Director of a Musical of the Decade" for 1776 (2019); sound technician Theo Metz earned "Sound Design of the Decade" for Children of Eden (2018), and senior theatre for youth major Anna Johnson won "Original Script of the Decade" for Love Isn't Real (2020).
"The Department of Theatre and Dance is delighted that the work of our faculty, students and staff have been recognized in the BroadwayWorld awards," said Mark Castle, chair of Samford's Department of Theatre and Dance. "These awards are evidence of the huge amount of talent, skill and sheer hard work that goes into every endeavor and the passion for the art form that this illustrates, and the support of our local community. Congratulations to Christian, Chelsea, Theo and Anna, and all of those who built, designed, performed and directed these shows."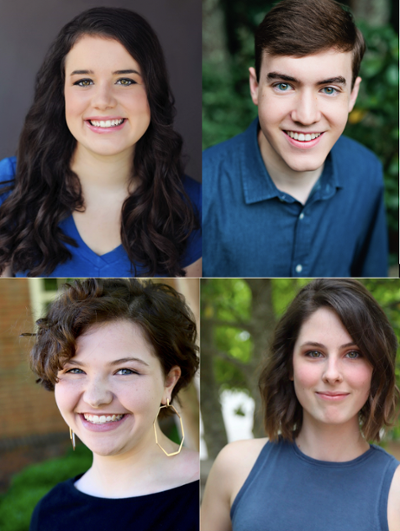 Additionally, Samford students were invited to perform and took home honors at the National Opera Association's Annual Scene Competition contest. This is the 7th consecutive year that Samford students have been invited to compete in the national finals of this prestigious competition. Samford students have placed every year. This year, entries were submitted via video with students Blake Mitchell, Anna Medley, Lydia Yates and Lilly Burchfield winning second place in the musical theatre division for their performance from Into the Woods. Instructor of costume design and instructional designer Mary Gurney provided the costumes and students were accompanied by Nicholas Robertson.  The Samford Opera program is directed by associate professor of voice Kristin Kenning and sponsored by Dr. Chandler and Mrs. Jane Paris Smith. 
"Our students continue to thrive in their training and performance, even during these challenging times," Kenning said. "The competition cast was comprised of three theatre students and one music student - we intentionally train our students to excel in multiple styles.  The light our students shine on stage can't be dimmed, even behind masks."